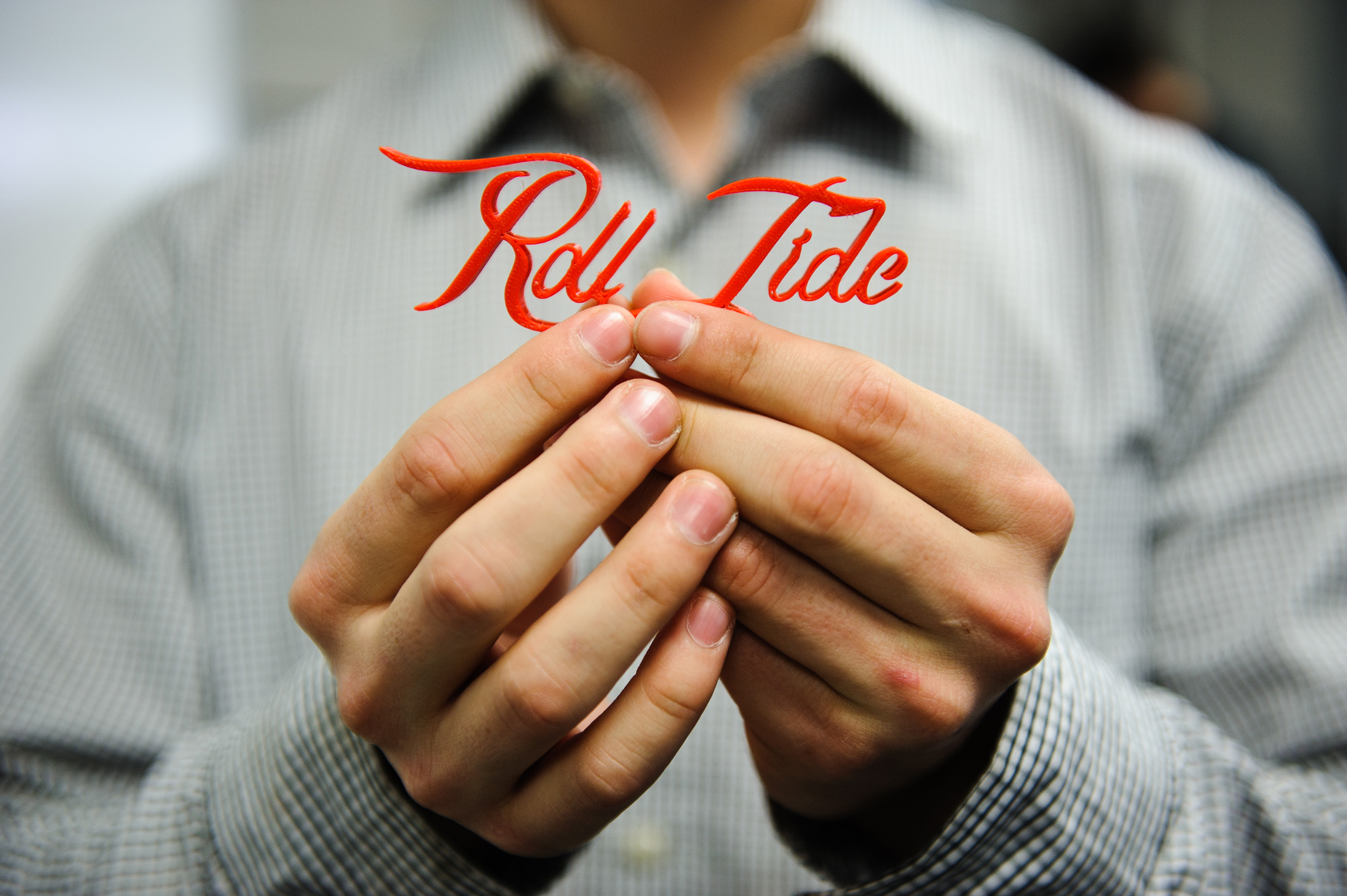 When the forefathers of what we call the Internet were connecting their computer centers together in the 1960s, it is doubtful any could have predicted the radical changes the network would one day bring. Like any new technology, it is the unexpected applications that often are the most exciting.
Society is still in the infancy of additive manufacturing, or 3D printing, and government and industry are mostly using the technology as predicted. That will one day change in ways futurists can only now speculate, and it will be those experimenting today that introduce the remarkable changes of tomorrow.
This idea prompted the College of Engineering to open a lab that encourages creativity among students and faculty, and not just from those in engineering. The UA 3D Printing Lab is free to anyone on campus to test the bounds of additive manufacturing, the process of creating objects by layering material on itself. In its first semester, the lab attracted faculty and staff from art, theater, biology, engineering and the other sciences eager to use the technology.
"We're really on the cutting edge with the lab's capabilities. The College and University are in an excellent position for the future." —Dr. Andrew Graettinger
"The lab will allow us to better prepare our students for the sorts of environments they will see when entering the work force and help them develop the skills so critical in getting products to market," said Dr. Charles L. Karr, dean of the UA College of Engineering. "We made the conscientious decision to open the laboratory to students across the campus because it allows for the added benefit of providing engineering students with access to a truly cross disciplinary environment, one that will allow for innovation and creativity."
The lab is a collection of new 3D printers and printers that were already in the College of Engineering, said Dr. Andrew Graettinger, lab director and associate professor in the department of civil, construction and environmental engineering. There are three desktop sized printers for smaller jobs and two commercial-scale printers for intricate or larger jobs. There is also a scanner that can create 3D models from real world objects. The 3D printers generate accurate representations of parts designed in several software programs, including SolidWorks, AutoCAD and Google SketchUp.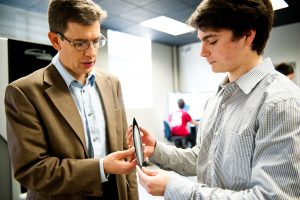 "We're really on the cutting edge with the lab's capabilities," Graettinger said. "The College and University are in an excellent position for the future."
The process is quick. The lab can receive a design and often print the part within a day, reducing fabrication, manufacturing or shipping delays, he said.
The 3D printing works similar to a standard printer, but instead of printing flat words on paper with ink, 3D printers build up layers of plastic and continue upward and outward to create objects, even those with moving parts. As the technology has improved roughly over the past 15 years, it has become cheaper and smaller, allowing for desktop-sized 3D printers costing not much more than a personal computer. Graettinger said the technology's impact could be similar to the printing press that made publishing easier and cheaper centuries ago.
"You've basically taken manufacturing and given it to everybody now," he said.
"We want to promote creativity, and that means keeping it open and free." —Dr. Andrew Graettinger
Engineers of every stripe will likely use the technology in the coming years as it spreads to a broader range of industries and businesses, and the College's lab will help UA students tinker with the technology outside the classroom, Graettinger said.
"We want to promote creativity, and that means keeping it open and free," he said. "If there is a true need for the part, then we encourage people to turn their ideas into something they can hold in their hand."
Already, engineering students working on project teams, such as concrete canoe, Rocket Girls, hovercraft and Alabama Lunabotics, flocked to the lab to make prototypes or usable parts. The lunabot had at least 50 printed parts, many made several times as design needs changed.
"Without the lab, we would have spent a lot of time making stuff out of metal that we wouldn't have been as happy with," said Caleb Dean, lunabotics team lead and electrical engineering student.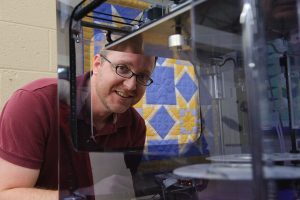 Others have come as well. A biology professor printed out a model of a microscopic bug to show in class, Graettinger said. Students from the College of Arts and Sciences used the lab to print parts for theater set design, and art students print creative pieces for design courses.
"There are some very complex forms that would otherwise be extremely difficult to construct without this technology," said Jamey Grimes, an instructor in the department of art and art history who teaches a 3D design course popular with engineering students.
"Including this new tool just makes sense next to other traditional methods, especially in classes where the goal is thinking and creating in three dimensions," Grimes said. "There is a lot of work involved in this type of project, so that a student on the band saw has as much to coordinate as someone working with a 3D printer. The fundamental thinking and communication does not change."
Working with the engineering 3D Printing Lab and also with the Rodgers science and engineering library, which has an open-use 3D printer, Grimes brought three 3D printers to Kentuck Art Night, a monthly exhibition and sale of artwork in downtown Northport, Ala. The display was a statement on 3D printing's emerging presence in the cultural consciousness. People lingered over the printers asking endless questions and taking pictures with cell phones. One woman told Grimes the printer was magic.
"Lots of different people are using this technology, and it still feels new," Grimes said. "Like any other tool, once people see how it works and get a chance to play, it can inspire new ideas."