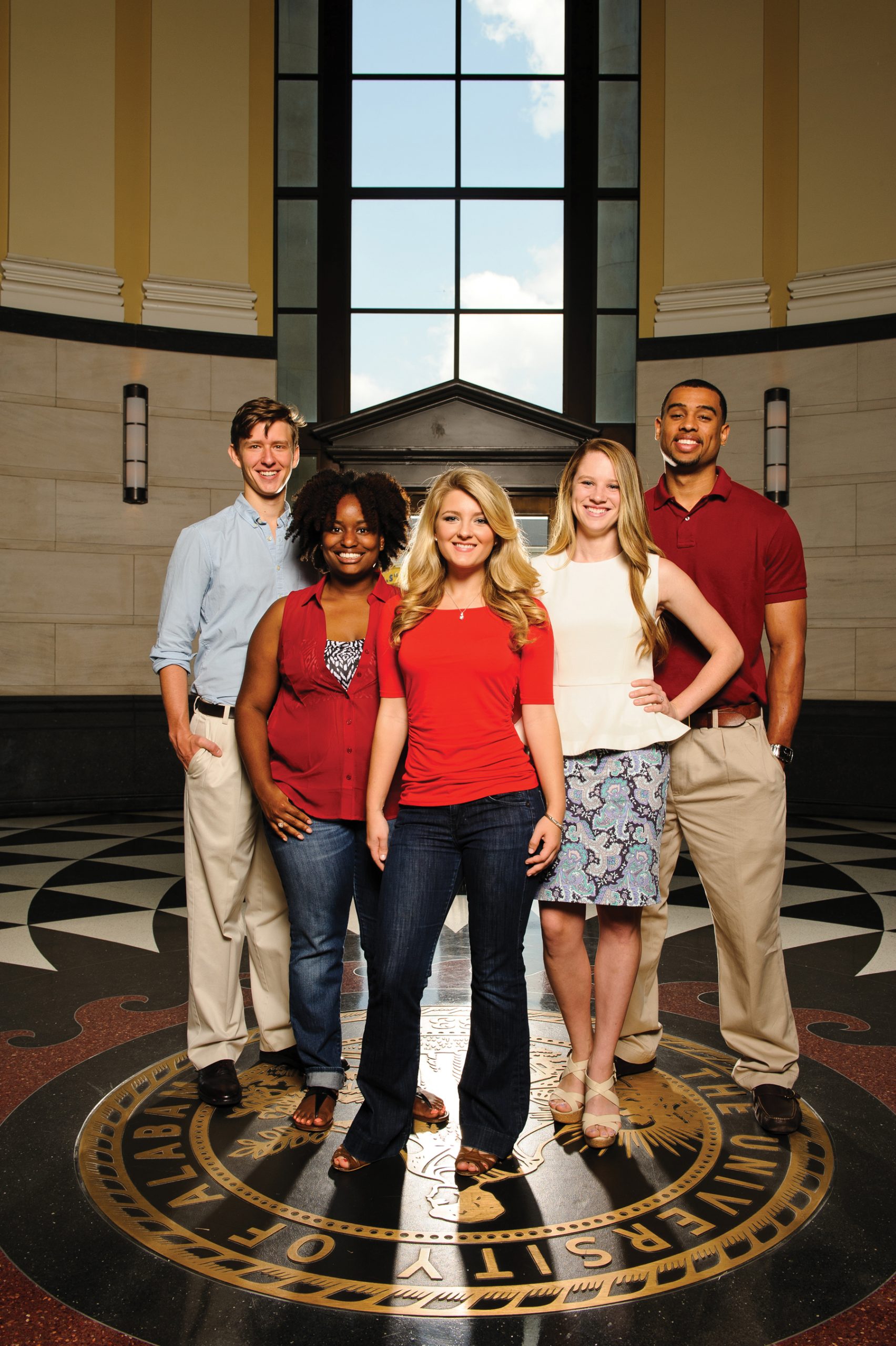 In many ways Larry Summerville is the realization of a dream that began more than 50 years ago. An African-American who studies engineering at The University of Alabama, he walks through doors open to all students.
Summerville, a senior in metallurgical and materials engineering who recently won first place for his research poster presentation at a regional meeting of the National Society of Black Engineers, credited his accomplishments in the field to the sacrifices made by his predecessors.
"I never let my skin color hold me back," Summerville said. "If I feel that I know I'll be a great candidate for a certain job, I will definitely try to go out for the position."
This year the University commemorates the 50th anniversary of the Stand in the Schoolhouse Door with a series of activities and events designed to honor the desegregation of UA. The theme for the year is "Though the Doors," and the major remembrance was a ceremony in June.
"During this year, UA will recognize the courage and dedication of Vivian Malone and James Hood, the two African-American students who enrolled in the University on June 11, 1963, as well as the University's ongoing commitment to change over the past 50 years and to continued progress in the next 50 years," said UA President Judy Bonner.
The UA College of Engineering also celebrates those who supported African-American students who have come to the College in the past 50 years and Dr. Charles L. Karr, dean of the College, said efforts to recruit and retain underrepresented groups in engineering and computer science will continue.
"The College of Engineering has been a leader in diversity efforts at The University of Alabama, and we will continue our efforts to recruit the best and brightest students and faculty without regard to race or background," Karr said. "The challenges we face in our global society are large and complex. We cannot afford to neglect any of our talent. We need diversity of both perspective and thought to successfully tackle our problems."
"The sacrifices made by earlier generations of black students are greatly appreciated because without their sacrifices, stands and achievements black engineers today wouldn't have the same opportunities."
—Larry Summerville, Student
Today, UA is second out of 50 public flagship universities in the nation in the enrollment of African-American students, with African-Americans representing more than 12 percent of the student body. The University ranks third among those flagship institutions for the percentage of total degrees conferred to African-American students. Also, the University ranks third among flagship universities in the percentage of full-time African-American faculty.
In the College, black students account for 12 percent of students, and enrollment of African-American students and all minority students is growing. In the last eight years, enrollment of African-American undergraduates rose 78 percent, and all underrepresented groups in engineering and computer science, including women, make up more than a third of undergraduate students in the College.
There has been a lot of progress during the past 50 years, but engineering and computer science, along with all science and technical fields, continually face the challenge of recruiting underrepresented groups. It's a challenge the College has gladly tackled.
Efforts to recruit, retain and graduate a diverse student body continue, and it is people such as Gregory Singleton, director of engineering student services and the minority engineering program, who keep the wheels of progress moving.
"I'm very optimistic regarding students of color and women," Singleton said. "Engineering has historically been all white males. When it comes to women and minorities, the numbers were small, and we still need to do more. Fortunately, we've had strong organizations such as NAMEPA , NACME, SHPE, NSBE and SWE that have been very active in support of the effort to increase the numbers of underrepresented groups in engineering."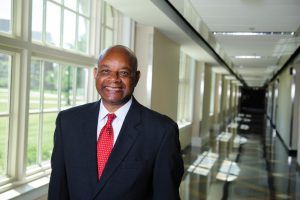 Shortly after joining UA in 1987, Singleton began a summer program for rising high school juniors and seniors who are interested in STEM fields. During the weeklong session, those in Student Introduction To Engineering, or SITE, live in residence halls and engage in team exercises. They attend minicourses in mathematics, engineering, computer science and English, as well as participation in an engineering design project.
It began as a one-week summer camp, primarily for minority students, and is now open to all students. The camp has increased to three separate sessions over three weeks in the summer, with a waiting list of students wishing to attend. This past summer, about 150 students came to the camp.
The College also continues to be an active partner with SECME, the Southeastern Consortium for Minorities in Engineering, an organization former Dean Edward Lear helped form in the 1970s. SECME helps increase the diversity of students wanting to study science, technical, engineering and math, or STEM, fields by working with K-12 educators, mentors and students. Singleton serves as chair of the SECME University Council, and UA hosted the 2011 and 2012 SE CME Summer Institute. The institute is designed to provide middle school and high school STEM teachers with tools to enhance their classroom activities to encourage students to consider the STEM fields upon graduation from high school.
Professors also reach out to the education community to help underrepresented groups interested in the STEM fields. For instance, Dr. Monica Anderson, associate professor of computer science at the University, has led several initiatives on campus for mentoring underrepresented minority students. Earlier this year, her efforts led UA to be one of seven universities chosen by the National Science Foundation to launch the Institute for African-American Mentoring in Computing Sciences, or iAAMCS, that seeks to increase participation of black graduate-level students in computer science.
Dr. Viola Acoff, professor and head of the metallurgical and material engineering department, was one of the first two tenure-track, black faculty members in the College. Later, she was the first African- American to reach the rank of professor in the College. As a researcher and respected engineer in her field, Acoff sees the need to continually ensure that students from all backgrounds can study and work in engineering.
"Although women make up half the potential pool of professionals, women are still a distinct minority in the field of engineering," Acoff said. "Similarly, people of color now account for most of the population growth in our country but are also at a distinct minority in the field of engineering. Based on these facts, it is important that we continue our efforts to develop better ways to recruit and retain students from groups that are underrepresented in the field of engineering."
Because of the progress of the past 50 years and the efforts of today's leaders, students such as Summerville can now feel satisfied their race will no longer present them with the same barriers faced by engineers just one or two generations removed.
"The sacrifices made by earlier generations of black students are greatly appreciated because without their sacrifices, stands and achievements, black engineers today wouldn't have the same opportunities," he said.