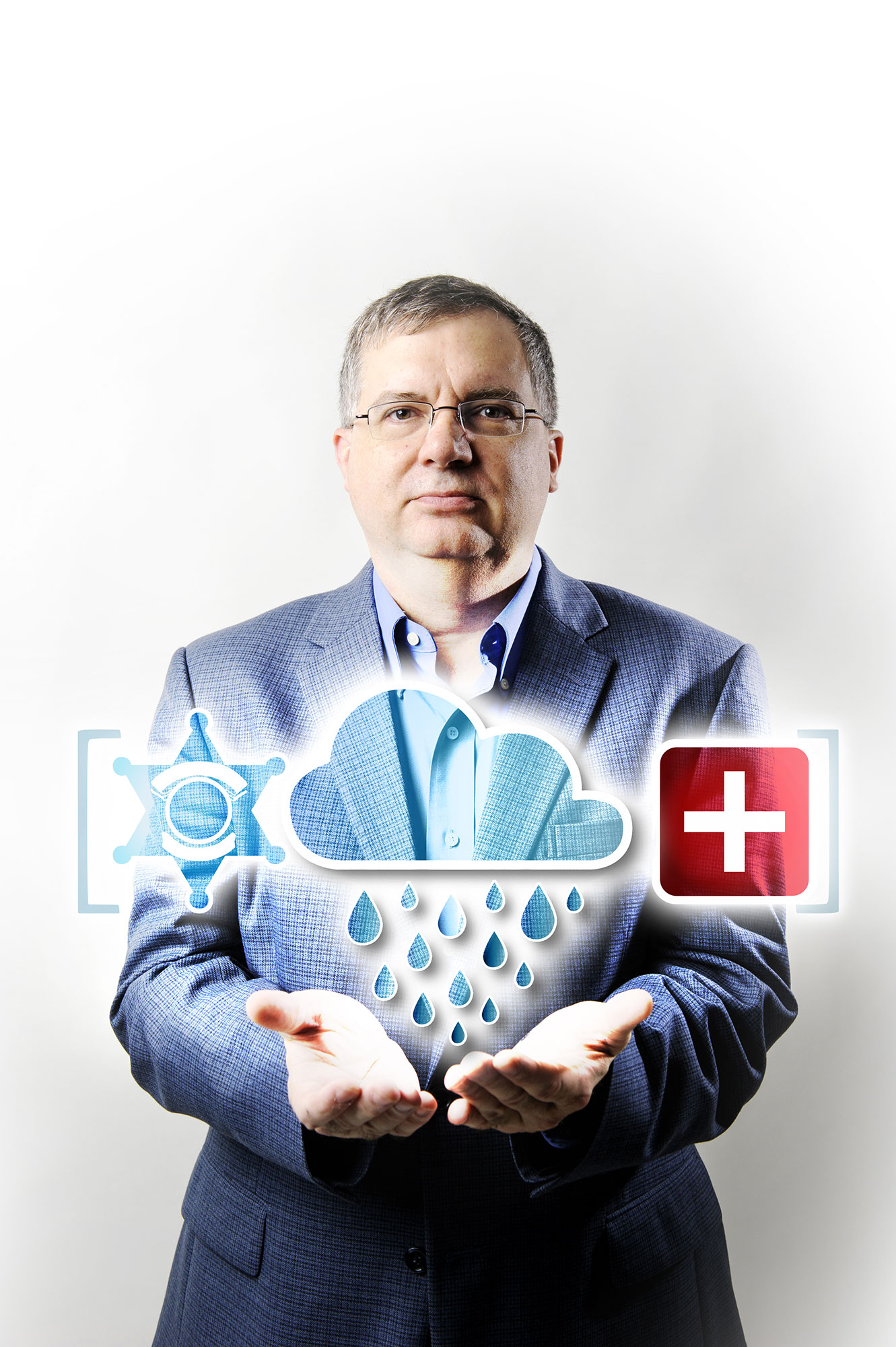 Dr. Allen Parrish is the director of the Center for Advanced Public Safety.
Creating innovative technology for law enforcement may be the claim to fame for the Center for Advanced Public Safety, but, as is the case for many in Alabama, a tornado outbreak in April 2011 prompted CAPS researchers to consider their role in preparing the community for future disasters.
After the tornado struck, killing an estimated 251 Alabama residents, weather broadcasters and first responders alike were left dumbfounded. Surely, something else could have been done to prevent so much loss of life.
At least that's what Dr. Laura Myers thinks. For six years, she has worked to change the way the public receives severe weather warnings. Last year, Myers accepted a position as senior research social scientist for CAPS. She now serves as deputy director of CAPS and is working to incorporate weather-warning tactics into law enforcement technology.
"There's a crossover between the function of a law enforcement officer and what's needed on a bad storm day," said Dr. Allen Parrish, CAPS director and computer science professor. "Weather is just an example of a catalyst of events in which trained first responders need to be equipped with as much information as possible."
CAPS began with only one software product, the Critical Analysis Reporting Environment data-mining program, or CARE, designed in the 1980s. It wasn't until 2002 that it began expanding software development to include law enforcement applications.
"Weather is just an example of a catalyst of events in which trained first responders need to be equipped with as much information as possible."Dr. Allen Parrish, CAPS director and computer science professor
CAPS researchers first developed a law enforcement search engine called Law Enforcement Tactical System, or LETS, followed by an electronic citation application, and then an electronic crash application. Since each program was successful, CAPS continues to appropriate its software to serve various markets, most recently venturing into weather warning.
CAPS researchers mapped out a plan to extend their community footprint by expanding data software, graduating more engineering doctorate students, increasing CAPS' publication output and faculty size, along with doubling annual research expenditures from $7 million to $15 million.
"We've always been on an upward trend in terms of growth, but we've really seen a lot of expansion in recent years," said Rhonda Stricklin, associate director of CAPS. "We basically just wanted to set some goals. We always need to revamp because the technology is always changing. That's the fun part."
A social scientist, Myers is a part of the weather enterprise, a national network of meteorology and broadcast-media professionals, emergency managers and other emergency-planning professionals. After years of surveying communities on weather-response patterns, Myers has noted a diverse range of responses to weather warnings, responses she believes could explain, at least in part, the number of fatalities on April 27.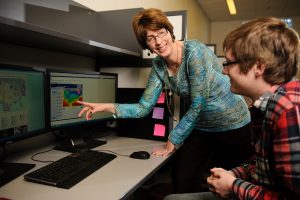 After studying these conflicting patterns of behavior, Myers noted that people responding to a weather crisis fit into one of three groups — the prepared, the chronically preparing and the refractory prepared. While the first group is generally ready for a disaster, the latter two are not, either because they waited too late to get ready or because they are physically unable to prepare on their own. They present a range of difficulties for the weather-enterprise partners working to usher as many residents to safety as possible. Myers said that most people, she included, tend to fall into the procrastinating, "chronically preparing" group. For that reason, she has concluded that traditional weather warnings are not sufficient for effectively reaching everyone.
"What happens is that people need what's called secondary confirmation," Myers said. "Maybe they heard the siren, so the next thing they'll do is turn on the news or pull up their Twitter to get that confirmation. The problem is that people lose a very critical amount of time between that first warning and the secondary confirmation."
"What happens is that people need what's called secondary confirmation. The problem is that people lose a very critical amount of time between that first warning and the secondary confirmation."Dr. Laura Myers, deputy director of CAPS
With the help of Myers, CAPS is now working with the National Weather Service to incorporate some of her ideas into the weather warning process. For instance, a traditional warning might state, "A severe thunderstorm has been spotted 6 miles from Tuscaloosa." Myers proposes adding additional details, such as "with 75-mile-an hour winds that are capable of destroying a brick building," to the end of the warning in hopes of making them significantly more effective.
Though it's been only a year since she came to CAPS, Myers was already familiar with eCite, their Electronic Citations Generation and Processing System that allows officers to view a driver's record and generate tickets electronically. Myers found that the integrated software framework associated with eCite could also be useful for transferring weather information to officers. The mapping software used by law enforcement officers will be integrated with the weather-warning technology implemented by Myers.
"We've been working with Dr. Myers for a while; she's collaborated with us on some of our law enforcement projects," Parrish said. "I think she was responsible for kind of saying 'look, some of these things can work together.'"
This new software program will authenticate through Alabama Communications and Operations Portal, or AlaCOP, the secure, active directory-authentication system that law enforcement officers use in Alabama and that was also developed by CAPS.
Additionally, this improved mapping software will make use of recent advances in social media, such as sharing geolocated pictures. Myers said the social media software will also depend largely on crowd-sourced images. She found this technology particularly useful in her research after a tornado struck Moore, Okla., in 2013. In a study of tornado impact on residential buildings led by UA's Dr. Andrew Graettinger, professor of civil, construction and environmental engineering, these images helped lead researchers to the areas for study.
"When we got [to Oklahoma], we didn't have to walk around looking for the most damaged areas," Myers said. "All we had to do was find the GPS location from the geolocated photos that were uploaded."
Sharing geolocated photos has another advantage, as well. In the event of a weather disaster, the new technology allows officers to submit detailed, interactive ground reports more quickly and more accurately. Now officers can upload photos.
"It's a way to have bidirectional communication to keep an officer safe while taking advantage of the immediate communication capabilities that social media offers," Parrish said. "Anything that can go on a map can be pushed out into the car. We're going to build a link between the National Weather Service to the police service."
Parrish expects the software to be initially most advantageous to state troopers and law enforcement officers patrolling cities. Depending on the program's success, though, Parrish surmised that it will likely trickle down into rural areas soon after.
To aid in development for this and other potential projects, CAPS hosted a severe-weather-warning workshop on campus in July 2013. Presenters included James Spann, chief meteorologist for ABC 33/40 in Birmingham; Dr. Vankita Brown, social scientist for the National Oceanic and Atmospheric Administration; Tuscaloosa Mayor Walt Maddox; and Beau Elliott, senior associate director for CAPS.
At the conference, Elliott offered an overview of some of the additional systems CAPS has recently incorporated, like the eCrash system. Law enforcement officers can submit crash reports directly from their patrol cars with eCrash. The reports are immediately included in the state's crash database (upon supervisor approval), eliminating Alabama's traditional paper system in which crash reports took up to three months to be submitted to the database.
"The more that we can link all of this data, the more efficient research will be," said CAPS' Stricklin. "All of the software ties together, and it's sort of like one system builds off another system."
With eCite and eCrash data, for instance, CAPS can instantly show locations of traffic citations and accidents on the same map for research and enforcement purposes. With CARE software, CAPS can not only measure crash rates but can also compare accidents that involved alcohol with accidents that did not, as well as do similar type studies.
Much of CAPS' new software was developed at the request of sponsors, such as the Alabama Department of Public Safety and the Alabama Department of Revenue. When a CAPS affiliate needs new software, CAPS is commissioned to develop it. Most recently, when a change in Alabama law allowed officers to use an insurance database, the revenue department contracted CAPS to develop what is now called the Online Insurance Verification System. With the CAPS-developed systems, state law   enforcement officers and Department of Motor Vehicle clerks can instantly verify whether a driver has auto insurance.
Developing new software can take anywhere from a few months to a year. Currently, CAPS is working on new software development that will allow EMS workers to collect and submit patient-care reports electronically.
CAPS software reaches beyond Alabama. CAPS' CARE analysis software has been implemented in 12 different states and recently in Puerto Rico. Some of their law enforcement software applications have been customized for Arkansas and Mississippi, and they are looking to go to other states.
"It seems like one system leads to another," Stricklin said. "We've certainly diversified, but our software has a common theme. All of it is designed to help [law enforcement and emergency officials] serve the general public more efficiently; so it all kind of ties together."