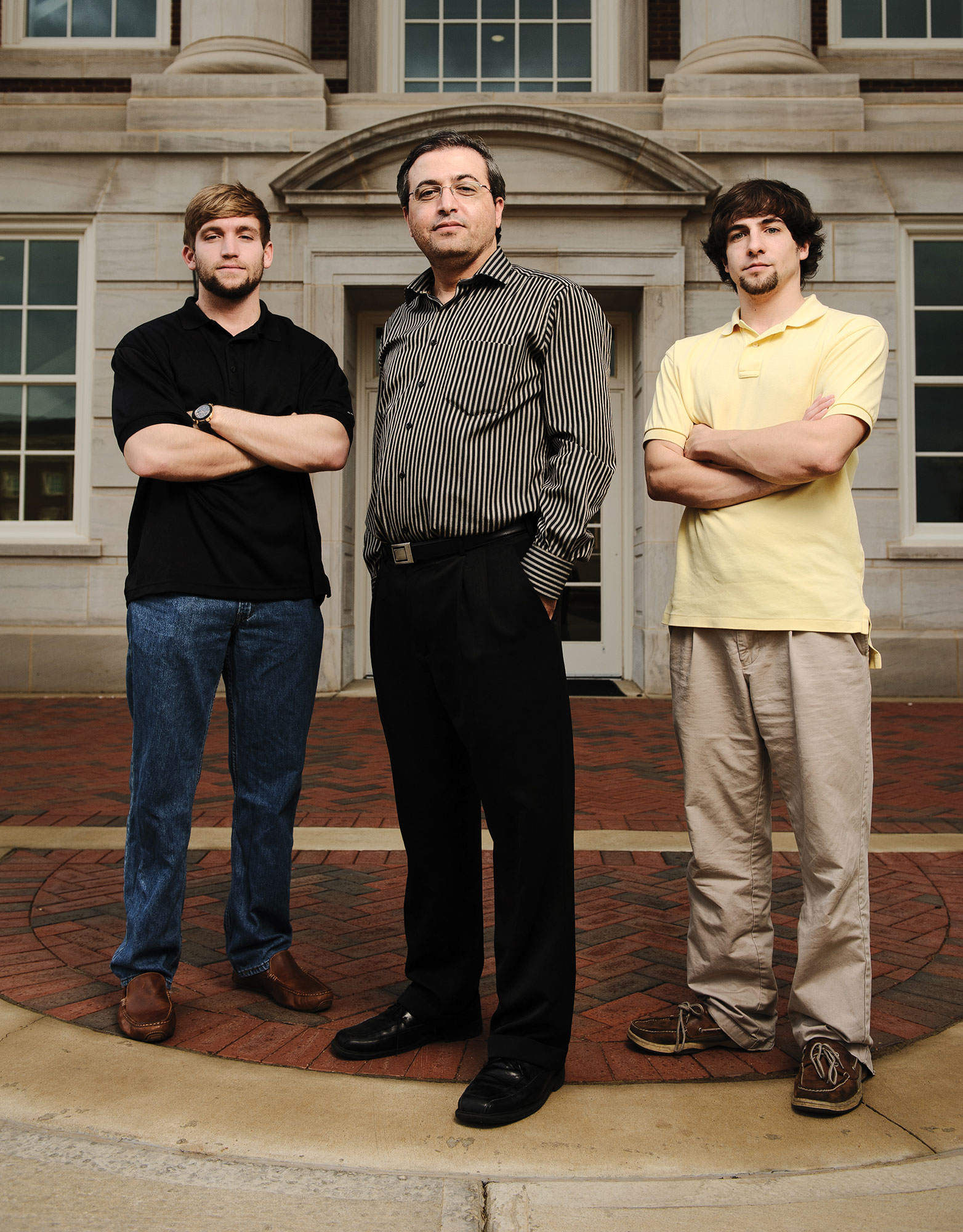 From left to right, Will Sanders, Dr. Jaber Abu Qahouq and Sloan McCrary are part of e-Electricity, a start-up company formed from Dr. Abu Qahouq's research into wireless technology.
During the mobile phone's meteoric rise from clunky car phone to the powerful computers in our hands today, the problem of battery life has continued to dog the technology.
"Energy is the limit. You can have all this functionality, but if you don't have power to do it, then you can't do it," said Dr. Jaber Abu Qahouq, associate professor of electrical and computer engineering.
Today's smartphone has more computing power than all of NASA had in the 1960s space race that ended with humans walking on the moon. (To NASA's credit, though, its computers were not devoting massive computing power for graphics processing to play Angry Birds.) With more computing power, comes more demand on the rechargeable battery, which, has limits.
To meet that demand, Abu Qahouq is researching and developing methods that allow mobile devices to recharge wirelessly by converting radio frequency waves to electricity in order to extend battery life. In current communicationable devices, the antenna converts radio waves received from an emitting source into electrical currents to receive data and converts electric currents into radio waves to transmit data.
"Energy is the limit. You can have all this functionality, but if you don't have power to do it, then you can't do it."Dr. Jaber Abu Qahouq, associate professor of electrical and computer engineering
One of Abu Qahouq's patent-pending technologies is a device and an algorithm that includes a third option for the antenna to harvest energy using the same antenna. The wireless device would be configured adaptively to carry out any one of these three modes at will, termed a triceiver system.
Simply by adding another phase to the phone's antenna, a mobile device could charge anywhere there is a wireless signal from cell phone towers, wireless Internet network, other mobile devices or any other source of radio frequency waves. Harvested energy would be available for use immediately or could be stored.
The UA Office for Technology Transfer spun a company called e-Electricity off the technology. Abu Qahouq is a consultant with the company, which is led by a team that includes Sloan McCrary, a UA Master of Business Administration student, from Alpharetta, Ga.; and Will Sanders, who graduated in marketing from UA in December, from Mobile, Ala. McCrary is the team lead.
The company entered the Alabama Launchpad Start-Up Competition in 2013. The competition, in its seventh year, is geared to promote, reward and increase the pipeline of high-growth innovative ventures that have the potential to create and keep jobs in Alabama.
In all, 27 teams started the competition cycle, a program of the Economic Development Partnership of Alabama, and nine entrepreneurial businesses were selected to present to judges this past summer. Four continued to the Alabama Launchpad Innovation and Entrepreneurship Conference at the Wynfrey Hotel in Birmingham, in September, where they made final pitches in hopes of securing up to $100,000 in prize money.
Competition judges awarded e-Electricity $23,500 to help further the company's goal to develop wireless harvesting. Three other companies were also awarded.
"We are very excited about receiving $23,500 in funding from Alabama Launchpad," McCrary said. "With this amount we were able to begin the first stage of prototyping that allowed us to confirm the feasibility of the technology."
With the money, the team fabricated a circuit board with an attached antenna that powers an LED light. Though much larger than the concept for the final product, it proves the technology can work. McCrary and Sanders, in collaboration with the UA Office for Technology Transfer and Abu Qahouq, are working to get more investment or government grants to further development, which will be incremental.
Initially, e-Electricity is developing a peripheral wireless energy-harvesting device that attaches to a cellphone. After that, the company plans to develop a cell phone case with wireless harvesting capability that could have a secondary battery embedded within the case to extend the operating life of the mobile device before it needs to be charged again.
Ultimately, the goal is to integrate the technology into the mobile and wireless devices, which could come from licensing the technology to a company that manufactures these devices.