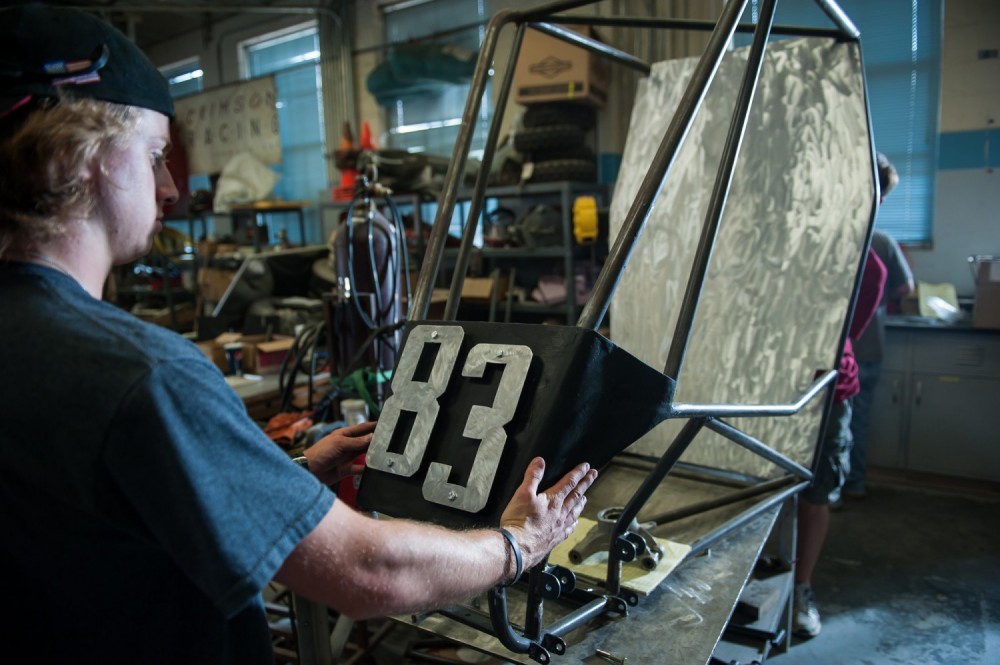 David Miller, a member of the UA SAE Baja team, works on the vehicle earlier in the semester in space provided to student projects in Hardaway Hall.
Tuscaloosa, Ala. – The University of Alabama Baja SAE team will compete in the Southeastern SAE Baja Competition May 22-25 in Pittsburg, Kansas.
For the competition, the students built an off road vehicle capable of withstanding rough terrain. Each year the team designs and builds a vehicle from scratch, each powered by a 10-horsepower Intek Model 20 engine donated by Briggs and Stratton Corp. In addition, they must present detailed cost and design reports before competing.
The team began planning for the competition in the summer of 2013. They designed the vehicle the following fall, and finished construction in this spring. The team has 16 members, many who participate as part of their senior design project.
The students will compete against as many as 100 teams, including teams from schools in Brazil and Canada. Since the competition lasts three days, each day is devoted to different competition objectives. On the first day, the teams will be subject to technical inspections, design judging and brake testing. Additionally, they will present a sales presentation to a group of mock manufacturers and customers.
On the competition's second day, each vehicle will be tested one at a time with a suspension course, a maneuverability course, a sled pull and a speed and acceleration test.
The third and final day of the competition will be the most challenging, since the teams will compete in a four-hour endurance race over a one-and-a-half mile course designed to imitate off-road conditions.
"Competitions and student projects like this give students hands-on experience with designing and fabrication, and a lot of other important knowledge they don't always get in the classroom," team lead Jerry Stastka said.
The team is advised by Drs. Brian Fisher and Brian Jordon, both assistant professors of mechanical engineering.
Members of the team include:
Micheal Bong, a mechanical engineering major from Huntsville, Alabama
Travis Foust – a mechanical engineering major from Madison, Alabama
Greg Hacker – a finance and economics major from Athens, Alabama
Charlie Hartsell – an electrical and computer engineering major from Huntsville
Eric Mann–a mechanical engineering major from Huntsville
Taylor Mason – a mechanical engineering major from Bessemer, Alabama
David Miller- a mechanical engineering major from Greenville, Alabama
John Mitchell– a mechanical engineering major from Phenix City, Alabama
Casey Peterson– a mechanical engineering major from Madison
Brandon Phillips– a mechanical engineering major from Nashville, Tennessee
Jairus Schwartz – a mechanical engineering major from Madison
Heidi Skinner – a mechanical engineering major from Hayden, Alabama
Jerry Stastka – a mechanical engineering major from Daphne, Alabama