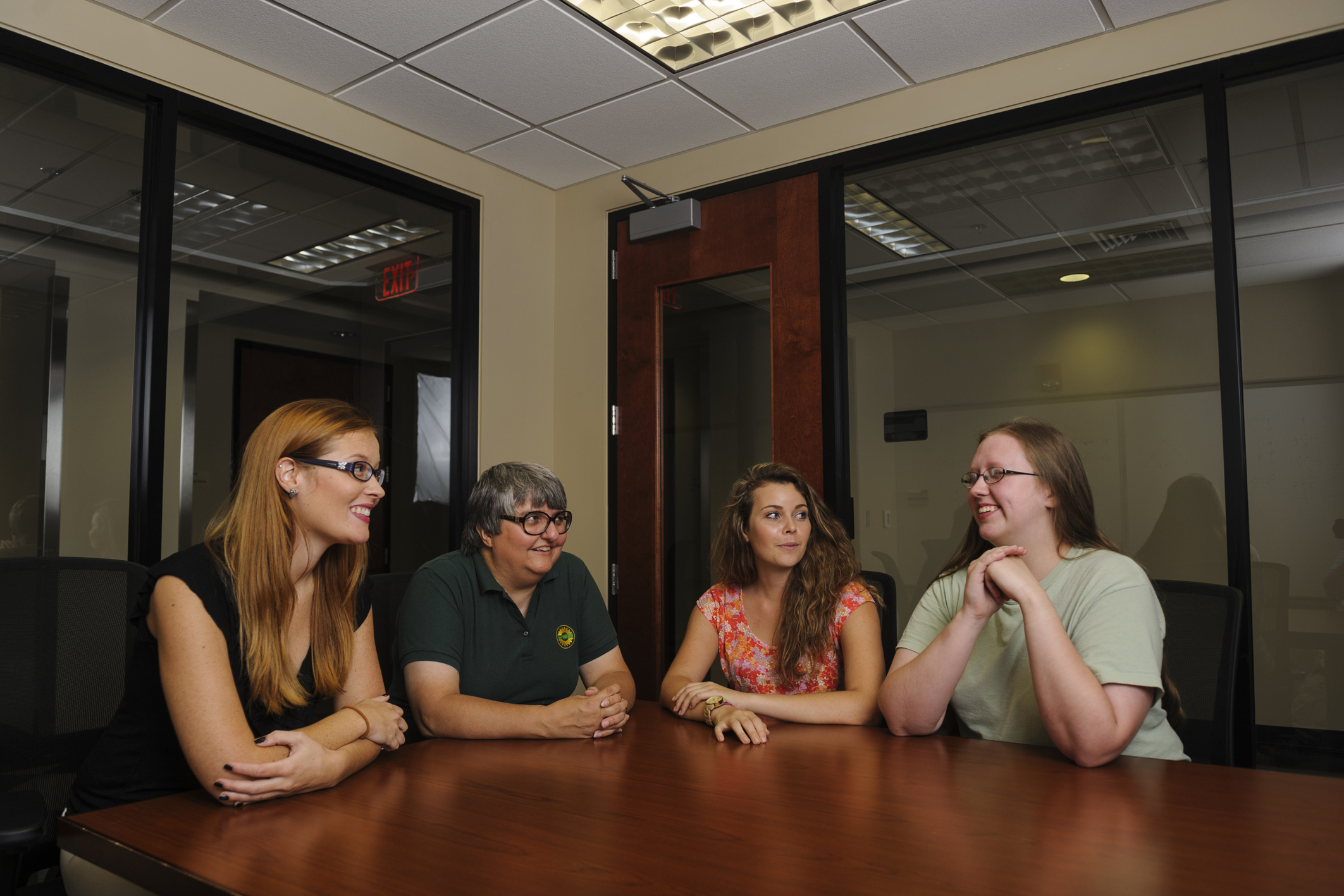 Members of SWE include Katie McCoy, a junior majoring in civil engineering; Dr. Beth Todd; Catherina Atalaia Santos, a sophomore majoring in electrical engineering; and Brandy Edwards, BSChE '13.
The awards have piled on recently for The University of Alabama chapter of the Society of Women Engineers as the group continues to focus on supporting and advancing women in engineering.
In the past two years, the chapter has received the gold and silver level Outstanding Collegiate Society Award from the national SWE organization, hosted a regional conference and was one of four sites nationwide to hold an event for girls in middle school to learn more about science and engineering through hands-on activities.
Dr. Beth Todd, associate professor of mechanical engineering and adviser to UA SWE, was recognized with the Distinguished Engineering Educator Award by the SWE national organization. Since 2009, seven UA students have been selected as Outstanding Collegiate Members by SWE, the most from any campus during that time. They include Grace Guin, BSCE '14; Alexander Romine, BSChE '14; Rachel Hughes, BSChE '13; Elizabeth Junkin, BSChE '12; Jill Hershman, BSME '12; Sarah Grano, BSME '09; and Martha Addison, BSAE '09.
All this comes at a time when the UA SWE chapter has reached its highest membership rate to date. The benefits of a robust chapter for female students in the College of Engineering are numerous, Todd said. It allows them the opportunity to talk to other female students studying engineering and provides a broader view of the profession by connecting students from across engineering disciplines.
"The biggest advantage of having an active SWE chapter is that students get a lot of opportunities to do things outside of the classroom," Todd said.
At the SWE regional conference hosted on campus in March, Region D Gov. Michele O'Shaughnessy praised the UA chapter for encouraging females of all ages to pursue engineering.
"UA has had a very active outreach program this year," said O'Shaughnessy, who works for the U.S. Department of Energy at the Savannah River Site in Aiken, South Carolina.
It is all part of SWE's effort to bridge the gap between male and female engineering students, a continuing challenge for universities. At UA and nationally, roughly one in five engineering students are women. Todd and the UA SWE chapter she guides enjoy the challenge of helping find creative solutions to help more women study engineering.
It starts from the ground up with numerous community outreach programs designed to get girls in middle school and high school interested in the field. In September 2012, UA SWE was one of four sites nationally to host "Wow! That's Engineering," an event created and sponsored by the national organization that reaches out to girls in middle and elementary schools in an effort to spark an interest in engineering and technology through hands-on opportunities. More than 140 girls came to UA for the event.
Besides hosting the national outreach program, the UA chapter took an active role when the University hosted the regional Science Olympiad competition. Science Olympiad is an international nonprofit organization that promotes teamwork in the disciplines of life science, earth and space science, physical science, chemistry, technology and engineering. It targets students in elementary, middle and high schools. The event attracted more than 400 students from across the community.
"If you work with girls in middle school, they have all taken the same classes up until that point, and it is easier to get them on the right academic plan to study engineering," Todd said. "Middle school is the time when students begin choosing the path that they will take through high school, and studies done with girls and engineering show that if you wait until high school, many of the girls have already opted out of the track that they would need to prepare for engineering."
Todd, who helped revive a dormant SWE chapter when she came to UA, has steered the campus group successfully for more than 20 years. After hosting its first regional conference in 1999, the chapter was able to start an endowed scholarship for the College of Engineering.
In the last three years alone, the chapter's membership increased 80 percent, and Todd expects another surge over the course of the 2014–15 academic year. This expansion, thanks largely to recruitment efforts by the chapter and by the University, made it possible for the group to receive a bid at the 2012 SWE National Convention to host another regional conference in March 2014. It is the chapter's third regional conference to host on campus, and it is no small feat.
Getting approved to host a regional conference can be a challenge, and planning the conference can take a year of systematic planning by the group, Todd said.
"For students who haven't done this before, it gives them an opportunity to put a larger project together," Todd said. "That experience can translate into different engineering and management positions in the future."
Over the years, Todd's dedication to UA SWE has been met with frequent recognition from the national organization. In 2004 she was named a SWE fellow, and in 2008 she received the Outstanding Faculty Advisor award. Last year she received the Distinguished Engineering Educator award.
"Our chapter's success is a direct result of the commitment of our adviser, Dr. Beth Todd; our officers; and our members," said Hughes, 2012–13 UA SWE president. "Also, we have a leadership pipeline so that when people move up, they are prepared for the experience in advance. So that helps the chapter to maintain a strong presence each year."