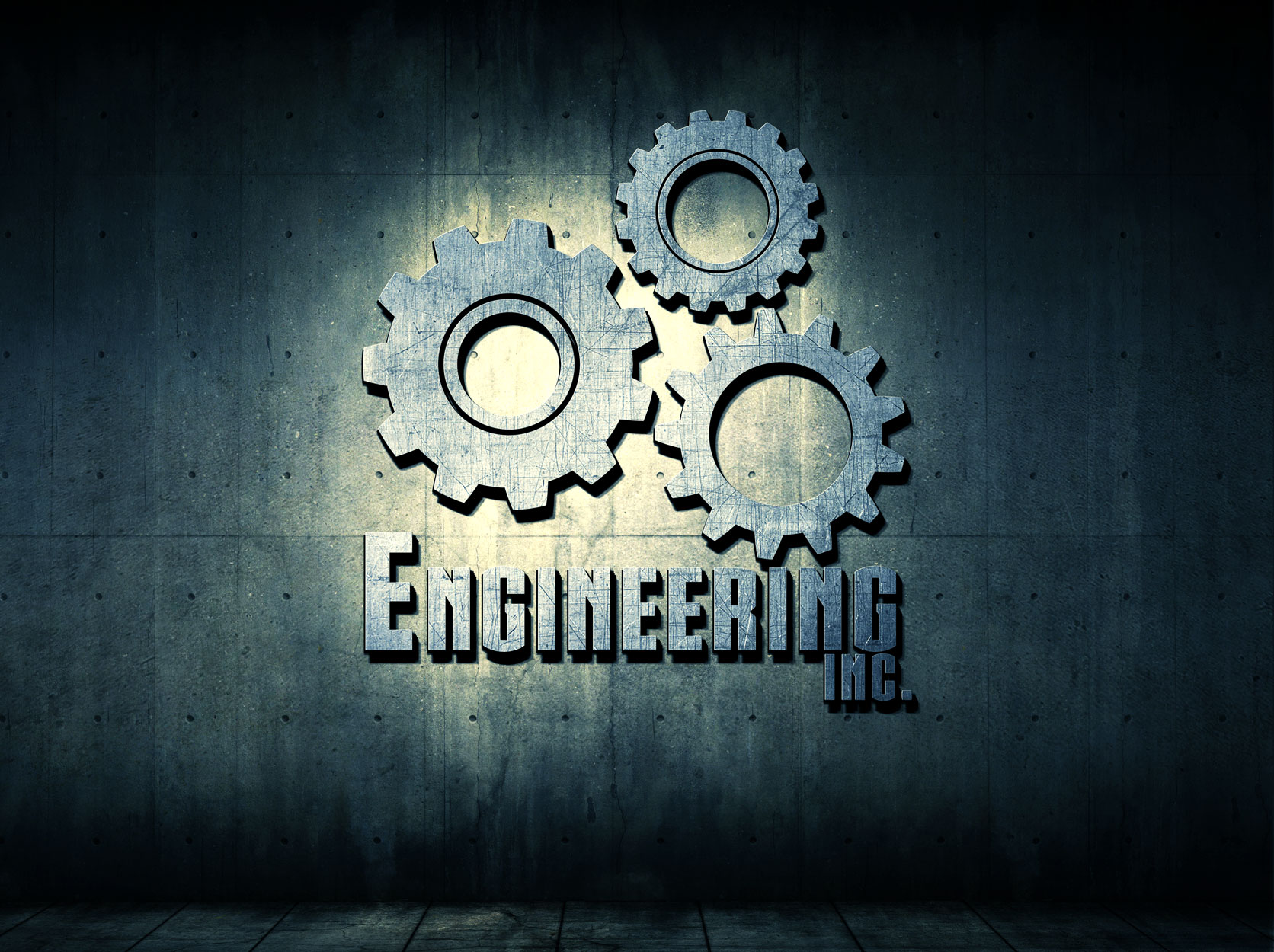 Natalie Anderson comes from a family of entrepreneurs. Her parents own and manage their own company, but she came to The University of Alabama to study chemical engineering, not business.
Now, though, the third-year student is coupling her science and engineering studies with a crash course in business development as an intern for the UA Office for Technology Transfer, or OTT. There, Anderson works to determine if intellectual property from the academic research at the University can be protected and result in a marketable product for a specific industrial need.
"It has been an eye-opening experience seeing the business side of science and engineering ideas," she said. "I have been able to witness how certain scientific innovations have the potential to enter market and become commercial.
"I now realize that there are various factors, in addition to the more scientific variables that are taken into consideration when deciding to invest in an idea," Anderson said. "I am more aware of how much business can affect and intertwine with engineering through my experiences with OTT."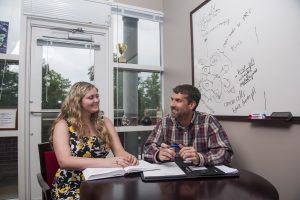 Anderson, a native of Kingwood, Texas, is part of the growing side of UA and the College of Engineering devoted to taking ideas percolated in an academic lab and transferring them to industry and society. In the past eight years, for instance, patent applications coming from the College have increased twenty-fold. Intellectual property disclosures, which were afterthoughts decades ago, have increased, and real, licensed businesses have sprung from the College.
"Intellectual property is a byproduct of the education process," said Dr. John Wiest, associate dean of research and graduate studies. "We have a lot of smart people in the College and the entire University who can help solve a lot of the problems society faces, so it behooves us to use that intellectual capital to try and better society."
OTT was created in 2006 from an emphasis from the President's Office on down to make economic development a priority for the University, said Dr. Rick Swatloski, OTT director.
"As part of UA's research mission, we seek to develop solutions to improve the quality of life and solve major problems that confront society while simultaneously expanding the base of knowledge and technologies available," he said.
"We have a lot of smart people in the College and the entire University who can help solve a lot of the problems society faces, so it behooves us to use that intellectual capital to try and better society."

– Dr. John Wiest
The office exists, in part, to help secure funding to get ideas to the market and does not compromise the fundamental, academic research of the University, he said.
"You need the basic research, but there is a gap there between basic research and the applied research," Swatloski said. "Many of the things we do try to make that gap more narrow."
A recent example of OTT working with the College is a company called e-Electricity, which was a winner in the Alabama Launchpad Start-Up Competition a year ago. The business contest, which is sponsored by the Economic Development Partnership of Alabama Foundation, provides money to young businesses.
OTT was able to take intellectual property disclosed by Dr. Jaber Abu Qahouq, associate professor of electrical and computer engineering, run it through a development research and market analysis process and pair the technology with two students from UA's Culverhouse College of Commerce who now manage and market the company.
With money from Launchpad and other ventures, e-Electricity managed to demonstrate the concept by Abu Qahouq.
"Investors are not willing to put money into a theory," Swatloski said. "One has to clearly demonstrate the value proposition and remove as many of the risks as possible."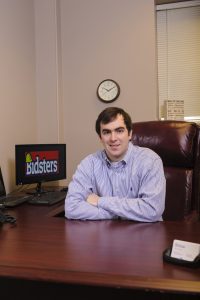 Besides professors, OTT can also work with students. Ben Bickerstaff, BSCE '13, was recommended to Swatloski's team after coming up with an idea to improve bidding on construction projects through Internet-based social media software.
An Anniston, Alabama, native, Bickerstaff worked with OTT staff to focus his product and find funding, and he was able to win money from the Alabama Launchpad contest in the spring. In early June, he launched Bidsters.com, an online interactive database that businesses in the construction industry can use to manage and advertise both sides of the project-bidding process.
"The support I have received from that office is unparalleled, and, without them, I would not be going to market," Bickerstaff said of OTT.
Besides turning intellectual property into startup companies, UA OTT can also license technology to other companies to be further developed, but, for Swatloski, tech transfer is more than just money.
"I don't want licensing royalty to be the determining success factor," he said. "It's important, but it should not be the only driver."
Tech transfer is part of the University's student-centered research mission, touching every side of that process, he said. Tech transfer creates complementary experiences for students in business and specialized scientific research areas that help with getting jobs or starting their own companies. For professors, it develops portfolios in certain areas that help the University with industrial collaborations and sponsored research. It is all part of the cycle of new knowledge.
OTT has several students each semester who work alongside UA faculty and staff to transfer technology. Anderson, for example, began as triage intern, part of a group of students from across campus who are the first to study disclosed intellectual property. Can it be protected? Is there a market?
This past summer, she moved into a venture-development internship, answering questions about what is needed to get the idea to market by examining things such as cost benefit. Engineering and computer science students work with peers from business and the sciences in OTT.
"We need students who speak both languages," Swatloski said. "The science and engineering students have a technical jargon, and the business side has its own language. The idea with the team approach is business students teach the science and tech students and vice versa."
There is also opportunity for students to work with intellectual property in the lab, using the experience to land jobs within the industries they were hoping to improve while students.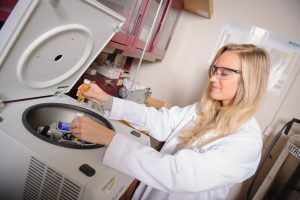 For Jordan Baer, a senior in chemical engineering from Fort Worth, Texas, UA's culture of innovation and entrepreneurship resulted in her being the first hire for a UA startup company, Graphenics, based off technology developed by Dr. Rachel Frazier, research engineer for Alabama Innovation and Mentoring of Entrepreneurs center, or AIME, a technology incubator at UA.
The company provides engineering services and materials to enhance the properties of plastics by a patented process to produce graphene, a flat, two-dimensional version of the graphite used in pencils. The material is stronger than steel and better at conducting electricity than copper, and it can conduct heat better than other materials.
"I never thought that I would be working for a startup company in a million years," Baer said. "I accepted my job at AIME and thought of it as a way to make money and get job experience. I acquired and demonstrated lab experience, but, more importantly, I had the opportunity to network with and learn from other students, the research engineers at AIME and the founders of Graphenics."
Engineers tackle society's problems, and being part of lab-developed technology, whether on the research or business side, is valuable to the University, its students and its faculty, Wiest said.
"You can tell someone how to innovate, or you can include them in the process of innovation," he said. "That's what we try to do at the University."
Judah Martin, a senior from Foley, Alabama, studying journalism, contributed to this report.