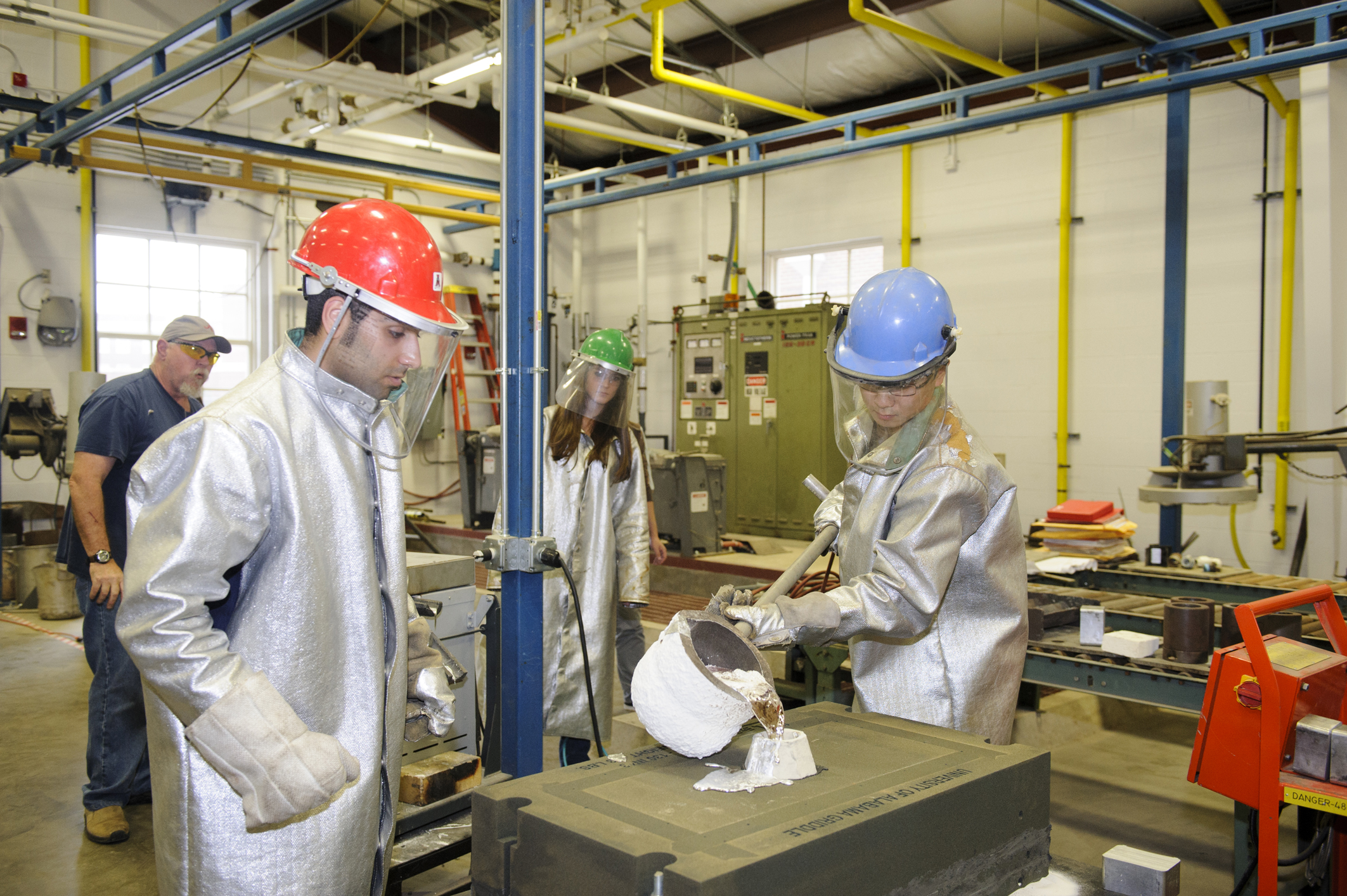 Students in the AFS casting team pour aluminum into a mold in the College of Engineering foundry.
TUSCALOOSA, Ala. — A team of University of Alabama engineering students placed second at the 2015 Student Casting Competition for the Southeast organized by the American Foundry Society.
The competition was held this month in Birmingham.
For the competition, the students, all seniors studying metallurgical and materials engineering, casted a reversible griddle cast of aluminum and brass alloys. The griddle casting was part of a study of a Capstone project for the materials engineering design class.  The students designed the griddle, selected the alloys, performed the casting and mold design assisted by casting and solidification simulation software and cast it in the UA foundry using aluminum and brass alloys.
A furan binder with 3-D mold printing technology was used to create the mold of the griddle for casting. The griddle will be anodized before being used.
At the competition, the students were judged on concept, difficulty, use of casting principles, use of engineering tools, creativity and the presentation of their physical castings. The students turned in an electronic version of the presentation two weeks before the competition.
"The advantage of using 3-D mold printing, rapid prototyping, is that the students were able to produce their intricate molds for casting the griddle quickly," said Dr. Laurentiu Nastac, associate professor of metallurgical and materials engineering.  "The casted griddle was of high quality, too."
Members of the UA team included:
Sean Perry from Edwardsville, Illinois
Ahmad Salman from Jabriya, Kuwait
Mark Amason from Ashville, Alabama
Desrick Mitchell from Luverne, Alabama
Ana L. Diniz Duarte Belem from Brazil
Kyle Burns from Charlotte, North Carolina
Mallory Creed from Destrehan, Louisiana
Also part of the team is Shian Jia, a graduate student under Nastac from Beijing, China.