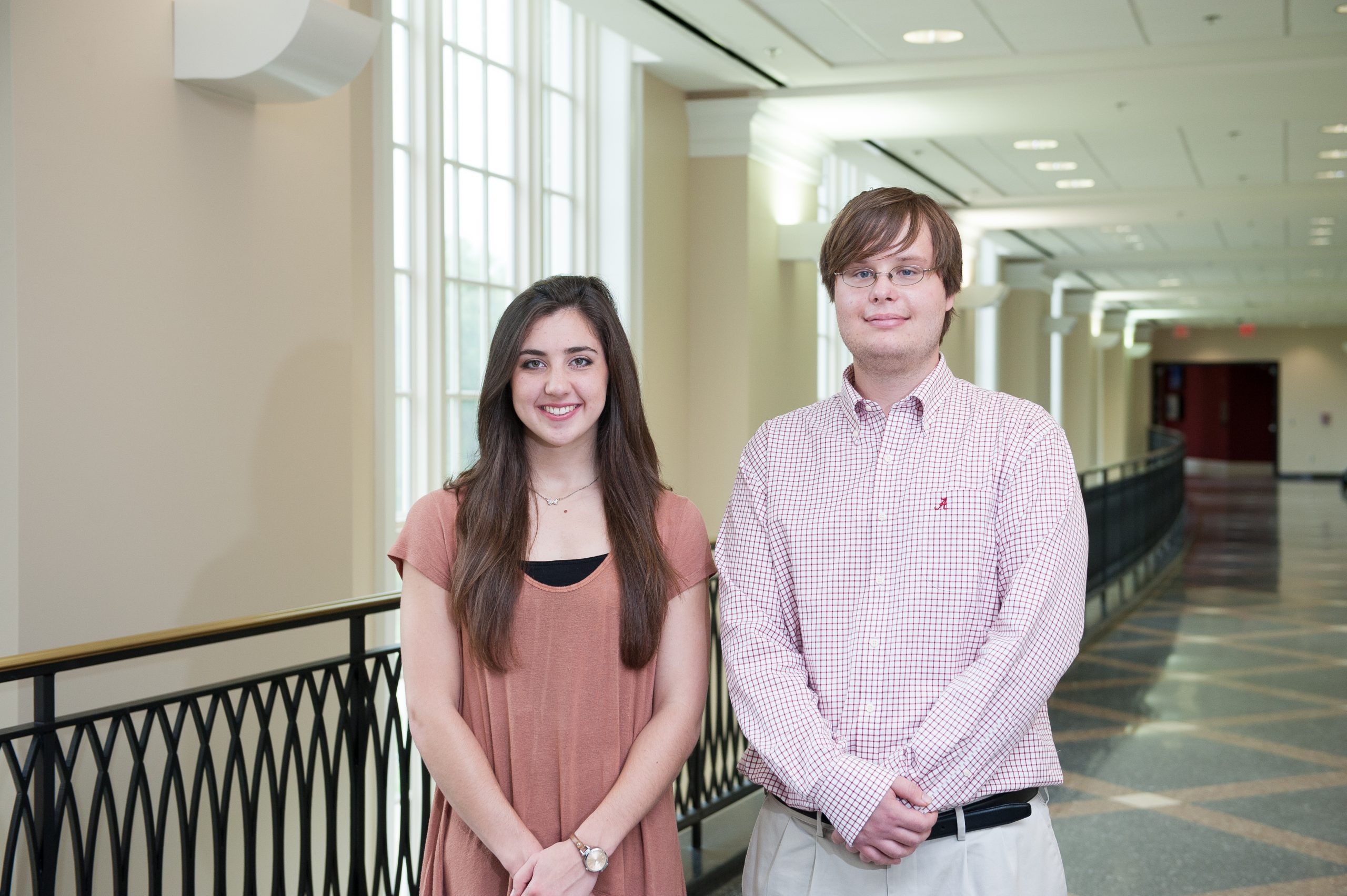 Anna Atchley, left, and Beau Greer will be the first two graduates from the College's two new degree programs. Atchley graduated with a degree in architectural engineering in May 2015, and Greer is scheduled to graduate in environmental engineering in August.
As opportunities in industry continue to grow for engineering graduates, The University of Alabama is making sure to keep the pace. In the 2014–15 academic year, the University began offering degrees in architectural engineering and environmental engineering.
The College of Engineering previously offered minors in both areas along with degree programs in civil and construction engineering that incorporated some of the principles of each major. With the new programs, though, students should be better-equipped for a job market increasingly geared toward specialization. Because the various disciplines of civil engineering are similar, students in the new degree programs take most of the same courses during their first two years.
"All of these programs are disciplines within civil engineering," said Dr. Derek G. Williamson, associate professor and director for the undergraduate programs for civil, construction and environmental engineering. "It gives students the common understanding of the field. So civil engineers, construction engineers, environmental engineers and architectural engineers will all be working together."
This similarity allows civil engineering students to easily transfer into the new programs. This is especially helpful for upperclassmen civil engineering majors like senior Anna Atchley, who switched to the new architectural engineering program when it was offered.
Atchley has known she wanted to work in building and design since she was in middle school, but she wasn't sure what major to choose. She thought about majoring in architecture, a field that focuses on a building's form and function. Since UA does not offer a degree in architecture, her adviser recommended studying civil engineering with a minor in architectural engineering, placing her on track to later attend graduate school for architecture.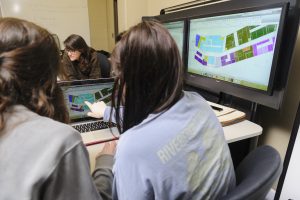 Unlike an architectural program, a degree in architectural engineering emphasizes planning, design, construction and maintenance of buildings. Architectural engineers bridge the gap between architecture and the traditional disciplines of civil, mechanical and electrical engineering.
The further she got into her coursework, the more Atchley realized how fascinated she was with the systemic components of a building, such as the electrical and ventilation systems necessary to create a successful structure.
"I've often heard there is a gap between architects and engineers, the designer and the builder," Atchley said. "With architectural engineering, I hope to close that gap by understanding the concerns of the contractor as well as the desires of the architect and creating a building that satisfies both."
As a civil engineering student, Atchley took classes on subjects such as transportation engineering and cost estimating. Now she takes classes on heating, ventilating and air conditioning systems, and electric power and machines engineering.
"If I never had an idea of how HVAC systems worked, I would never be able to properly design a building to efficiently use the system, so I am very glad the curriculum is different," she said. "I find these classes much more useful, applicable and interesting for the field I want to pursue. They challenge me to think differently and have a greater understanding of the building as a whole."
Nathan Campbell, a freshman from Collierville, Tennessee, chose to study environmental engineering at UA because, more than anything, he just wants to get his hands dirty. "I would love to work hands-on in the outdoors," he said. "I've always liked playing in dirt."
"All of these programs are disciplines within civil engineering. It gives students the common understanding of the field. So civil engineers, construction engineers, environmental engineers and architectural engineers will all be working together."

– Dr. Derek G. Williamson
Of course his passion for nature goes much deeper than that. While using many of the resources already available within the University's engineering, geological science, biology, physics and chemistry disciplines, the new program trains students to evaluate potential environmental hazards and thus protect human populations from the consequences through factors such as recycling, waste disposal, public health, control of water and air pollution, and natural resource management.
"The world faces millions of problems concerning the environment and mankind's place in the natural environment in which it coexists, and most of these problems come without a solution," Campbell said. "I want to have the knowledge needed to assess and help find solutions to these problems. After graduating, I would love to work at protecting and restoring habitats, particularly water ecosystems such as rivers, swamps, marshes. I would also enjoy working towards pollution control in water, land, or air."
Work has already begun on a new laboratory course for undergraduate students studying environmental engineering, and because the College of Engineering has offered courses in environmental and architectural engineering, new faculty will not be required for either program.
Both programs will be unique in Alabama. While there is an architectural program and a variety of programs that focus on the environment, UA will be distinctive in offering engineering training in both disciplines. Williamson said he expects the new programs to receive accreditation from the Accreditation Board for Engineering Technology by 2017. Once the programs are accredited, UA will be the only institution in the country to offer all four accredited engineering degrees that focus on designing and improving many aspects of everyday life.
"I am extremely excited the College of Engineering will be offering students the chance to pursue their passion in architectural engineering and environmental engineering," said Dr. Charles L. Karr, dean of the UA College of Engineering. "I am confident that these degrees will be both popular with students and a real plus for the state of Alabama."