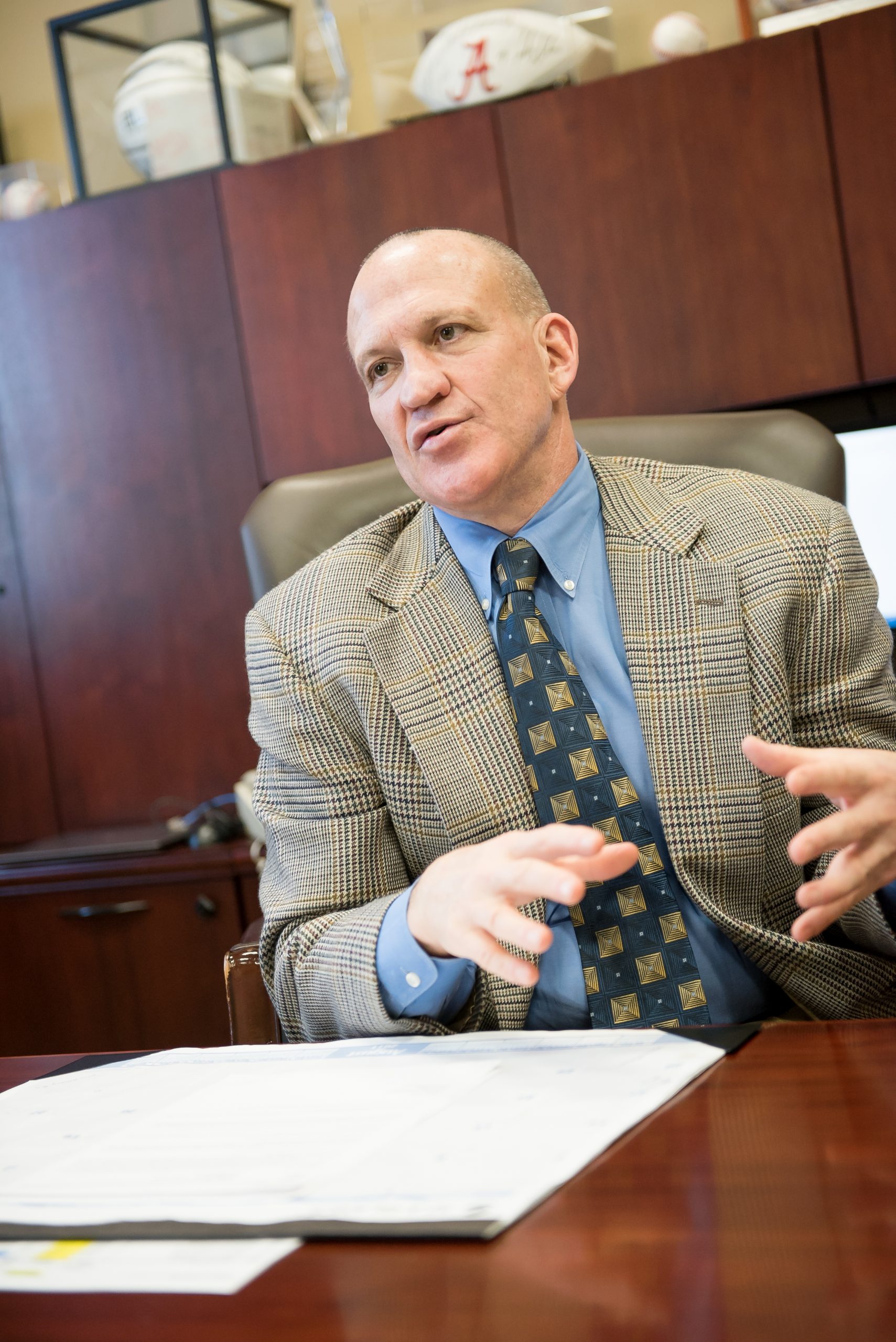 Dr. Charles L. Karr talks in his office about the progress and future direction of the UA College of Engineering.
It's been nearly 11 years since Dr. Charles L. Karr was appointed dean of The University of Alabama College of Engineering. Early on in his tenure, Karr and other leaders from the College set goals for growth and improvement, many of which have long since been surpassed, particularly enrollment, degrees awarded, academic performance of incoming freshmen and research funding.
Today, as head of the largest undergraduate college of engineering in the state, Karr is turning his focus to strengthening graduate education, leveraging growth among the faculty, improving teaching and research space, and mentoring and guiding undergraduate students — all with an eye toward increased research funding and graduate degrees awarded.
The Capstone Engineer recently sat down with Karr to catch up on the past 11 years and discuss the future.
CE: When you became dean, what did you see that needed to change in the College?
Karr: Looking back there were three main areas that really needed hard work. One was our undergraduate population. Back then we had roughly 1,600 undergraduate students, but we didn't have enough critical mass in a lot of areas. We really weren't graduating enough engineers and computer scientists to make it worth a company's time to recruit our graduates. We weren't producing enough. I felt like we needed to grow our undergraduate enrollment.
We needed to be very careful that we didn't just grow by opening the doors and letting anybody in. We actually tried to make it a two-pronged goal to not only grow the enrollment but improve the quality of the undergraduate students. I think we've accomplished that. We've always had wonderful young people, but, right now, it's almost scary-smart for some of these young people. I think you'll see we have a much richer pool of students because we draw from all over the United States. That provides a great learning environment for our young people because you have different perspectives on almost everything talked about in the College.
In the College of Engineering today, we have about 5,300 undergraduate students and a freshman class with a mean ACT score right at 30. That's pretty remarkable. I think if we can continue to work with these young people, mentor them, and guide them and do it in an efficient manner, we should get to a point where we are graduating about 600 or more engineers and computer scientists a year. That makes us relevant on a national stage with regard to our undergraduate program.
"I also don't believe we're finished here. We've made some progress to become the College of Engineering we all want, but we understand we're not finished."
— Dr. Charles L. Karr
Also, if you go back and look at our facilities 11 years ago, most everybody said they needed some work. During that time, we were very fortunate to have investments in our facilities. The Shelby Engineering and Science Quad was built along with other projects, such as the foundry. Now, we have national-scale facilities. We continue pushing the facilities side of the house. We've gone back into buildings we continue to occupy, whether it is Bevill, H.M. Comer or Hardaway Hall, to make improvements and do renovations. I'm excited about our progress there.
Another thing people might lose sight of is the tremendous strides made in hiring faculty. In 11 years we've moved the faculty head count from around 95 to 130-plus. We've been able to hire some outstanding faculty. These things play in concert with one another. When you get a better and stronger pool of undergraduate students, when you improve your facilities, faculty candidates on campus see that. They recognize it. They get excited about that.
CE: Are you surprised in the growth and changes?
Karr: I'm a little surprised in the magnitude. You could say, "Great, you set the bar low, and you surpassed it." But the truth of the matter is when we put those targets out, they were very aggressive targets. I've been really pleased and excited about all the progress that has happened at The University of Alabama, and we've certainly benefited from the University's aggressive pursuit of similar goals. Now, I like to think that in engineering we help drive meeting those goals in that we regularly are one of the top colleges on campus when it comes to increased enrollment. I think we drive the rise in the mean ACT score of the freshman class because we're usually well ahead of the University as a whole. I think it's been really exciting to see.
CE: What's the secret to success?
Karr: Plain and simple, a whole lot of people rolled up their sleeves and went to work. They worked really hard on achieving these goals. The goals we had that we helped shape — none of those goals were going to be achieved by any individual. We knew up front it was going to take a team of folks really working hard, moving in one direction.
The second thing was focus. We had a lot of people running really fast and working hard, but they were going in a lot of different directions. We narrowed it down and let everybody know that resource allocation would be based on helping us achieve those things. We had our targets, and we stayed focused on those and worked hard. It's not a secret.
CE: In 2016, how would you describe the state of the College? Healthy?
Karr: I've been associated with the College of Engineering almost 35 years now, going back to when I was a student, and I've always felt like we had a healthy College. We've always produced a good product, and always had healthy programs. Over that period, I've seen some tough economic situations, but I think we're in a good position right now.
I also don't believe we're finished here. We've made some progress to become the College of Engineering we all want, but we understand we're not finished. If you ask people to look at our College right now and to look at where we want to go, most of our folks understand there's some distance in there. Most of our folks understand there's really no path that gets us to where we want to be without all of us working pretty hard at it. When you look around the College of Engineering right now it really shouldn't be too difficult to drum up a little bit of enthusiasm to come to work every day because it's a really exciting place to be. You see a lot of marvelous young people. You see a lot of great faculty pushing back the boundaries of knowledge. So, healthy, yes. Finished, no.
CE: So what's next?
Karr: The next thing we need to do — and this is something we've begun placing emphasis on — is trying to grow and improve our graduate program. Specifically, I'm talking about the number of outstanding PhDs we graduate in the College of Engineering. Long term one of the best things we can do to improve the reputation of the College of Engineering is to produce outstanding PhD graduates, who go out and take jobs at other universities, government labs and industry. So our main focus in the next few years will be growing and improving our PhD enrollment.
In engineering, because of the nature of graduate programs, increasing the size of and improving the quality of your graduate program means you're talking about research funding. Graduate students in engineering expect to be funded to come here. It's different on some sides of campus, but, here, that's an expectation. We have to make that a two-pronged goal. We have to increase the number of PhD students we have, and to do that we have to get external funding. We've set some targets on the PhD graduates we want to produce and the research dollars we want to bring in, but we also don't need to get mercenary about this. We recognize our products wear shoes. If we bring in the funding without producing the PhDs, we've kind of lost out on a great opportunity.
Research funding is a tough environment right now, but we have hired faculty members that can go out and compete on a national level. I believe we have the facilities that allow us to compete on a national level. Now, we just need to put the same kind of energy and effort and focus on improving our graduate program as we did with our undergraduate program and facilities. I think you'll see some success here.
It's a good time for us to be focused on that. We have a new president at the University, Dr. Stuart Bell, who we are excited about. He's a terrific choice for president. One of his focus areas is growing the research program, and I think we sit in a good position to kind of take the lead at The University of Alabama on pushing the research train. I'm excited about some of the things that are going to happen.