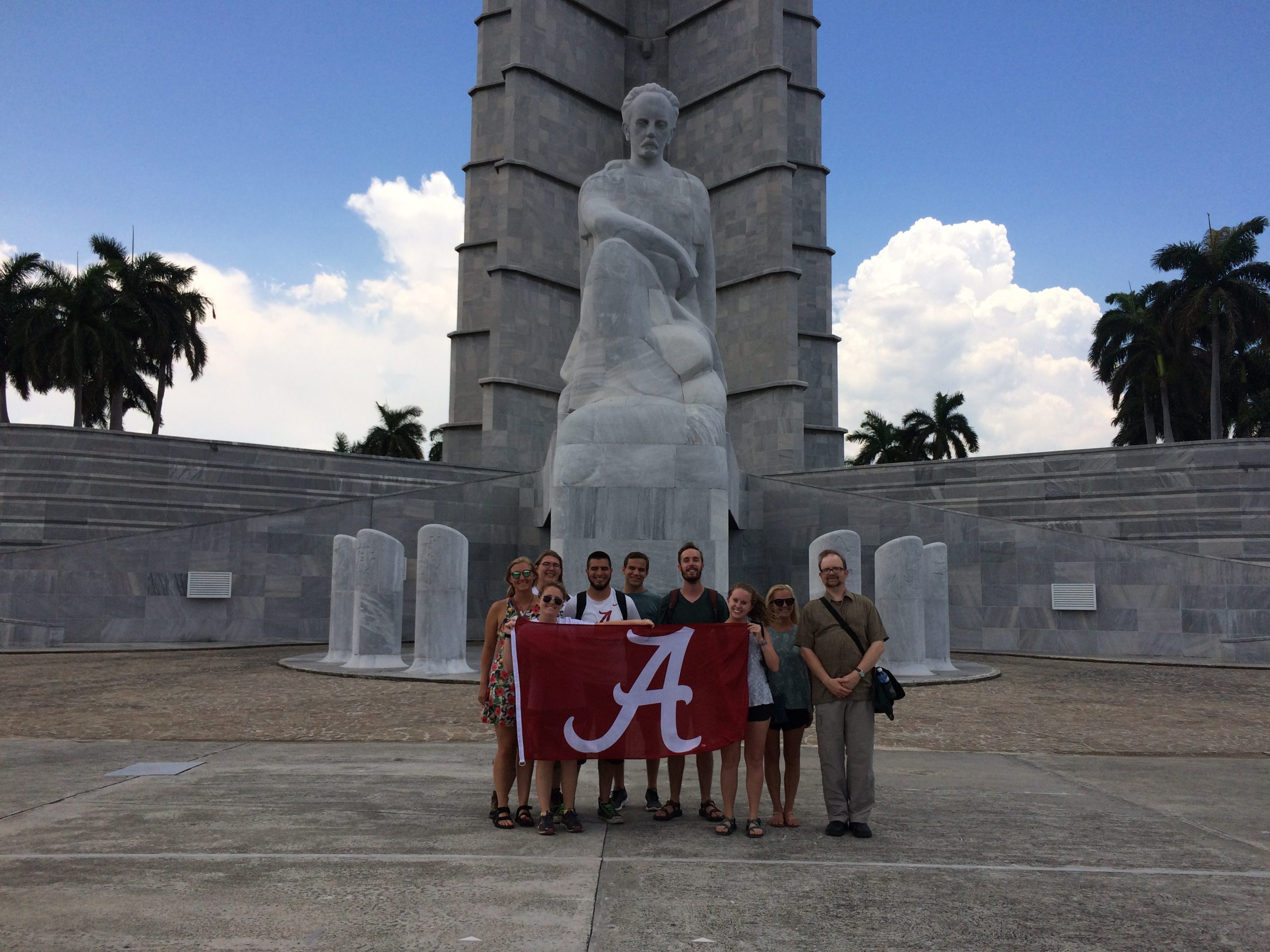 As relations between the United States and Cuba began to thaw, The University of Alabama found itself in a unique position to reach out to universities on the island nation thanks to a long-established relationship of cultural and heritage exchange.
As a result of this strengthening relationship, eight students from the UA College of Engineering spent three weeks on the campus of a Cuban university in May 2016, becoming the first engineering students from the U.S. to study in Cuba since the Cuban Revolution.
"Politics are politics," said Preston Jutte, a graduate student and BSCE '16 who went to Cuba. "It's the interaction between the people that can help relations and move things forward."
Preparations for the trip began in 2002, when the U.S. Department of the Treasury issued academic travel licenses to Cuba and the University. Since then, 85 professors and 75 students have traveled to Cuba, and institutions have sent professors, staff and students to UA. In 2015, UA trustees established the Center for Cuba Collaboration and Scholarship.
Faculty members from the College began taking trips to lay the groundwork for more collaboration, said Dr. Steven Jones, associate professor of civil, construction and environmental engineering.
"I do a lot of international work, and I'm always interested in working in new countries," he said. "I tell students to do these things while you're in school."
In 2014, Jones executed an agreement with Universidad Tecnológica de La Habana, or the Technological University of Havana.
"Because of the current laws, we cannot do technical or scientific research with Cubans, but we can have an educational exchange," Jones said. "Through this program, we internationalize engineering education for our students."
Jones and Dr. Derek Williamson, associate professor of civil, construction and environmental engineering, taught two courses over roughly three weeks to the eight students with assists from guest lectures by Cuban professors. The courses taught transportation and air quality, both an emphasis for Cuban engineers.
"We used Havana as a living observatory to see what we were talking about in the classroom," Williamson said.
In a presentation made in Tuscaloosa this past fall on the experience, Dr. Maria Heidi Trujillo Fernandez, coordinator of the International Collaboration Office and the International University Chair for Intercultural Development at Havana Technological University, said UA students visited cultural and historical locations with educational objectives along with visits most tourists would not see, such as difficult traffic situations in the city. "We wanted them to think about creative solutions," she said.
Along with the educational experience was a cultural experience with Cuban engineering students, which taught both groups the importance of communication in overcoming differences. "Engineers are good at technical skills, but not at cultural skills," she said. "Sometimes that can hurt us in business negotiations."
Dr. José Maria Ameneiros Martínez, director of International Programs at Havana Technological University, said the experience with UA was great for both sides.
"This was something that overcame our initial expectations," he said in a presentation made in English at UA. "It is important to develop these links between North American and Cuban universities."
Elizabeth Hartzog, a junior in civil engineering from Orange Beach, said she wanted to go on the Cuba trip for the opportunity to experience a country few Americans visit.
"It was so unknown, so for me it was the opportunity," she said. "With a lot of other places, you can see so much on the Internet that you can sort of go without going, but you can't do that with Cuba."
Jones and Martínez hope the relationship between their universities can grow. "The future should be related to research," Martínez said. "We have to sustain the courses with the students, but we also have to develop relationships for joint projects."
Jones said along with the civil engineering disciplines, UA is also working to partner mechanical engineering and chemical engineering with Havana Technological University, but, for now, government regulations severely limit joint research between the two countries.
"The issues are between our governments, but the people are great," Jones said.