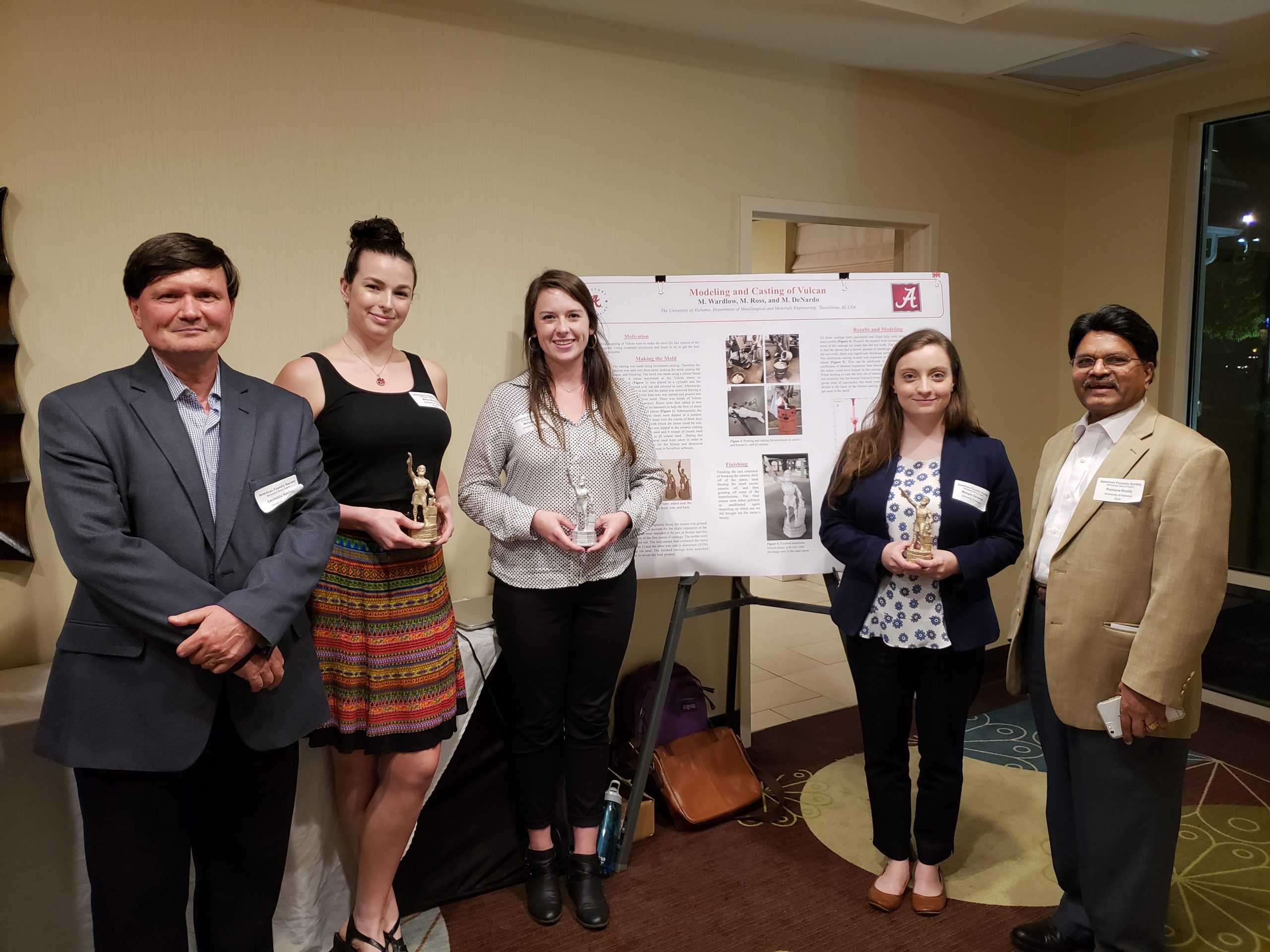 TUSCALOOSA, Ala. – Two teams of nine metallurgical and material engineering students took first and second place in a local casting competition held April 9.
The American Foundry Society Casting Competition consisted of each team making a small-scale version of the Vulcan statue located in Birmingham and a technical presentation of their work. The teams were judged on resemblance to the statue, overall use of the casting process, use of casting principles, use of engineering tools, creativity, quality and presentation.
"Students learn how to compete and also how to make a sound, complex casting as well as a technical presentation, which is a good experience for them," said Dr. Laurentiu Nastac, UA associate professor of metallurgical and materials engineering.
The students used bronze and A356 aluminum alloys to cast the replica statues in the MTE metalcasting lab. It took about two weeks to complete the process. The first and second place finishes earned the student teams a cash reward, and the students plan to use this money for travel to technical conferences.
"I think that placing first and second for both of our teams at the university really shows how good a program we have here," said Michael Amling, junior metallurgical engineering student from Valparaiso, Indiana, and team leader. "The competition was a great learning experience, as well as a good opportunity to bring in money for our Material Advantage/AFS chapter."
In addition to both teams placing in the top two at the competition, each student also received the local Foundry Educational Foundation Scholarship. Students must be involved in metalcasting activities, registered to the FEF, nominated by their school's FEF key professor and approved by the organization to receive this scholarship. The total value of the FEF scholarships and the AFS awards received were $10,000.
The competition was organized by the AFS Birmingham chapter. The UA students competed with students from The University of Alabama at Birmingham.
Eight other UA metallurgical and material engineering students that competed were:
Maegan DeNardo, a junior from Monroe, Louisiana
Thomas Foster, a junior from Cumming, Georgia
Aaron Kaboff, a junior from Vernon Hills, Illinois
Jack Little, a junior from Pasadena, California
Kristen Marrapodi, a junior from Montgomery, New Jersey
Morgan Ross, a junior from Meridian, Mississippi
Kathryn Stoettner, a junior from Western Springs, Illinois
Molly Wardlow, a junior from Carmel, Indiana