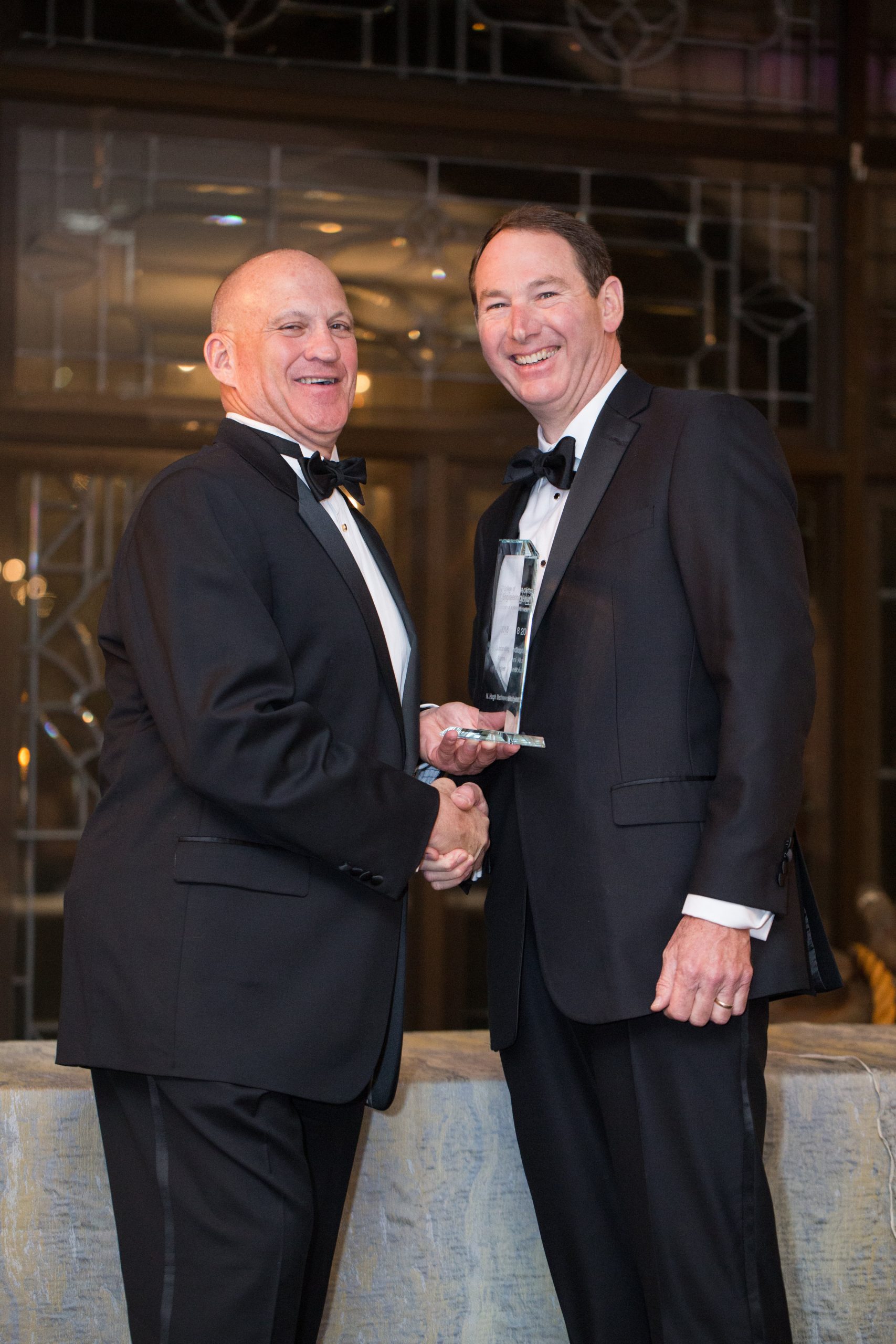 Dean Karr and N. Hugh Mathews
TUSCALOOSA, Ala. — The University of Alabama College of Engineering recently recognized N. Hugh Mathews as its 2018 Outstanding Alumni Volunteer.
Mathews, a Birmingham native, has demonstrated consistent loyalty to the College. He has served for two years as the chair of the College of Engineering Leadership Board, and, as chair, he helped establish an endowed scholarship for the College.
Mathews graduated from the University with a degree in civil engineering in 1981. He has been president and chief executive officer of England-Thims & Miller Inc. since 2013. The 200-person consulting and design engineering, surveying, planning and landscape architecture firm provides service to both public and private clients throughout northeast Florida. In addition to firm direction, Mathews provides leadership in services for large retail and master planned communities.
In 1995, the UA College of Engineering began a yearly tradition recognizing an alumnus who provided excellent volunteer assistance as the Outstanding Alumni Volunteer.
Mathews gives back to his alma mater by regularly participating in Capstone Engineering Society networking receptions, and for the past two years, he has served as an alumni mentor in Mentor UPP: Undergraduate Professional Program, the College's mentoring partnership program for undergraduate students. In addition to serving the College, he serves his former department as a member of the advisory board for the civil, construction and environmental engineering department.
A member of the Jacksonville, Florida community, Mathews has used his engineering and leadership skills with an orphanage in Haiti, a church in Cuba, Baptist Health, the University of North Florida, and Fruit Cove Baptist Church. Mathews served as the inaugural chairman of the board of directors in the founding of Seamark Ranch, a Christian children's home for abused, abandoned, neglected, orphaned and homeless children in Jacksonville.
Mathews also serves on governing boards and participates in fundraising activities with the Baptist Medical Center South Development Council, Jacksonville Chamber of Commerce, Lifeline Children's Services, Urban Land Institute of North Florida, and the University of North Florida College of Computing, Engineering and Construction Dean's Leadership Council.
In 2005, Mathews was named a Distinguished Engineering Fellow in The University of Alabama College of Engineering. Recognition as a Distinguished Fellow is the highest commendation given to graduates whose efforts have strengthened the reputation of the College.
Mathews and his wife, Regina, have two children, Casey and Tyler, both University of Alabama graduates, and three grandchildren.