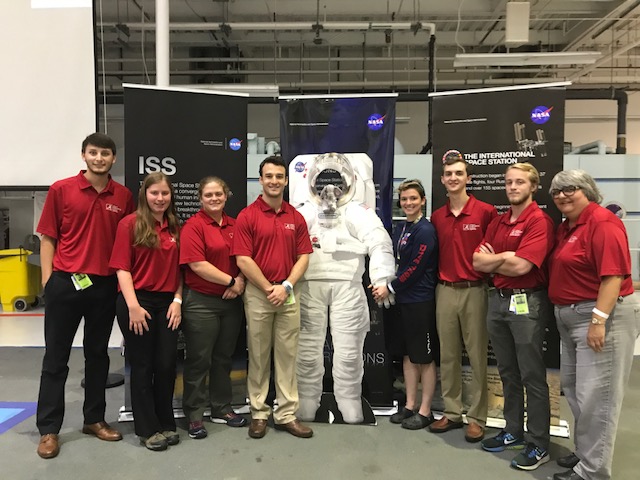 TUSCALOOSA, Ala. – A team of six University of Alabama mechanical engineering students were selected to participate in testing at the Johnson Space Center in Houston, Texas.
The students were selected by NASA for the third consecutive year based on a competitive proposal submitted for the Micro-g Neutral Buoyancy Experimental Design Teams. This program challenges undergraduate students to design, build and test a tool or device that fixes a current space exploration challenge.
UA's proposal was to create a device to detect and repair damage and holes to the side of the international space station. The device was tested in the NASA Johnson Space Center Neutral Buoyancy Laboratory on Tuesday, June 5, by a diver taking direction from the student team.
The tool consisted of two pieces, a handle and a guide. The third piece, a plug, was placed into the guide, and the handle was used to push it into the hole.
"In the water, it is really difficult for the diver to hold all three pieces. The tool pieces were tethered together and then tethered to the diver and the plugs were also tethered to the diver," said Dr. Beth Todd, UA mechanical engineering professor. "Several holes were patched and the tool sort of works, but the interaction of the tethers with the pieces needs to be redesigned."
The six mechanical engineering students that participated in this testing were 2018 graduates Meichelle South, Keating Mefford, Austin Brett Lewter, John Coleman Wlodarski, Brandan Banker and senior Katie Lambert.