TUSCALOOSA, ALA. — A University of Alabama engineering professor was awarded a grant to organize a National Science Foundation visioning workshop this spring.
Dr. Jacob Chakareski, electrical and computer engineering assistant professor, was named principal investigator of a $49,998 grant to organize the Future VR/AR Network — Towards Virtual Human/Object Teleportation: NSF Workshop on Networked Virtual and Augmented Reality Communications. The event was held April 23-24 in Washington D.C.
Chakareski is an early investigator of networked virtual and augmented reality communication systems, which is an emerging area of research of prospectively broad societal impact. He leveraged his research and established contacts with colleagues in the field to organize the visioning workshop on this topic.
"I am committed to promoting UA through science and technology," Chakareski said.
At the workshop, researchers and practitioners assembled for two-days to discuss the challenges of networking for assisted-reality technologies. Present computer networks, like the internet, cannot support the deployment of related applications online because it cannot meet the stringent requirements. Out of the almost 110 applications received, 40 researchers were selected to attend the conference. Those researchers came from industry, government and academia including UA's Dr. Kim Genareau, assistant professor of geological sciences.
The four goals of the workshop were to identify technical problems to investigate, establish a vision and agenda for networked VR/AR research and technology, increase understanding of the requirements for future networks, and identify new societal applications and benefits of virtual and augmented reality technologies and applications.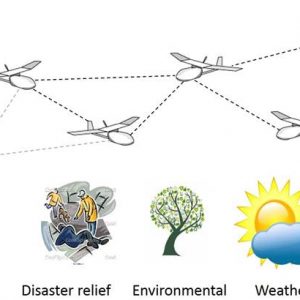 The Institute of Electrical and Electronics Engineers helped promote the workshop through its IEEE Future Directions Digital Reality website and social media channels.
"It is in fact unique that the two major science and technology organizations in the country are supporting us in this way," Chakareski said of IEEE and NSF's involvement.
As principal investigator, Chakareski organized the entire two-day event. Currently, he is working on research that aims to enable the next generation wireless VR/AR societal applications that can be delivered to every corner of the world via novel drone Internet of Things, or IoT, networks. He also investigates improving the immersion quality of experience of streaming 360-degree videos by creating higher quality immersive internet videos delivered without lag in streaming.
A report was compiled from the workshop discussions and findings. These materials were posted online and shared with the NSF to inform future solicitations of research projects to pursue in these areas. For more information, visit the workshop website at jakov.org/NSF_NetworkedVRAR_Workshop/.