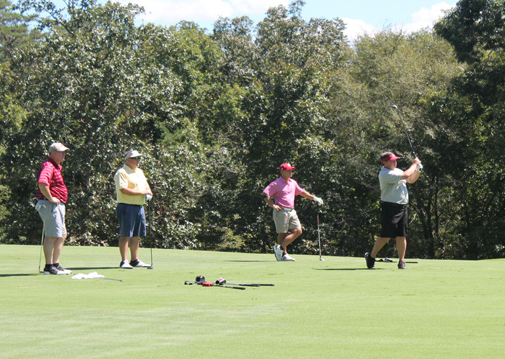 The 18th Annual Capstone Engineering Society Golf Tournament was held Sept. 17, 2018, at Old Overton Golf Club in Vestavia Hills, Alabama.
Thanks to generous contributions, more than $39,000 was raised for the Capstone Engineering Society Scholarship Fund. Thirty-two teams participated in this year's tournament.
Members of the CES golf committee were Ken Todd, Suzanne Chapman, Rick Nail, Al Faulkner, Nathan Reamey, Gaston Large, Valerie Wade, Shaw Gilmer, Milton Davis, Tony McLain and John Covington. The tournament had two beverage sponsors, 22 hole sponsors, a putting contest sponsor, nine tournament sponsors and an executive sponsor to help make the event a success.
Tournament Winners:
First Place – Gross: Jon Noland, Mike Pearson, Mike Sanford, Clyde Clausen – American Team 1
First Place – Net: Austin Minter, Chris Cater, Stephen Burton, David Holt – Bradley Arant Boult Cummings Team
Second Place – Net: John Dempsey, Nathan Reamey, Mike Hays, Tommy Lee – Vulcan Painters
Putting Contest Winner: Ronnie Chronister – Dynetics
Closest to the Pin: John Summers – Enercon Team 1
Longest Drive: Adam Smith – Enercon Team 2