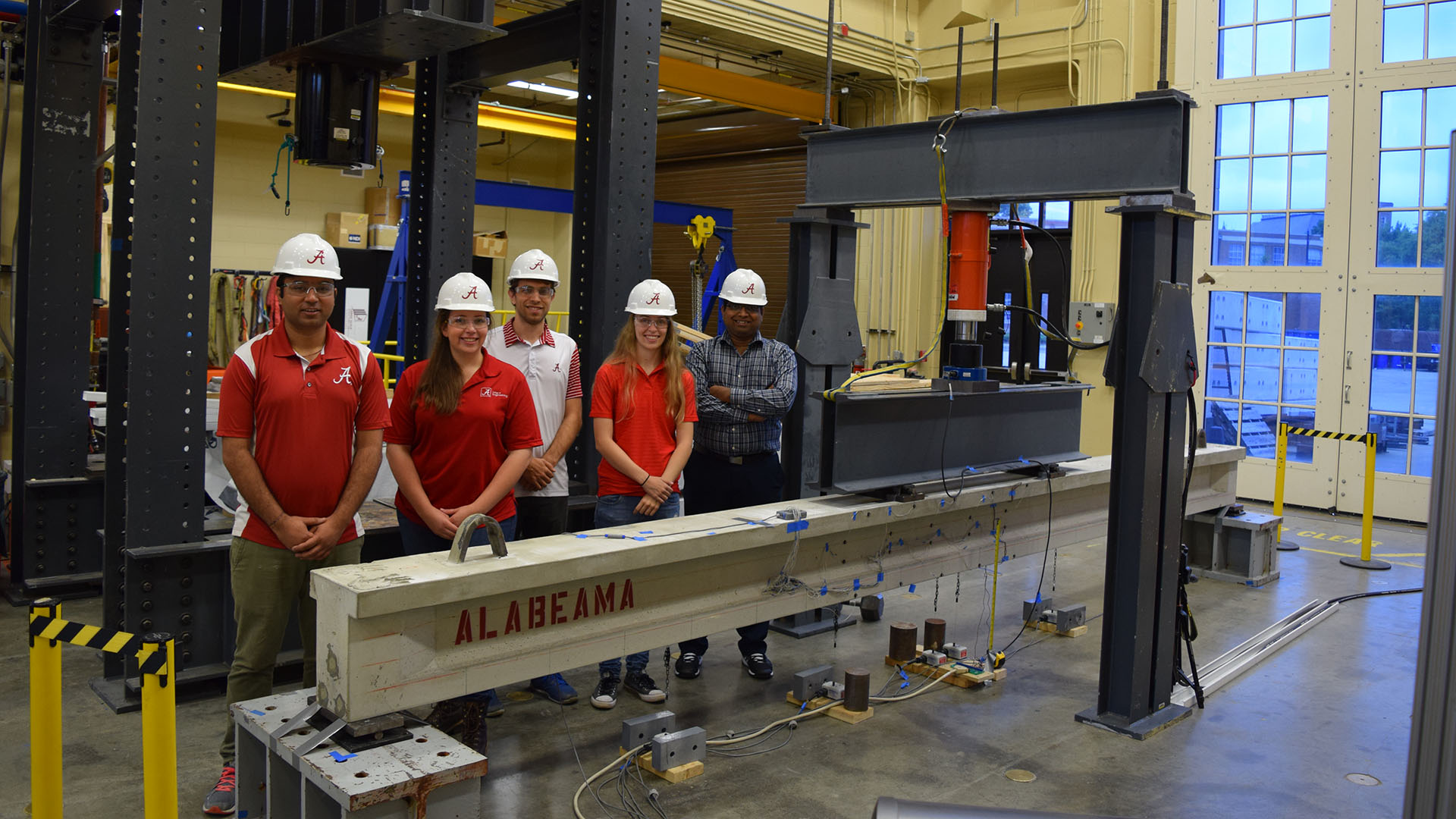 Civil, construction and environmental engineering students Sumedh Sharma, Emily Gould, Daniel Valentim, Gabi Willis and assistant professor Dr. Sriram Aaleti test their beam in a lab on campus before competition.
TUSCALOOSA, Ala. – University of Alabama student team, Alabeama, recently placed third in the 2018 Precast/Prestressed Concrete Institute Big Beam Competition.
The objective of the national competition is to design, fabricate and test a precast and prestressed concrete beam to span 20 feet and to support at least 32,000 pounds and fail, or break, before reaching 39,000 pounds. The competition also required a video component to be submitted by each team documenting their progress and results.
"In most upper level structural design classes, we analyze or design different members for various loading conditions," said Emily Gould, team member and master's student graduating in 2019 from Charleston, West Virginia. "But to take it one step further, to get to see the beam actually crack, deflect, and eventually fail as we predicted was an experience I won't forget."
The team worked with industry partner Gate Precast in Monroeville, Alabama, to create the beam used in competition that earned them third out of 20 teams nationally. This is a significant improvement from the previous years' results of ninth and seventh.
"The competition gave us a unique opportunity to have contact with the design world and the production facility at the same time," said Daniel Valentim, team member and doctoral student from Vitória, Espírito Santo, Brazil, graduating in 2021. "It opened my eyes to realize that sometimes what can be easily designed and drawn in the computer can be difficult to be executed in the precast plant."
In addition to the real world hands-on experience gained through this process, the student team will receive $1,500 for the third-place finish. Several UA team members intend to participate in next year's competition.
"I was really glad to see that all the effort and time our team put in led us to a good position in the competition," said Valentim. "Even though we came in third place, our team recognizes that we still need to improve, to aim for first place in the next years."
In addition to Gould and Valentim, Alabeama consists of two other civil, construction and environmental engineering majors, Sumedh Sharma, doctoral student from Kathmandu, Nepal, graduating in 2020, and Gabrielle Willis, undergraduate student from Jacksonville, Florida, graduating in 2018. The team's advisor is Dr. Sriram Aaleti, assistant professor of civil, construction and environmental engineering.