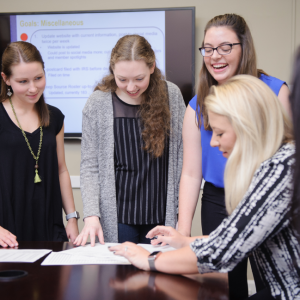 What began in 1950 with just 60 women engineers, has grown on an international level to become a major support system for college women in engineering across the globe and at The University of Alabama.
The Society for Women Engineers got its start at the University in 1976. Since its charter, SWE has grown from 10 students to 322 students, male and female, from across all engineering disciplines.
"As SWE, we're really a resource for those women that are in engineering fields, a place where they can come and talk to people about presentation techniques or how to more effectively do something in engineering," said Katie Hiles, recent environmental engineering graduate and 2017-2018 UA SWE president.
The Alabama chapter of SWE hosts meetings every other week, and invites company delegates to speak with their members about opportunities in the workplace from internships to full-time positions. Tesla, Chevron and Exxon are among some of the companies that have participated in SWE meetings on campus.
The skills gained by SWE members go beyond those taught in a classroom. Leadership skills, professional development, and interpersonal connections are some of the benefits of being a part of SWE.
"One of the first things that I was told after I toured was, 'This is a big university, but you'll find your way to make it a small school,'" said Lauren Pan, sophomore chemical engineering major on the STEM Path to the MBA and UA SWE liaison. "Having people like-minded and [with] like-amounts of school workload really allows you to connect in a way that is different than those people that you meet and bond with in a completely social manner."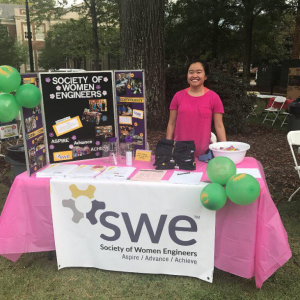 SWE is not just a collegiate experience. The organization continues after college with professional sections nationwide that give members the skills to adjust to life in the workplace.
One of the challenges and benefits of SWE is that you have people in all these different engineering majors so a lot of times the focus is not so much on the technical aspects of things but more the people skills aspects of things," said Dr. Beth Ann Todd, UA SWE faculty advisor and associate professor of mechanical engineering. "I think one of SWE's strengths is providing members with information about how to make that adjustment from college to the workplace."
As UA SWE's advisor, Todd acts as a resource for female students in engineering. She works to encourage members to take the next steps when it comes to progressing in their careers.
"I think it's important for them to see women engineers in a position of leadership," Todd said.
The professional sections of SWE focus on impacting the collegiate community and ensuring that members have the resources needed to be successful both during their time in college and after. In addition to building up the collegiate chapters, the professional chapters offer resources on how to balance work life and personal life.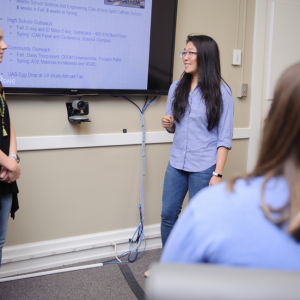 "There are entire tracks dedicated to reentering the workforce," Pan said. "A lot of those [tracks] are how to balance a new family with climbing your career as an engineer in a male-dominated workplace and how to really just hold your own."
SWE promotes women in engineering starting at a young age by participating in outreach programs. Through these programs, members of SWE teach middle and high school students about engineering and encourage them to pursue careers in engineering.
SWE is for anyone who advocates for women in engineering regardless of age or gender. The organization works to support and encourage women throughout the entirety of their career in STEM fields and provides experiences and friendships that last a lifetime.