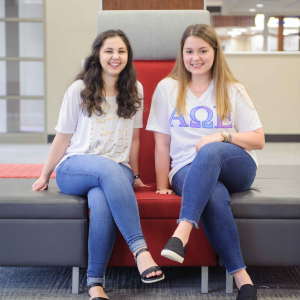 Sisterhood and STEM go hand in hand for the women of Alpha Omega Epsilon sorority.
A.O.E. is a social and professional sorority for women involved in any science, technology, engineering and math, or STEM, field. This organization helps women during their time in school by providing professional advice about succeeding in STEM while also participating in social activities.
"A lot of it is focused on how women represent themselves in engineering fields, like how to assert yourself as a woman in a male-dominated field," said Emily Schnarre, A.O.E. member and senior geology major from Pittsburgh, Pennsylvania. "It can be kind of challenging so I think it just provides an extra support system."
A.O.E. focuses on helping each of its members brand themselves in order to be successful. The organization accomplishes this through professional events held each semester. Resume writing, business card printing and thank you note etiquette are just some of the topics covered at the events.
The University of Alabama chapter of A.O.E. was established in 2013 and became officially chartered in 2016. Currently there are 100 members and Schnarre expects the organization will continue growing in the upcoming years.
A.O.E. is for all STEM students interested in being a part of a group of women dedicated to bettering themselves within their careers and who are interested in gaining life-long skills and friendships.
"For me personally coming to Alabama, I wanted nothing to do with sororities and Greek life," said Alex Hurley, A.O.E. member and junior mechanical engineer from Kingston, Massachusetts. "But it's just that we're all so like-minded and we all care so much about our school work and doing well and also encouraging everyone else to do well."
Over the past five years, A.O.E. has become a more recognizable organization on UA's campus. Current members aren't having to depend on organizational fairs like Get On Board Day to recruit new members. Student like Schnarre are coming to UA with aspirations of joining A.O.E.
"It used to be that we relied a lot on Get On Board Day and we would just try to attract as many people as we could," Schnarre said. "But now we have started reaching out to a lot more people, and they have started reaching out to us. They are a lot more excited when they get to campus because they know about it and they're like, 'Oh, this is what I want to do.'"
In addition to professional improvement for its members, A.O.E. is also involved with philanthropy work related to both women and STEM fields. The majority of their work is with the Women and Gender Resource Center, an on-campus facility that addresses gender inequity and fosters a community of multiculturalism, social justice, safety, and leadership through gender-related outreach, advocacy and support to communities of all identities.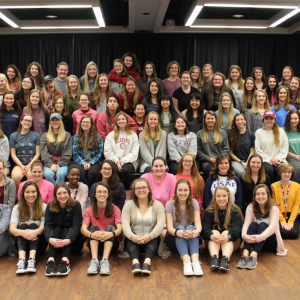 "We don't have a nationwide philanthropy, but we try really hard to focus on things that are STEM related because that's kind of who we are," Schnarre said.
A.O.E. is growing both at UA and nationwide as a way to help women in STEM reach their goals of becoming successful in a field mostly dominated by men. With alumni chapters increasing, A.O.E. is something that does not just help its members through college but in their careers as well.
"I think women in STEM [fields] is growing as a whole, and being around like-minded people with the same goals and the same work ethic is just very encouraging," Hurley said. "Being here with all these girls, it's like a second family to me. We're there for each other through thick and thin."