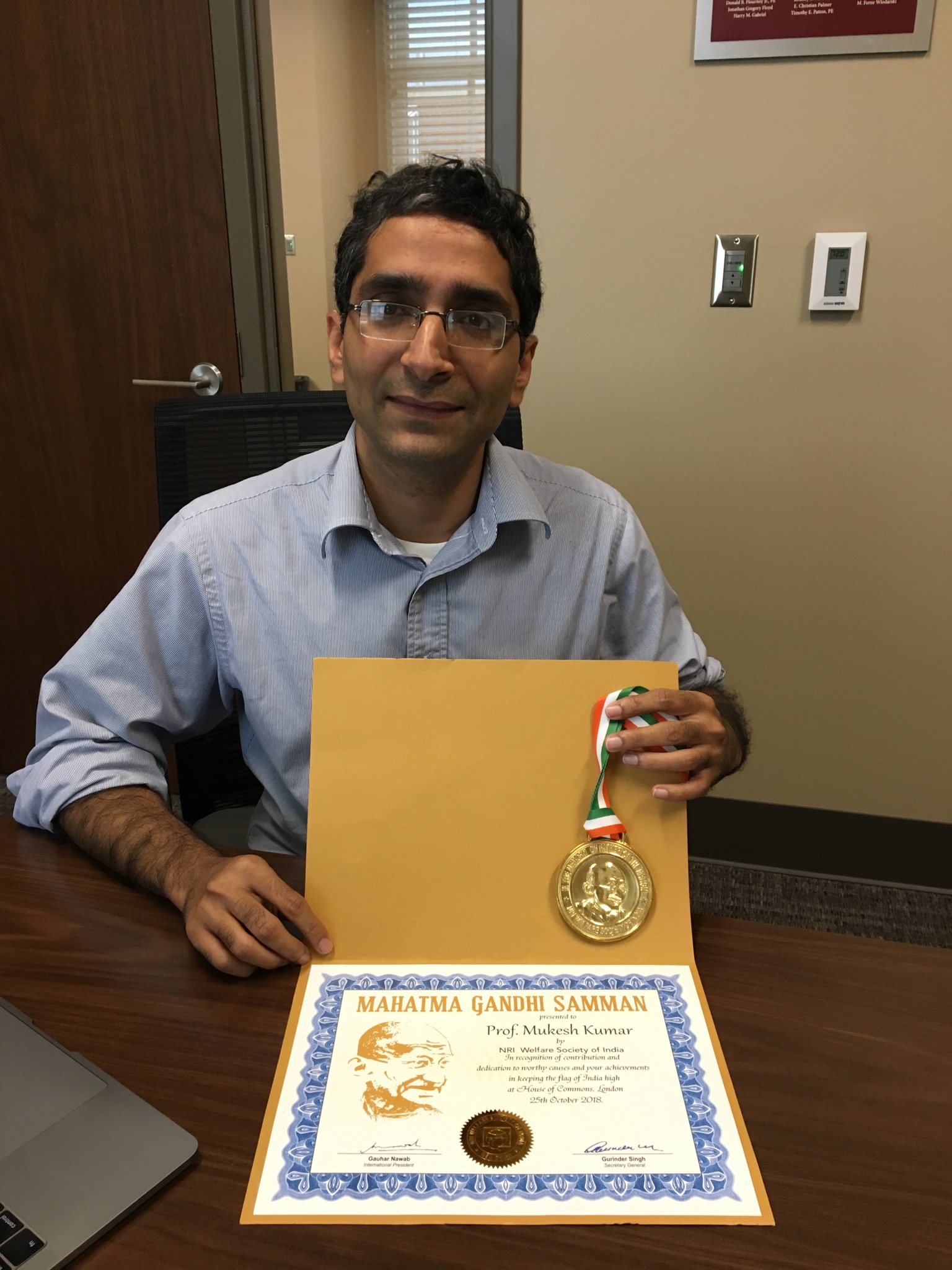 Dr. Mukesh Kumar received a certificate and a medal when he was recognized as one of 60 exemplary non-resident Indians by the Non-Resident Indian Welfare Society of India.
TUSCALOOSA, Ala. – A University of Alabama engineering professor was recently honored with the Mahatma Gandhi Award for outstanding services, achievements and contributions.
Dr. Mukesh Kumar, UA civil, construction and environmental associate professor, received the 2018 Mahatma Gandhi Samman presented by the Non-Resident Indian Welfare Society of India to about 60 non-resident Indians per year out of nearly 16 million living outside of India. The purpose of this award is to recognize the accomplishments of non-resident Indians while also strengthening the bond between non-resident Indians and India.
"This award definitely means a great deal to me as it recognizes my research and that of my research group," Kumar said. "It definitely encourages me to do an even better job at making my research valuable to communities that are affected by water availability and water quality issues."
This year's awards ceremony took place Oct. 25, at the House of Commons in London. In addition to Kumar, this award was also given to several CEOs, Gallantry Award winners, law enforcement professionals, Olympic athletes and scientists. Former prime minister of India, H. D. Deve Gowda, and current British parliament members were also in attendance.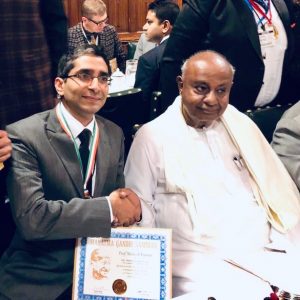 "The award ceremony was really inspiring, and it gave me a chance to hear from a wide swath of Indian diaspora," Kumar said.
Awardees from fields ranging from academia to athletics are selected through nomination by a committee. Following a nomination, potential recipients are asked to provide a detailed CV, which is then given to an advisory committee that makes the final award decision.
"I'm glad being here at the UA, as it provides me the necessary support and environment to continue my line of research with a greater enthusiasm," Kumar said.