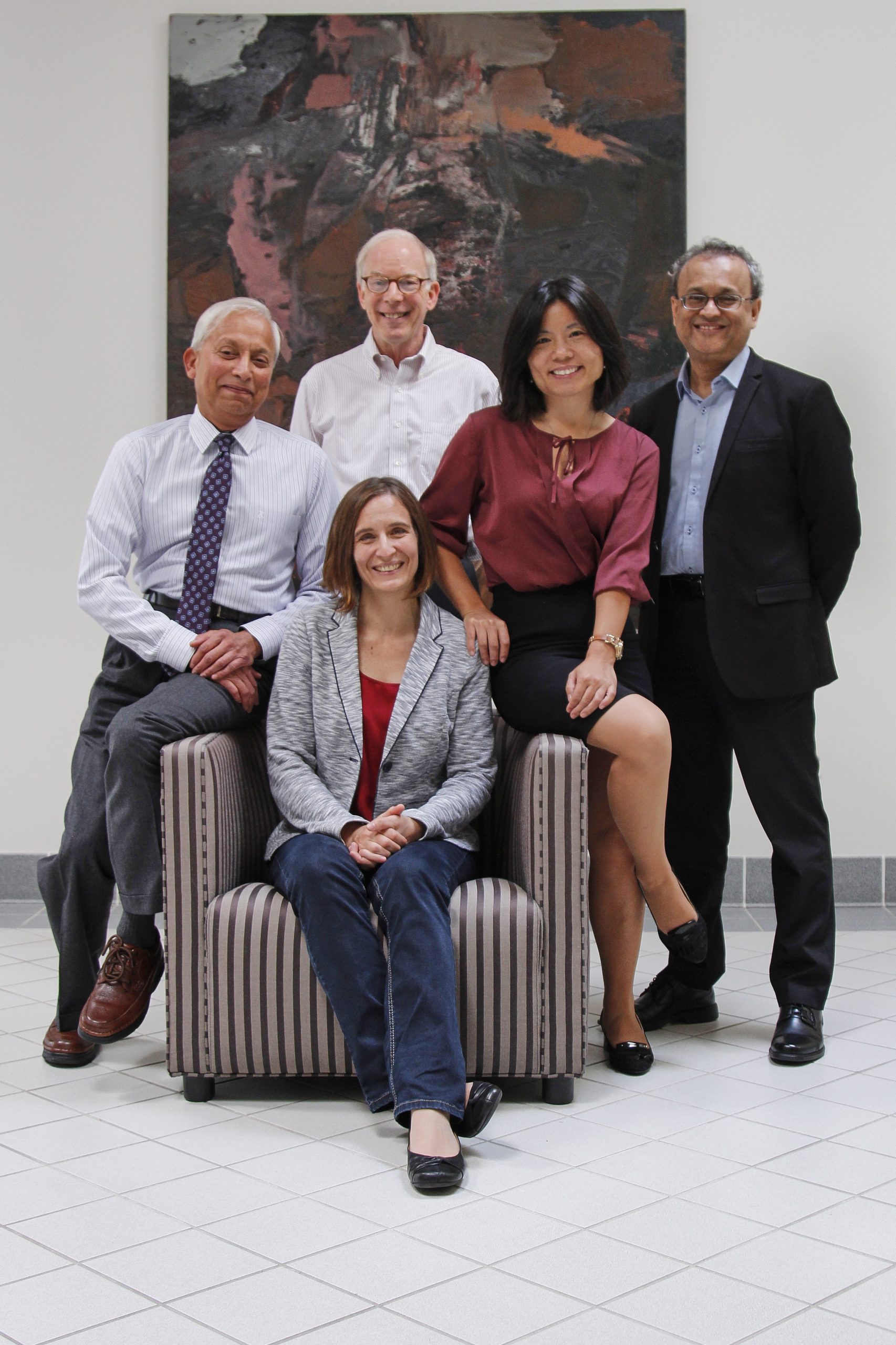 The 2019 MRS Spring Meeting Chairs are, from left to right, Subhash L. Shinde, University of Notre Dame; Bruce Dunn, University of California, Los Angeles; Yuping Bao, The University of Alabama; Subodh Mhaisalkar, Nanyang Technological University; and sitting in the chair is Ruth Schwaiger, Karlsruhe Institute of Technology—Institute for Applied Materials.
A University of Alabama associate professor of chemical and biological engineering has been chosen to help lead the 2019 Materials Research Society Spring Meeting.
Dr. Yuping Bao will serve as one of five meeting chairs for the annual event, which will be held April 22-26 in Phoenix, Arizona. Bao was nominated by the previous year's chair and selected by the MRS president.
According to Bao, meeting chairs are chosen based on three factors, they need to be well-known within their field, highly involved in the Materials Research Society and willing to work.
"It's a great honor to be chosen," Bao said. "So many people want to do this and want to influence these meetings with what topic they want to highlight. And it is great experience as well."
Preparation for the annual meeting takes a year and a half and starts with each chair selecting a topic to promote, share and discuss at the meeting. Bao's topic is biomaterials.
Following topic selection, meeting chairs send out a call for symposium proposals to institutions interested in attending. Of the proposals submitted, 67 symposia were selected to be part of the program at the 2019 meeting. Meeting chairs work closely with the four organizers from each symposium to finalize their topics.
Once the symposia were selected, there was a call for abstracts. As of November, there were 3,776 abstracts submitted for presentation at the upcoming conference. About 85-90 percent of abstracts will be selected for presentation at the conference. The meeting chairs will provide guidance to the symposium chairs to finalize the abstracts being presented.
In addition to the conference, the annual MRS meeting features unique events including the Science as Art competitions based on pictures of materials and the Wearables in Smart Fabrics Fashion Show with clothing made of the new materials highlighted at the meeting.
There are also numerous educational and outreach components for supporting young scientist and engineers, such as Networking for Nerds—Become a Networking Rock Star, Science Writing Workshops, and Create Your Dream Job: Exploring Your Passions and Recognizing Your Potential.
"These [events] really allow the students to have fun while they are working on scientific research," Bao said.
This meeting also serves as a professional development forum for members that attend. Professionals from different areas of research are invited to hold training sessions. This year the meeting will include several previous TED Talk speakers from a wide range of research areas.
"As a chair you can decide what you're going to do," Bao said. "That's the exciting thing about being a meeting chair, we can culture our meeting whatever way we want to benefit people."
MRS is a non-profit, professional organization established in 1973 with the goal of advancing materials research and improving quality of life. MRS has approximately 14,000 members from academia, industry and government.