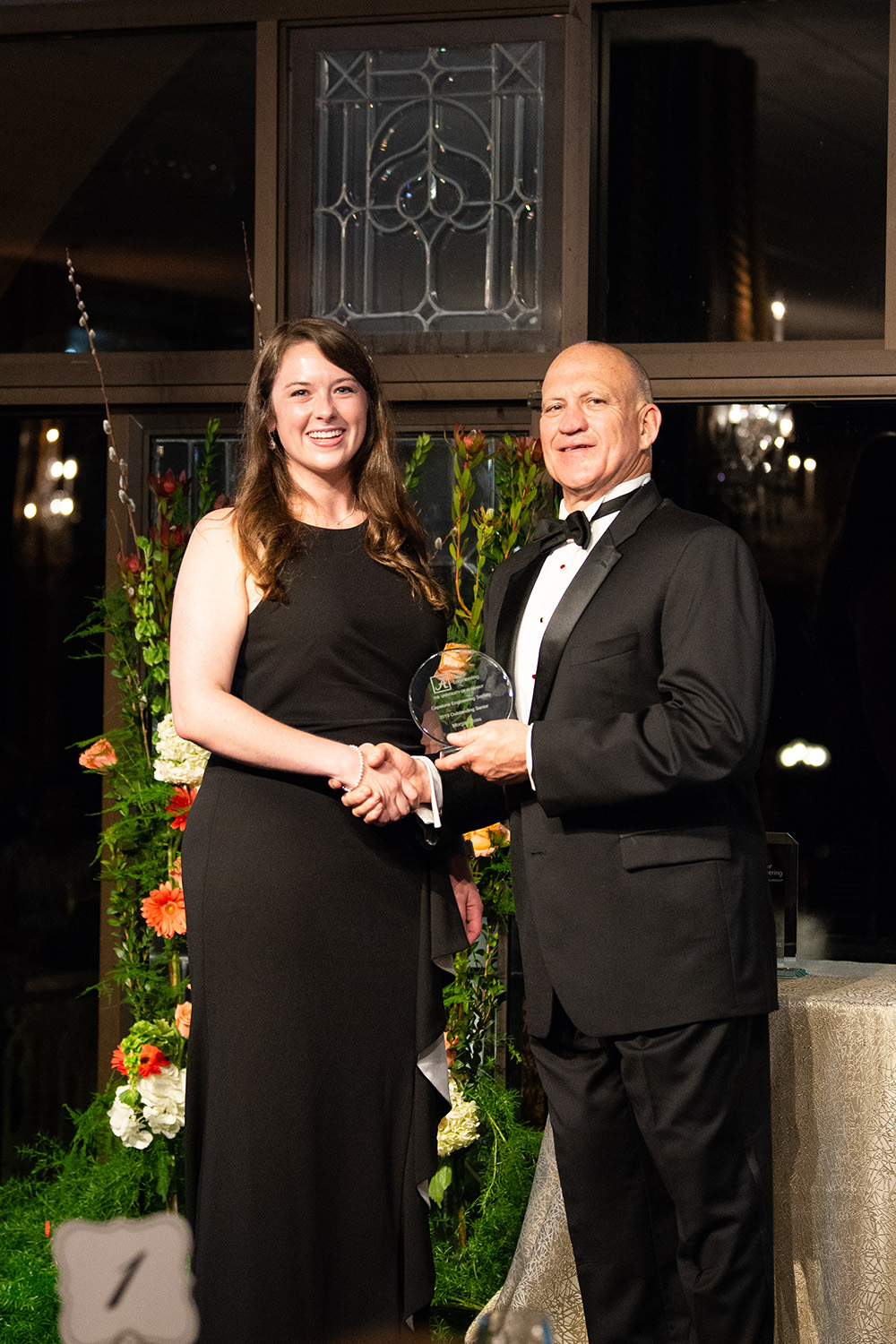 Morgan Ross was recently honored with the 2019 Capstone Engineering Society Outstanding Senior Award during a ceremony at the NorthRiver Yacht Club in Tuscaloosa.
Morgan Ross, who studied metallurgical and materials engineering at The University of Alabama, received the 2019 Capstone Engineering Society Outstanding Senior Award.
A native of Meridian, Mississippi, she earned 10 different scholarship awards and a 4.08 grade point average during her time at UA. Ross was in the University Honors Program and the Randall Research Scholars Program.
She became a member of honor societies Tau Beta Pi, The Anderson Society, Mortar Board, Omicron Delta Kappa, Cardinal Key, The XXXI, Alpha Lambda Delta, Phi Eta Sigma and Golden Key International. Ross was named 2018 RRSP Outstanding Junior, 2017 UA Outstanding Sophomore and 2016 MTE E.C. Wright Outstanding Sophomore. In 2017, she won the C.H.T. Wilkins Award for Excellence.
During summer 2017, Ross was a research intern with the Army Education Outreach Program conducting thin film studies. She also worked with Dr. Gregory Thompson, UA professor of metallurgical and materials engineering, studying ultra-high temperature ceramics and coatings. Ross has presented her work at seven events during her undergraduate career including the 42nd Annual Conference on Composites, Materials and Structures.
"She has been outstanding asset to our department and my research group. She exhibited maturity, professionalism, and dedication in both the classroom, evident by an excellent GPA, and accomplishments in the lab," Thompson said.
In 2018, she earned first place in the UA System Casting Competition and first-place oral presentation at the UA Systems Conference. At the 2018 Undergraduate Research and Creative Activity Conference, Ross came in first in the College of Engineering category and second in the Engineering, Technology and Energy category.
At the Capstone, she served in several leadership positions including secretary of the Materials Advantage/American Foundry Society, vice president of STEAM Alabama, professionalism committee head of RRSP, middle school outreach chairman of the Society of Women Engineers, vice president of involvement for University Stewards, and a student instructor in Honors Cultural Literacy.
Ross was a member of Alpha Chi Omega sorority and participated in the UA Honors Study Abroad Program in New Zealand. She also worked as an assistant to UA President Emeritus Dr. Robert Witt.
"She is extremely bright, creative, hardworking and very dependable," Witt said. "I would rank Morgan in the top 1 percent of students I have worked with in my over 50 years in higher education."
In 2018, Ross was a summer measurement engineering intern at Corning, Inc. in Hickory, North Carolina. This summer she will intern with Chevron in Mississippi. In the fall, she will return to UA to finish her metallurgical engineering master's degree in UA's Accelerated Master's Program.
The Capstone Engineering Society, the alumni association for the College of Engineering, was established in 1973. CES is dedicated to maintaining relationships with UA engineering alumni to ensure the College is able to provide UA engineering and computer science students with a superior educational experience.
The CES began the Outstanding Senior Award in 1986 to honor an exceptional student who deserves distinction among his or her peers. An outstanding student is selected from the 11 academic programs in the College, and the overall winner is determined by a selection committee after assessing each student's academic performance, professional and technical activities, College leadership, external leadership and other activities.