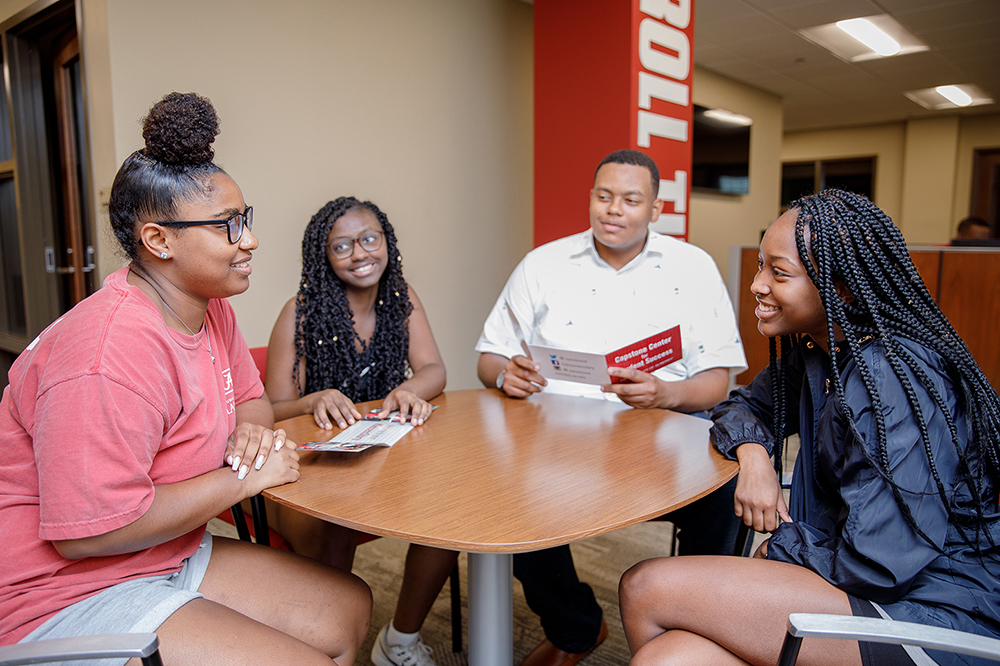 Gabrielle McKay, Ivy Fulford, Aquon McDyess and Kirsten Robinson were all selected to the Alabama LSAMP Summer Bridge program at UA.
A program at The University of Alabama is helping new college students get a head start with the goal of seeing them succeed throughout their academic careers and beyond.
The Alabama Louis Stokes Alliance for Minority Participation Summer Bridge program supports underrepresented minority students during the summer before their freshman year of college. The recent high school graduates who will study science, technology, engineering, math, or STEM, disciplines at UA take two courses during the second summer session.
"It's important because if we're going to widen the STEM pipeline, we also have to diversify who's going into the pipeline," said Amy Bickel, co-campus director for LSAMP.
Bickel plans the five-week Summer Bridge program. Each week she brought the students together to learn tips on how to be successful students. At the end of the summer, the students had the opportunity to earn the Alabama LSAMP Scholars Scholarship if they completed all program requirements.
The program had its largest application pool ever this year, she said, with less than 20 percent of applicants being chosen for the 2019 cohort. Applications, test scores, financial aid, STEM involvement and future goals are the factors evaluated in the selection process.
"I was just overwhelmed. I was super excited because I was one out of 12 kids who got accepted," Hunter Brooks said.
Brooks, a computer science major from Columbus, Mississippi, applied for the program because she wanted to take advantage of having conversations with current students, faculty and staff before the fall semester got into full swing. She's gotten even more out of the program than she anticipated.
"Since I've been here I realized I need to work on some of my skills like time management and studying," Brooks said.
She said this program is important because it helps students transition into college life. Brooks knows STEM college courses can be tough, and getting to start with two classes during the summer has made the changeover smoother.
"It's good to make relationships with other students that are in the same situation you're in," she said.
Having a support system is another important aspect of the program. Bickel said the students really build bonds because they live together, take similar courses and also study together.
"This program really allows them a chance to build that sense of community and connection with the institution," Bickel said.
Ivy Fulford, a mechanical engineering major from Tuscaloosa, thought this program was a great opportunity to get hours completed toward her degree and to form relationships early. She took a math and an English course and learned the layout of campus before the fall semester began.
"I've been hanging out with the other LSAMP scholars," Fulford said. "I feel like it's important to get the college experience, but not so much at once."
Bickel believes this head start sets students up to be more successful once they graduate. She said students who have been part of this program have participated in summer research opportunities and have accepted internships and jobs with major companies.
"At lot of that is because they have built a network at UA of faculty and staff members who are constantly sending them those opportunities and supporting them," Bickel said.
Members of previous cohorts also have the opportunity to meet with the new program participants and give them advice.
Each month Bickel will continue to meet with the LSAMP scholarship students to take what they learned over the summer and relate it to where they are in their educational path. She connects the students with the resources they need to succeed.
"We focus a lot on career development, undergraduate research. We also take all of the scholarship students to a conference in the spring to meet other LSAMP students at Alabama institutions and grow their network even further," Bickel said.
All summer bridge participants who successfully completed the program and met its requirements were able to apply for the LSAMP scholarship, which provides renewable funding to students throughout their time at UA.
The Summer Bridge program began at UA in 2011. UA is the lead institution for the state's LSAMP program, which is funded by a National Science Foundation grant. Dr. Viola Acoff, UA College of Engineering associate dean of undergraduate and graduate programs, is the director of the state program.