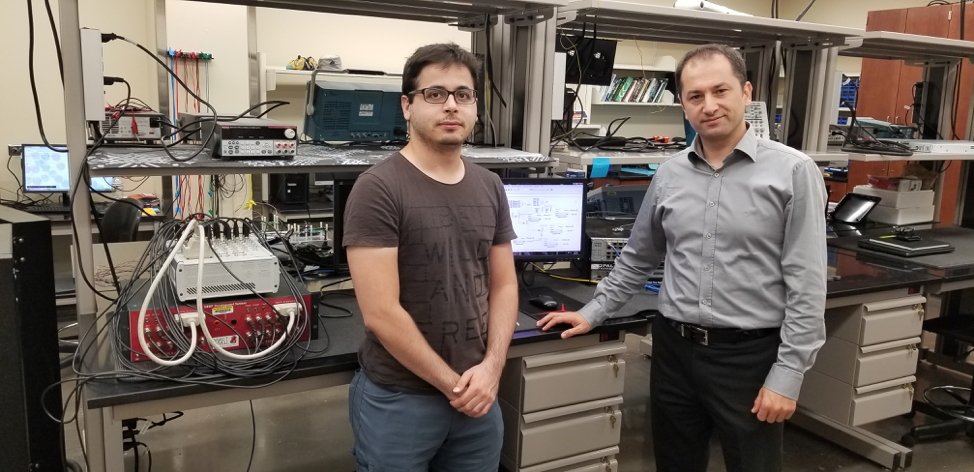 Emin Ucer and Dr. Can Kisacikoglu, electrical and computer engineering, research electric vehicles and electric grid integration in a lab on campus.
A University of Alabama engineering student and professor's collaborative research paper was awarded a top honor at a recent technical society conference.
Emin Ucer, an electrical and computer engineering doctoral candidate, won a Best Paper Award at the Institute of Electrical and Electronics Engineers' Power and Energy Society General Meeting. The annual meeting of more than 2,900 engineers was held Aug. 4-8, in Atlanta. Ucer conducted his research with Dr. Can Kisacikoglu, UA electrical and computer engineering assistant professor.
Ucer and Kisacikoglu research electric vehicles and electric grid integration. This interdisciplinary project involves collaboration with Dr. Murat Yuksel, an associate professor in the department of electrical and computer engineering at the University of Central Florida.
Researchers from around the world presented more than 800 papers to the IEEE PES General Meeting. Ucer, Kisacikoglu and Yuksel's paper, "Analysis of a Decentralized AIMD-based (Additive Increase and Multiplicative Decrease) Charging Control," was recognized as one of four Prize Paper Awards.
"It is very motivating to be recognized for the contributions we are putting into our technical field," Kisacikoglu said.
The research is being conducted as part of a $175,000 National Science Foundation grant that was awarded in March 2018. As more consumers make the switch to electric cars, the power grids used to charge the vehicles need to be updated.
"We are expecting electric vehicles to take over in the near future," Ucer said. "Engineers have to think about this problem and build up solutions that will save the power grid."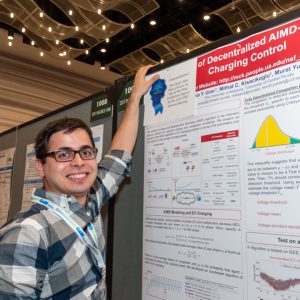 Ucer and Kisacikoglu's research involves a computer algorithm that was developed to help the internet survive the increase in the number of users during the 1990s. Drawing a parallel between the problem the internet faced and the problems an increase in electric vehicles poses today, the research project implements the algorithm to strengthen the electric power grid.
"The power grid is a critical infrastructure for the public. [It's failure] has consequences that are not just economical, but involve public security," Kisacikoglu said.
Ucer said that this award will help improve The University of Alabama's reputation in power engineering research.
"When you do research, some universities are very well-known for particular research- you always know that the quality of the work is good if people from that university are doing it," Ucer said. "One day, when people see [The University of Alabama] at a conference, I want them to think, 'Okay, I should go there and see what they did. They got this prize last year at the conference, so their work is definitely worth seeing.' If we can make people say that, it is a huge success."