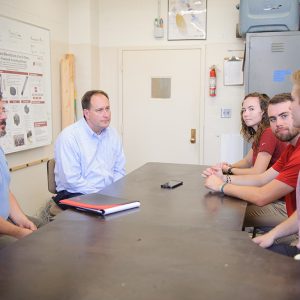 Former acting administrator of NASA and University of Alabama alumnus Robert Lightfoot has been on a path of reconnection for the past year.
After retiring from NASA in April 2018, Lightfoot returned to Alabama on a quest to spend more time with family and to give back to his alma mater. He has done just that as well as taking on a few more new jobs in the process.
For 15 months, Lightfoot served as NASA's acting administrator, and he now holds the record for longest serving acting administrator in history. In this position, he prepared the budget, completed space missions and frequently worked with Congress and the White House.
Lightfoot never imagined he would one day hold a top-level position at NASA.
"I was just doing my job," he said.
Lightfoot considers himself lucky to have been in the right places at the right times throughout his career and to have had mentors who guided him there. Now, he is the one mentoring students.
The pieces of advice he finds most important to give students are to be persistent and positive every day. Lightfoot encourages his mentees not to think they're better than anyone else and to treat people the way they would like to be treated.
"There's going to be times when things get really hard. Don't quit. And, don't let anybody tell you, 'you can't do it,'" he said. "Just do the job you're given, and do it the best you can. No matter what it is."
His inspirational words are immortalized in Alumni Hall on the second floor of the newly renovated H.M. Comer Hall.
"In The University of Alabama College of Engineering, I learned how to approach and solve the most complex of problems. I could have never been part of such incredible missions and discoveries without standing on the foundation of my experience to function as a team player, give back and encourage the next generation of engineers."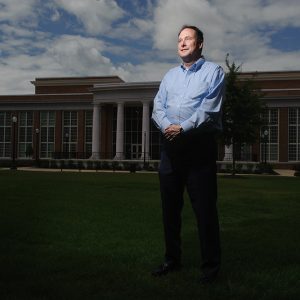 To him, earning a degree is proof that someone is strong willed enough to follow through. In 1986, Lightfoot graduated from UA with a bachelor's degree in mechanical engineering. While at Alabama, he said he recognized how difficult engineering could be, but he also realized that he was capable.
The classroom wasn't really where he thrived, but Lightfoot, a self-described experiential learner, said everything he had learned in class clicked during an internship before his senior year. Two lessons in particular stand out to him.
"What the University taught me is you've got to work hard, [and] it takes a team," Lightfoot said. "Everything takes a team. There's nothing more rewarding than being part of something bigger than you."
After graduating, he worked at Rockwell International doing testing in the aftermath of the Challenger space shuttle accident. While working with NASA on this project, he made several connections, and just a few years later, he applied and was hired for a job at Marshall Space Flight Center.
At the beginning of his NASA career, Lightfoot mostly did propulsion testing at both Marshall and Stennis Space Center. After the Columbia accident, he was asked to lead return to flight efforts in Washington D.C. His main duty was to communicate what the agency was doing and how they were working to improve operations. Later, he returned to Marshall as the shuttle propulsion manager and was promoted to deputy center director, and then center director.
In 2012, Lightfoot was invited back to D.C. to become the associate administrator, which is the third highest position at NASA. It is considered to be the top career position because the deputy director and director are appointed by the president.
"As the associate administrator, you're responsible for the day-to-day operations of the agency," Lightfoot said, adding it was a more technical position. For a year and a half, he maintained this position while he worked as the acting administrator.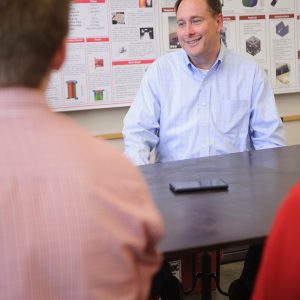 Throughout his years at NASA, Lightfoot said there have been several highlights. In his early profession, he thoroughly enjoyed running space shuttle main engine tests. During his mid-career years, he was exhilarated sitting on the consul for launches. Later, he found satisfaction in creating national space policy. One of the greatest accomplishments he was a part of at NASA was flying the space shuttle safely.
"I was center director at Marshall for the last eight shuttle launches, and when you're responsible for all the propulsion elements, there's a lot of anxious moments," Lightfoot said. "My teams there did an amazing job. The workforce stayed there to the very end and made sure we launched and returned those astronauts safely."
The first year after his retirement from NASA, Lightfoot worked as president of LSINC Corp. in Huntsville. Then in May 2019, he became vice president of business development for Lockheed Martin's space segment. In this position, he is responsible for planning, strategies and new technology for the $9 billion-revenue business.
Lightfoot became chairman of the Alabama Space Grant Consortium's Industrial Advisory Board in June 2019. The board is made up of 12 members and will advise the consortium on programs and industry relevance. He also serves on the UA College of Engineering Dean's Leadership Board.
This March, Lightfoot was honored by the National Space Club & Foundation with the Dr. Robert H. Goddard Memorial Trophy for his service to the country. During his career, NASA presented him with the Presidential Rank Award for Meritorious Executives and the Silver Snoopy Award. He was inducted into the Alabama Engineering Hall of Fame in 2010. Lightfoot has also been named a fellow of UA's mechanical engineering department and a College of Engineering Distinguished Engineering Fellow.
In addition to spending more time with his family, moving back to Alabama has also given Lightfoot an opportunity to reconnect with the University.
"The University took care of me and frankly, got me off to this start. It's time for me to give back," he said.