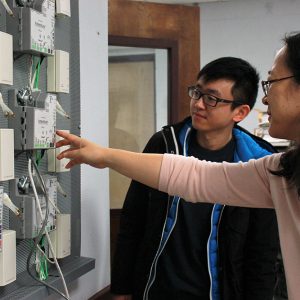 It's a Friday night, and you have invited a houseful of people over for a dinner party. Your mind is spinning with the details: cooking, cleaning and decorating. You think you've covered every element; but, as guests start to arrive, the temperature in your house begins rising. Before you know it, the place is sweltering and your friends are uncomfortable. You realize you have forgotten to adjust your home's thermostat to account for the increase in occupancy. The opposite situation might occur if you neglect to adjust the thermostat before you leave for vacation.
These common problems beg the question: in a world with self-driving cars and instant connection to an endless supply of information, why must we still adjust building temperatures by hand? If our phones are "smart," our buildings should be smart as well. This is the question that led Dr. Zheng O'Neill, associate professor of mechanical engineering at The University of Alabama, to research building energy consumption.
O'Neill and several students are now part of a nationwide project to find ways of reducing energy used to heat, cool and ventilate buildings. The UA team's specific goal is to develop a testing protocol for advanced occupancy sensor technologies, and test and quantify energy savings enabled by occupancy-sensor driven controls in laboratories and real buildings. UA's team also includes Dr. Fei Hu, professor of electrical and computer engineering, and Dr. Charles O'Neill, research engineer at UA's Remote Sensing Center.
"The building sector consumes 40 percent of the energy in America," says Zhihong Pang, a doctoral student from China studying mechanical engineering, citing a study by the U.S. Energy Information Administration. This leaves only 60 percent of the country's energy for transportation and industry sectors, continues Pang, who began working in O'Neill's lab in Fall 2017.
In Fall 2018, O'Neill and three students – two studying mechanical engineering and one studying electrical engineering – began research that will continue in several phases over the next three years. They plan to implement trials of occupancy sensors in two buildings in Tuscaloosa: The University of Alabama's South Engineering Research Center and Tuscaloosa City Hall.
Due to variations in building spaces, usage patterns, HVAC systems and climates, proving energy savings from a particular technology can be difficult. Yet such proof is needed to facilitate widespread adoption of energy-saving devices.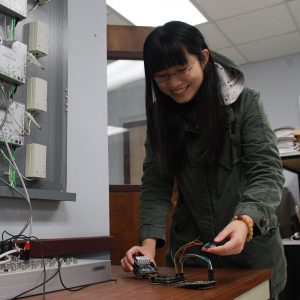 "When we complete the work, we should be able to say that if we use this kind of sensor-driven control strategy, we can achieve HVAC energy savings of at least 30 percent," O'Neill told UA News.
Students will test numerous types of sensors, including those that detect movement, count people and measure carbon dioxide.
Testing protocols will be validated in laboratory-controlled environments at the Delos Well Living Lab, Pacific Northwest National Laboratory's Lab Homes and in field testing in four commercial buildings, including those in Tuscaloosa, and four residential structures in two climate zones.
The first phase of the UA team's project involves developing a comprehensive testing protocol. Students will then run thousands of simulations using conditions from various locations across the country. The next steps will be testing the sensors and installing them in the two buildings.
O'Neill says there is value in utilizing a multidisciplinary team. "The mechanical engineering students are conducting a simulation-based study to evaluate energy savings and exploring different HVAC control strategies," she says. "The electrical engineering students are enabling the wireless-network sensor to talk with HVAC controls along with collecting and transferring data."
Tao Yang, a doctoral student from China studying mechanical engineering, says he is not only learning practical knowledge about HVAC systems, but also about how to cooperate in a team.
"I can apply what I learn in class to real life, and witness my professional knowledge providing energy savings in buildings," he says.
Yang says he has been especially impacted by the interdisciplinary aspect of the research. "It helped me to understand if you want to do something new, you should not only focus on your own field; you also need knowledge from other fields," he says.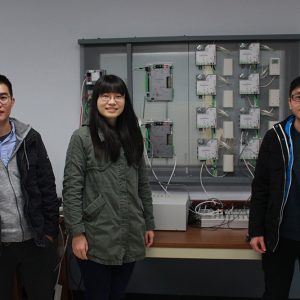 Pang says the project could be globally beneficial because of the significant influence it could have on lowering levels of CO2 emissions. The standard testing protocols developed will be shared with engineers across the country to help lower energy consumption nationwide. Once engineers are able to test energy use, they can install sensors to automatically optimize energy use, Pang says.
In addition to improving the environment, the technologies the team is exploring could positively affect individuals and families. "The most direct impact will be for the homeowner," O'Neill says. These sensors will reduce the amount of energy their homes use and therefore lower their utility bills.
While the team works to reduce energy use on a large scale, there are many actions the average citizen can take to work toward the same objective. "Everyone can do a little bit," O'Neill says. Until sensors and HVAC systems can adjust and optimize energy use automatically, everyone should pitch in, she says.
Suggestions include adjusting thermostats to use less electricity or gas, keeping building occupancy in mind, and turning off lights when leaving a room.