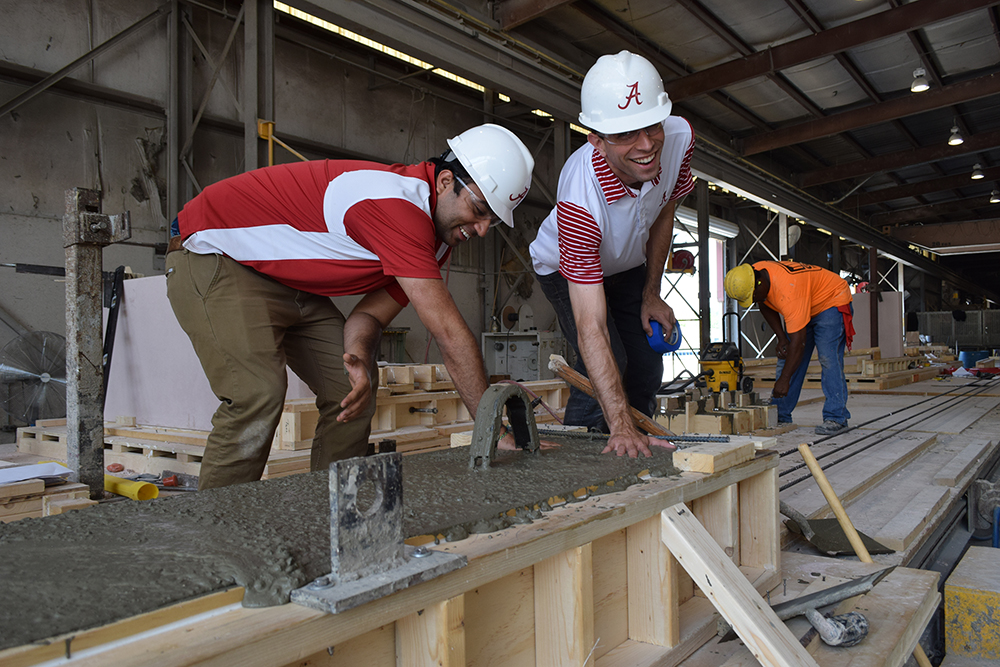 The Expect the Unexpected team was able to gain hands-on experience while making the competition beam with Gate Precast Company in Monroeville, Alabama.
A team of University of Alabama students placed in the top five at a national competition in civil engineering and their faculty adviser won an award for his contributions to education.
Sumedh Sharma, Daniel Bridi Valentim and Gabi Willis made up UA's team for the 2018-2019 Precast/Prestressed Concrete Institute Big Beam Contest. The team, called Expect the Unexpected, tied for fourth place at the competition.
Teams were tasked with designing a 20-foot long concrete beam that would fail between a load range of 32 to 40 kips. The UA team sent their design to Gate Precast Company in Monroeville, Alabama, where they took part in the physical creation of their design. The company then sent the beam back to UA's campus, where the team was able to test it in the large scale structures lab to determine under which pressure load the beam would fail.
"It was a great experience to work with [the Monroeville facility]," Valentim, a civil engineering doctoral candidate, said. "We got to see how the beam was made and how our designs and our drawings on the computer translated to the actual beam being built."
Teams participating in this year's contest were judged on the efficiency of the design, the accuracy of the design and the innovation that went into designing the beam. UA's team was the only team from the Southeast to rank in the top 20 at this contest.
"Design competitions are a good thing for students to do if they have time. In a [competition] setting, you are given a lot of parameters, but you can do just about anything with them," Willis, a civil engineering doctoral candidate, said.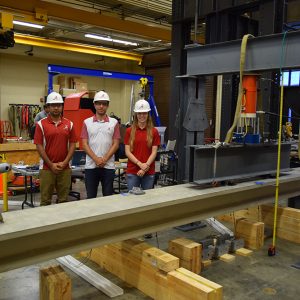 Teams from UA have participated in the PCI Big Beam Contest before to great success. All three members of the Expect the Unexpected team competed in the 2017-2018 contest and were able to apply knowledge from previous competition to their performance this year.
"We used the same design principles as last year, but we tried to be more economic in this year's competition by using less concrete," Sharma, a civil engineering doctoral candidate, said.
Dr. Sriram Aaleti, an associate professor of civil, construction and environmental engineering, served as the faculty adviser for Expect the Unexpected. Aaleti, who was presented the Educator of the Year Award at the annual PCI Committee Days and Technical Conference, said that advising for this contest was a great teaching moment for him.
"We learned that idealistic conditions might not work in reality," Aaleti said. "This contest is a great opportunity for students to connect what they are learning in class to the realities of the field."
While Expect the Unexpected won fourth place and was awarded $1,250, Sharma said the team is always looking to improve for future years.
"We can improve next year by bringing new members to the team," Sharma said. "We need new ideas to be more innovative and reach for higher goals."