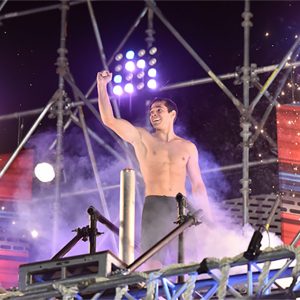 Continuing in his quest to become the next American Ninja Warrior, an engineering alumnus of The University of Alabama competed in the nationally televised finals of the strength and endurance contest for the third time last September.
Casey Suchocki, a 2017 civil and construction engineering graduate, works full time at The Builders Group, a residential construction company. After work, he heads to the Tuscaloosa home he shares with his wife, Ashley.
However, Suchocki's day does not begin or end there. As a returning competitor for the NBC television show "American Ninja Warrior," he has to balance a training schedule with his career and family. Several mornings start in the gym at 5:30 a.m. and many nights he is working out until 10 p.m.
"If you want to be one of the top people in this sport, you have to train year-round," Suchocki said.
Suchocki, known as "The Bama Ninja," has been competing on "American Ninja Warrior" since 2015. With motivation from his grandfather, he competed as a walk-on initially, and for the last three seasons, he was selected as a regular contestant.
"I've been fortunate enough to be able to compete the past five years on the show to get a chance to shine and show the rest of the country how strong this Tuscaloosa boy is," Suchocki said.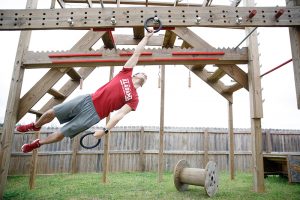 When Suchocki first began competing on "American Ninja Warrior," he was a junior at UA. With help from his professors in the form of private tutoring and time away from class, Suchocki was able to qualify as a competitor, beginning his run on the show.
Dr. Philip Johnson, a retired professor of civil engineering, had Suchocki as a student in 2016. Johnson remembers Suchocki as a quiet student who approached him after lecture one day to ask about building a tower in his backyard to mimic the obstacles he would be competing on for "American Ninja Warrior."
"Casey was eager and excited about [competing in 'American Ninja Warrior']," Johnson said. "I've been following him at a distance ever since and have noticed that he is doing quite well."