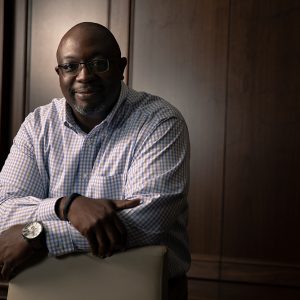 Joe Hampton's determination to succeed brought him to The University of Alabama where he learned technical engineering skills and gathered the tools he needed to become an empowered leader.
Hampton, a 1998 electrical engineering alumnus, was named president of Spire's Alabama and Mississippi natural gas utilities at the end of last year.
His 20-year career with Alagasco, now Spire, kept him in Alabama until five years ago when he transferred to Kansas City, Missouri, where he served as vice president of operations for Spire's western Missouri utility.
After graduating from UA, Hampton worked as a systems support engineer at Alagasco. Later he moved into operations leadership. He progressively moved up the ladder with the company while also moving around the state, living and working in cities like Montgomery, Phenix City, Anniston, Selma, Auburn and Birmingham.
A Birmingham native, Hampton chose to attend UA because of its proximity to his hometown. Growing up, Hampton had two mentors who were Alabama alumni and also greatly impacted his decision.
"They went to law school here, and all they did was talk about how great The University of Alabama was," Hampton said.
Even though he was zoned for another school, Hampton attended A.H. Parker High School because it had a program for students interested in science, math and technology. While planning for the future near the end of his high school career, a visiting speaker convinced him engineering would be the best fit for him.
"He had a lot to do with my decision to move into engineering," Hampton said. "From that point, I just started researching computer engineering and electrical engineering. I fell in love with electrical engineering when I got here to Alabama."