A similar thread of DNA links the Fuller family to The University of Alabama College of Engineering. From valuing education to their desire to engineer the future, this family has dedicated their lives to innovating tomorrow.
Fuller family patriarch Robert G. Fuller first received a business degree from UA in 1958, but he went on to earn a second bachelor's in industrial engineering in 1964.
A Tuscaloosa native, he wanted to attend UA because his family, including his father, aunt and brother, had all graduated from the University and several of his neighbors were employed at the Capstone. He chose to return to school for his engineering degree for the same reason.
"I was supposed to follow in my dad's footsteps," Fuller said.
His father, Robert R., studied chemical engineering at UA, where he earned his bachelor's in 1931 and his master's in 1932. However, the younger Fuller chose a slightly different path.
"I didn't quite make it as a chemical engineer, but I did make it as an industrial engineer," he said. "I couldn't stand chemistry lab, especially qualitative analysis."
While he found engineering challenging, Fuller also discovered areas where he excelled. Some of his favorite courses were in materials and minerals.
"I guess I should have been a metallurgist," he said.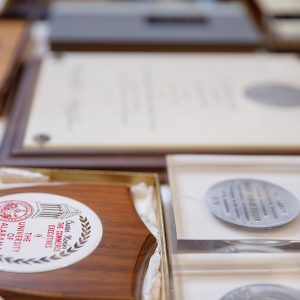 As a student at UA, Fuller said he learned a lot and enjoyed his professors, many of whom he already knew before the first day of class because he grew up with their children. He has fond memories of playing tennis on clay courts behind Hardaway Hall and swimming in a lake behind H.M. Comer Hall.
Fuller's father worked at Gulf States Paper Corporation in Tuscaloosa. The company has a patent on his work for waste removal from water. While he was still a student, Fuller operated the water treatment plant where his father's patent was developed.
"It left the plant cleaner than it came in, coal-wise and biologically," he said.
Fuller served in the U.S. Naval Reserve and started his career after graduation as a quality control engineer with Gulf States.
"I had to learn computers on my own. They were developed when I was in the Navy," he said. "I had to write a program for the [IBM] 1401 [computer] we had at Gulf States to take the square root, so I could do statistical analysis on the computer…My dad thought computers were a fad."
Next, Fuller took a position as a quality control supervisor at St. Regis Paper Company in Monticello, Mississippi, and later he moved to a technical supervisor position at a plant in Natchez, Mississippi. He brought his family back to Tuscaloosa in 1978 and began work at Capstone Medical to get the center on a computer system.