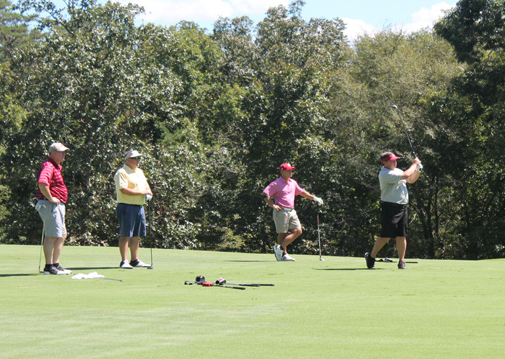 The 19th Annual Capstone Engineering Society Golf Tournament was held Sept. 16, 2019, at Old Overton Country Club in Vestavia Hills, Alabama.
Thanks to generous contributions from sponsors and teams, more than $53,000 was raised for the Capstone Engineering Society Scholarship Fund. Since 2001, the CES Golf Tournament has raised more than $653,000.
"It's always a good day when you get to have a little fun on the course while supporting engineering student scholarships," said Liz Moore, CES manager. "Over 160 students have benefitted from the fund. The impact in the lives of our students in invaluable."
A total of 132 players on 33 teams participated in this year's tournament, and 40 sponsors covered the meal, drinks, putting contest, each hole and three tournament levels to make the event a success.
Gaston Large was the tournament chair, and Harry Gabriel served as co-chair. Members of the CES golf committee were Suzanne Chapman, Milton Davis, Greg Floyd, Tony McLain, Rick Nail, Rod Northam, Chris Palmer, Valerie Wade and David Williams.
Tournament Winners:
First Place – Gross:

Charlie Vines, Ray Doss, Tim Kirchner, Ned Martin – Vulcan Materials Company

First Place – Net:

Zach Burger, Dave Williams, JJ Thomas, Mike Simmons – VIC Systems International

Second Place – Net:

Mike Tracy, David Muncher, Jeff Kendrick, Gary Randall – Drummond Co.

Putting Contest Winner:

Zach Burger – VIC Systems International

Closest to the Pin:

Dennis Porche – Wade Sand and Gravel Co., Inc.

Longest Drive:

John Hendrick – Thompson Tractor
Sponsors:
Premier:
Executive:
Tournament:

Brasfield & Gorrie
Hoar Program Management
Neptune Technology Group Inc.
McAbee Construction
Alabama Power Company
VIC Systems Intl
Bama Concrete
American

Meal:
Putting Contest:

B. L. Harbert International

Hole:

Dunn Construction
LBYD, Inc.
Apache Construction Corporation
McGiffert and Associates, LLC
Schoel Engineering Co., Inc.
Vulcan Painters, Inc.
Roscoe Wallace
Nucor Steel Tuscaloosa, Inc.
Nucor Steel Decatur
Thompson CAT
C&B Piping, Inc.
Hunt Refining Company
C.S. Beatty Construction
Bernhard TME
PASS, Inc.- Process Automation & Simulation Services, Inc.
Vulcan Materials Company
Ferguson Waterworks
Morell Engineering
Hargrove Engineers + Constructors
Wade Sand and Gravel Co., Inc.
Enercon
Evans Family Sauces
Seabrook Solutions, LLC

Beverage:

Barnett Jones Wilson, LLC
SAIIA Construction Company
Gonzalez-Strength and Associates, Inc.
Spectrum Environmental Services
THANK YOU FOR YOUR SUPPORT!
To sponsor the 2020 CES Golf Tournament, contact liz.moore@ua.edu.
The 20th Annual Capstone Engineering Society Golf Tournament + Silent Auction will be Monday, Nov. 9, 2020. This year there will be a virtual component to the tournament. As in the past, the in-person tournament will be at Old Overton Country Club in Vestavia Hills, Alabama. Additionally, players will have the option to participate virtually in the silent auction as well as play at the course of their choosing. More details to come!