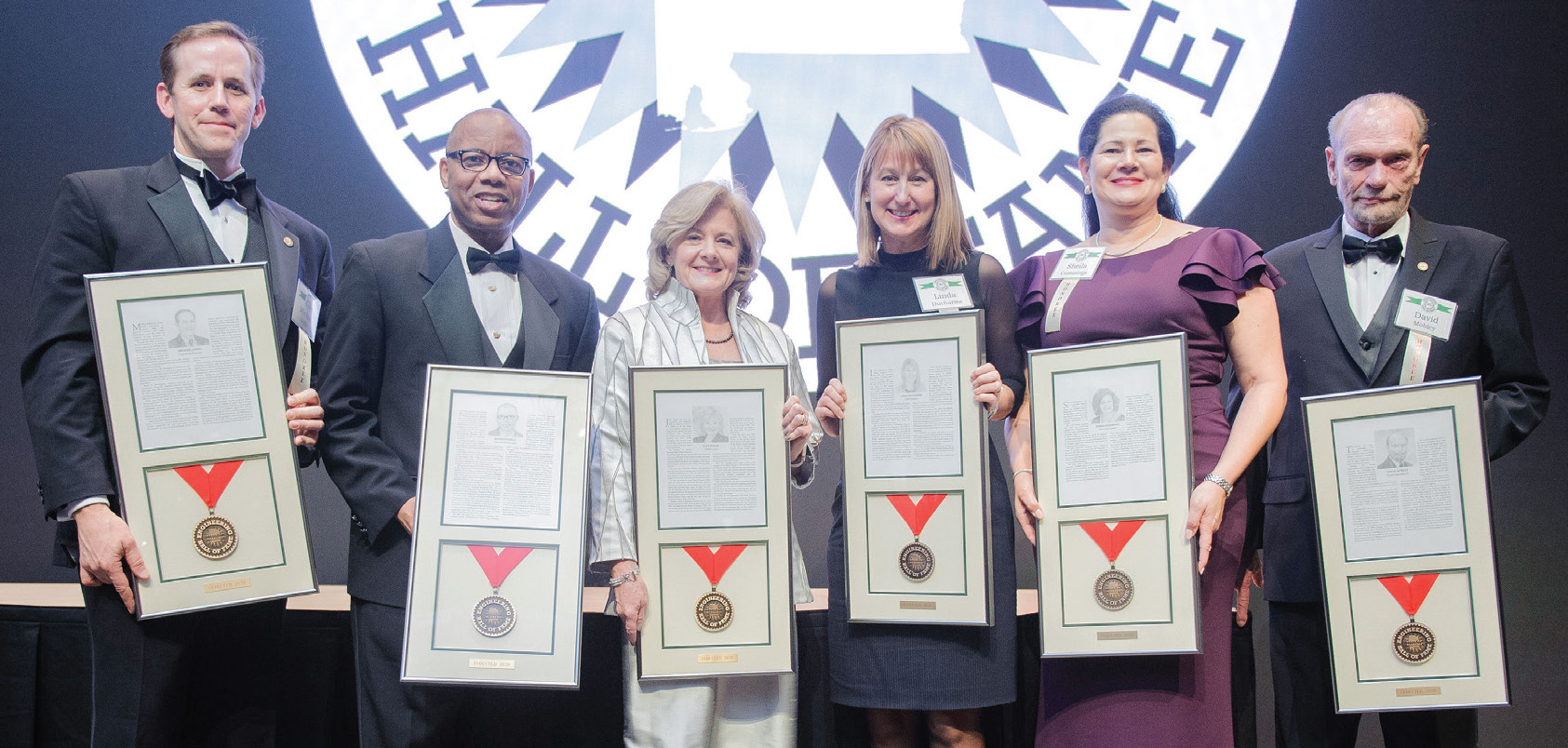 The 2020 State of Alabama Engineering Hall of Fame inductees are, from left, Michael Johns, Kenneth Kelly, Jody Singer, Linda Ducharme, Sheila Cummings and David Mobley.
Two University of Alabama alumni and a friend of the UA College of Engineering were inducted into the State of Alabama Engineering Hall of Fame in the class of 2020.
Sheila Cummings, Michael Johns and Jody Singer joined the 192 inducted into the Hall of Fame over the past 32 years. Johns and Singer are UA engineering graduates, and Cummings and Johns serve on the UA College of Engineering Dean's Leadership Board.
Founded in 1987 by proclamation of the governor, the hall of fame honors, preserves and perpetuates the outstanding accomplishments and contributions of individuals, projects, corporations and institutions that brought and continue to bring significant recognition to the state. For more information and full biographies, visit aehof.eng.ua.edu.
JODY SINGER
As director of NASA's Marshall Space Flight Center in Huntsville, Singer manages nearly 6,000 civil service and contractor employees either on site or nearby and steers a $2.8 billion budget. In her role, she is a critical part of returning NASA astronauts and scientists to the Moon and beyond on American-made rockets and spaceflight vehicles.
She grew up in Hartselle, Alabama, and graduated from The University of Alabama with a bachelor's degree in industrial engineering in 1983. She began her career with NASA in 1985 through the professional intern program in the mission planning and development office.
In 2002, she was appointed to the Senior Executive Service, the personnel system covering top managerial positions in federal agencies. Her honors include NASA Outstanding Leadership Medals and two Presidential Rank of Meritorious Executive Awards, the highest honor for career federal employees. She was also awarded the Silver Snoopy Award by the NASA astronaut corps.
MIKE JOHNS
Through his work at Southern Research Institute as vice president of the engineering division, Johns has grown annual revenue to more than $25 million in research volume for a division that employs more than 100 engineers, scientists and support staff. He has directed and managed high-profile research and commercial projects and has been a strong advocate for the key technologies the country needs to develop.
He graduated from The University of Alabama in 1997 with a bachelor's degree in mechanical engineering and would later earn his MBA from UA in 2005. He began his career with Southern Research as a cooperative education student, joining full time as a materials engineer after graduation.
He is an active member of the UA College of Engineering Dean's Leadership Board, the UA mechanical engineering advisory board and the UA STEM Path to the MBA board.
SHEILA CUMMINGS
Cummings is the founder, president and CEO of Cummings Aerospace Inc., a Native American woman-owned small business in Huntsville. Since its inception in 2009, she has led all aspects of corporate operations and strategic development for the company as it has positioned itself to be an industry-recognized leader of aerospace engineering solutions and technologies for aerospace system development.
In 1995, Cummings graduated with a bachelor's degree in aerospace engineering from the University of Maryland. Her service to her profession includes membership on the board of directors for the National Defense Industrial Association, the advisory board for The University of Alabama Department of Aerospace Engineering and Mechanics and the UA College of Engineering Dean's Leadership Board.