As the country came together in the spring of 2020 to help out fellow Americans during the novel coronavirus pandemic, University of Alabama alumni and students also stepped up to the call to produce protective equipment and serve others.
Nathan Eads, a freshman mechanical engineering student, teamed up with his friend Max Seidel, a mechanical engineering student at Northeastern University, to serve their hometown of Atlanta by creating face shields using 3D printers. Their project, called Atlanta Face Shields, had produced 4,000 shields as of early July.
"With our sister organizations around the city we have produced upwards of 25,000 units of various PPE," Eads said.
His role in the project is to manage volunteers, allocate materials to 3D printing volunteers, schedule the retrieval of printed materials and keep an inventory of the parts."
I also set up and recruited another set of volunteers to assemble these parts at our bi-weekly assembly sessions," Eads said.
As the electrical design team leader of the Bama Racing Team and an employee in UA's additive manufacturing lab, The Cube, he learned a lot about 3D printing this past school year.
"In both positions, I was able to greatly expand my knowledge of 3D printing. I think these two roles were extremely impactful on the work I did on this project," Eads said.
He wanted to stay busy during quarantine, and he figured the best thing he could do was to help in the pandemic response with his friend. But, that doesn't mean it was easy.
"Frankly, it was pretty stressful, especially early on when we were receiving lots of attention and funding before we had really produced any results. Once we got our rhythm down, however, things started to be much more enjoyable," Eads said.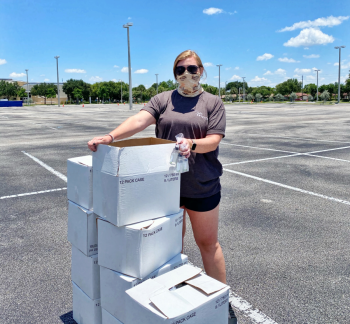 The project is possible because of donations received through a crowdfunding site and volunteers giving their time, materials and equipment to help.
Eads is just one of UA's students and alumni who have worked to fill a need created by the pandemic.
Clara Robbins, a 2017 chemical and biological engineering alumna, is the assistant master distiller and quality manager at St. Petersburg Distillery in Florida. The distillery's owners asked her to begin making hand sanitizer in the lab at work.
"Many distilleries nationwide began using their resources to create hand sanitizer in response to COVID-19," Robbins said. "St. Petersburg Distillery was one of the first distilleries to begin making this transition in response to the pandemic.
"She said she spent days doing research, ordering ingredients and speaking with officials at the World Health Organization and the Food and Drug Administration to get everything in order legally before she began blending the sanitizer. Once the production started, the first few batches went to health care professionals."
We started giving away 5-gallon buckets of hand sanitizer to first responders, hospitals and nursing homes," Robbins said. "We had countless inquiries from the public. So, the company arranged for public disbursements where people could drive up and received pre-packaged mini bottles of St. Petersburg Distillery Hand Sanitizer."
She distributes 2,000 units a week at community events with Feeding Tampa Bay. Being able to take part in the distribution has been a highlight for Robbins.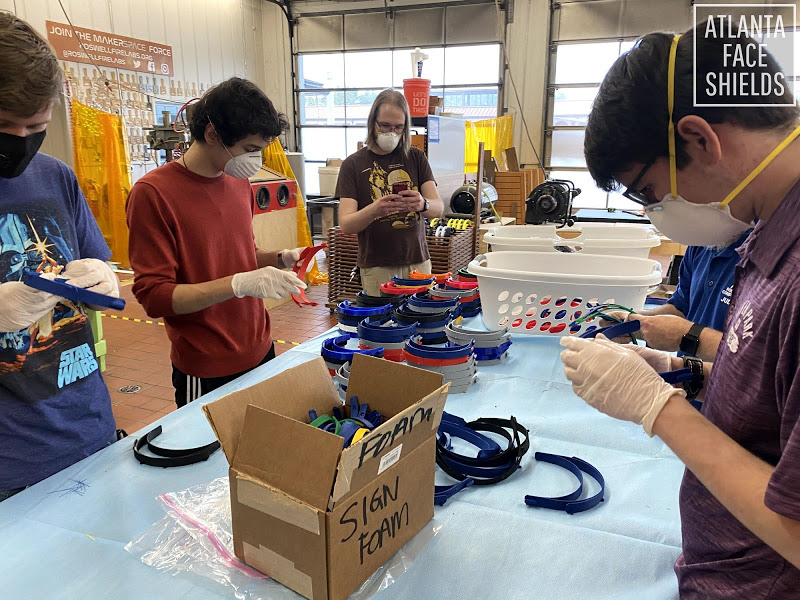 "When I see their faces and smiles, I am recharged and reminded of why I do this and why it is important. I cannot begin to express how this time has affected me," Robbins said.
She does not take her role in this project lightly, and said it has really made an impact on her life to be part of the process from the beginning of its creation to the giveaway. As of early July, she has made more than 20,000 gallons of sanitizer. The plan is to continue producing until the end of the year.
"UA definitely helped prepare me for this," Robbins said. "My chemical engineering background made this project easy for me to understand and a challenge that was exciting to dive into."
The distillery is also selling the sanitizer in various sizes in addition to the free bottles they are giving away.
During this time, there have been countless stories of individuals and companies working to play a role in helping others during a crisis. Both Robbins and Eads demonstrated grit and compassion as they worked to be problem solvers.