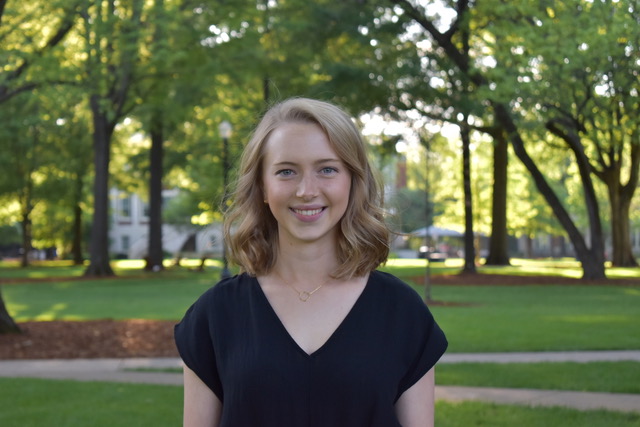 Emma Sanders, who studied chemical engineering at The University of Alabama, received the 2021 Capstone Engineering Society Outstanding Senior Award.
A student in the Honors College with a premedical concentration and minors in biology and the Randall Research Scholars Program, Sanders has earned a 4.14 GPA and has been on the president's list every semester since fall 2017.
"Emma is dependable and hard-working, and is an excellent example of the type of student that makes teaching worthwhile," said Dr. Christopher Brazel, associate professor of chemical and biological engineering. "Those of us at UA benefit from Emma's presence on campus, and she will continue to shine a light on the excellent programs at The University of Alabama as she goes forth to an extremely bright future career."
A Franklin, Tennessee native, she has earned six scholarships while at the Capstone, including the Randall Research Scholars Program Fellowship, which is the nation's first interdisciplinary undergraduate research program. Within this program, Sanders has done research on campus, been a mentor and acquired a minor.
Since 2018, Sanders has worked as an undergraduate researcher under assistant professor Dr. Shreyas Rao. She looks at how the tumor microenvironment plays a role in cancer progression, therapeutic response and drug resistance. Sanders was able to present her research at RSS Live in 2018 and 2019 and UA's Undergraduate Research and Creative Activity Conference in 2019.
"Emma has proven herself to be an intelligent and hardworking student in the lab," Rao said. "Emma is always willing to devote whatever time is necessary to execute her work as best as possible in the lab. I have also observed that her presentation during the lab meetings and for the Randall Research Program at UA was excellent. Her clarity of thought and ability to convey the background information and results with ease impressed me the most. Because of her congenial personality, she is able to collaborate exceptionally well with other lab members."
In 2018, she worked as a clinically trained medical scribe at Physician's Urgent Care in Tennessee and participated in the University of Tennessee Medical Explorations Shadowing Program. The following year, Sanders shadowed professionals at Internal Medicine Associates of Tuscaloosa.
Sanders received the Chemical Engineering Outstanding Junior Award in 2020. The year prior, she was given the AIChE Donald F. Othmer Sophomore Academic Excellence Award. She is a member of Phi Kappa Phi and Golden Key International honor societies.
She served as president of UA's Tau chapter of Omega Chi Epsilon, a chemical engineering honor society, and as a member of UA's chapter of the American Institute of Chemical Engineers. Sanders has been an Ambassador for the College of Engineering since 2018 and worked as vice president of communications in 2019 and vice president of recruitment in 2020.
Along with being a Randall Research Scholars mentor, Sanders was an Honors Year One Program mentor. She has participated in UA Honors New Zealand Study Abroad Program and intramural sports at UA.
Sanders has been an active volunteer in the community since 2018. Within UA's Center for Service and Leadership, she is a UA Arboretum volunteer for Serving Bama and an assistant team leader and logistics chair for Beyond Bama. She also volunteers with Habitat for Humanity.
"I am confident that Emma will continue to excel throughout her career and will make the lab, her home department, and The University of Alabama proud. I would rate her among the best undergraduate students I have worked with," Rao said.
This fall she plans to attend the University of Tennessee Health Science Center College of Medicine in Memphis, Tennessee.
The Capstone Engineering Society, the alumni association for the College of Engineering, was established in 1973. CES is dedicated to maintaining relationships with UA engineering alumni to ensure the College is able to provide UA engineering and computer science students with a superior educational experience.
The CES began the Outstanding Senior Award in 1986 to honor an exceptional student who deserves distinction among his or her peers. An outstanding student is selected from the 11 academic programs in the College, and the overall winner is determined by a selection committee after assessing each student's academic performance, professional and technical activities, College leadership, external leadership and other activities.