Manufacturing jobs have become a major staple in the state economy, and The University of Alabama is doing what it can to supply a pipeline of workers.
In an effort to promote and expand on this growing field, the College of Engineering is embarking on adding a manufacturing systems engineering degree to its repertoire and opening a state-of-the-art advanced manufacturing research and education center to its campus.
"This new manufacturing facility is part of an initiative oriented to develop a premier hub for multidisciplinary research and education in intelligent and advanced manufacturing systems and processes," said Dr. Nader Jalili, mechanical engineering department head and director of Alabama IMaDE.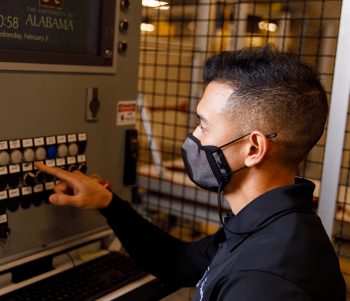 The Alabama Initiative on Manufacturing Development and Education lab, called IMaDE, was created to mitigate industrial problems by educating future industry leaders through hands-on experiences in real world scenarios.
UA's manufacturing systems engineering bachelor's degree program was voted on by the University of Alabama System Board of Trustees in February 2021 and will next be audited by the Alabama Commission on Higher Education. The goal is for the program to debut in 2022, and it will have a distance learning option for people interested in earning the degree who work or are not local.
Jalili said the program supports UA's mission by advancing the city, state, nation and world socially and intellectually through education and research. Several new classes will be added to the UA catalog in the coming semesters including 15 one-hour modular, elective courses like basics of robotics, flexible manufacturing systems, industrial robotics, introduction to industrial
management and more, which can lead to skill certification through industry partners.
"The proposed manufacturing systems engineering B.S. program will provide graduates the skills and knowledge for successful careers in manufacturing systems and processes, which include practical applications ranging from manufacturing processes to cyberphysical systems," Jalili said.