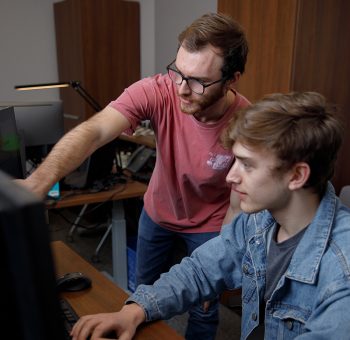 Over the past 13 years, Tuscaloosa has grown exponentially with an increasing student population and new businesses locating within the city limits.
Camgian, a Starkville, Mississippi-based company, opened its Center for Artificial Intelligence and Machine Learning in Tuscaloosa in January 2019. Michelle Parisi, chief financial officer, said the company liked the proximity to The University of Alabama.
"We specifically wanted a location in a growing, vibrant community with a university close by. Our high technology jobs appeal to younger people looking to make a difference throughout their work careers. We found the community and University leaders very eager to retain talent and grow technology jobs locally," Parisi said.
Currently, the company is located in The EDGE, a UA facility in partnership with the West Alabama Chamber of Commerce and the city of Tuscaloosa that serves as an incubator supporting entrepreneurship and business startups.
"Its modern, open work spaces are easily configurable for small or large groups, which makes collaboration easy. It's a professional, comfortable and stimulating work environment.Our team loves the space, the location,and enjoys interacting with the various university and community groups they encounter at The EDGE," Parisi said.
The company, which has outgrown its current footprint in The EDGE, is preparing to move its Tuscaloosa office into the Regions Bank building in downtown.
"This expansion will provide about 3,500 square feet of office and laboratory space to continue growing our AI-based product offerings and knowledge economy jobs in Alabama," Parisi said. "The space will comprise a high-tech look and feel and be something that we aim to make a point of pride for the community."
Camgian is a company that develops artificial intelligence-based platforms that process various sources of data to assist humans in making faster, more informed decisions.
"We innovate in the areas of algorithms,sensors and software, which address fast growing and crucial needs in the financial and national security markets," Parisi said.
The company offers full time, cooperative education and internship positions to mainly computer science students and graduates. Camgian has 10 full-time and 15 part-time positions in Tuscaloosa.