The University of Alabama and its College of Engineering have inspired at least one family to pursue a path of generational philanthropy that has lasted for almost one hundred years.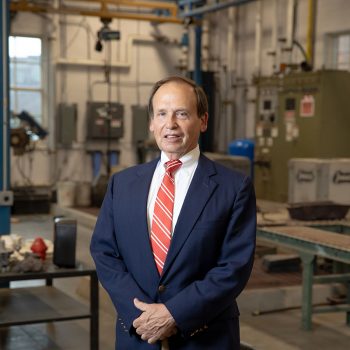 Erskine Ramsay II, a 1973 master's graduate in metallurgical and materials engineering, set up the Ramsay Engineers Fund to create a scholarship in memory of his father, Robert Mclester Ramsay, who died in 2016 at the age of 94. The scholarship is offered to a veteran pursuing a degree in engineering.
"My father fought in the Pacific in WWII as a first lieutenant in the U.S. Army," Erskine II said. "He was a quiet man, but gave back to the Birmingham community in many ways without wanting to be noticed… With my wife, Laura, and our son, Erskine III, we decided to approach the University about endowing a scholarship."
Erskine II followed in his father's footsteps throughout his career. After graduating from UA, he joined his father's firm. The duo later opened their own commercial mechanical construction firm together. When his father retired, Erskine II took over Ramsay-McCormack Land Company and still serves as president today.
"The company is one of the oldest, continually operating companies in the Birmingham area," he said.
Erskine II wasn't the first person in his family to find joy in philanthropy. In 1926, the first Erskine Ramsay, a relative, donated $100,000 to institutions of higher education in Alabama after selling his extensive coal holdings. He wasn't an alumnus of any of the colleges where he gave. Erskine I's gifts 95 years ago, given to UA in memory of his own father Robert Ramsay, became what is now known as the Robert Ramsay Chair of Chemistry.
"Giving back and giving to others has been a tradition in our family going back many generations," Erskine II said. "[Erskine I] believed that education was the way to success…He instilled in my father this trait of always giving back."
As a young alumnus, Erskine II began to give money to UA's general fund annually. He was 35 when he began his philanthropic efforts at UA, and he has continued this tradition for 39 years.
"This endowment has grown to over $3 million. I have continued giving every year because of my love and respect for the University and how my education at the Capstone helped me succeed in life," Erskine II said.