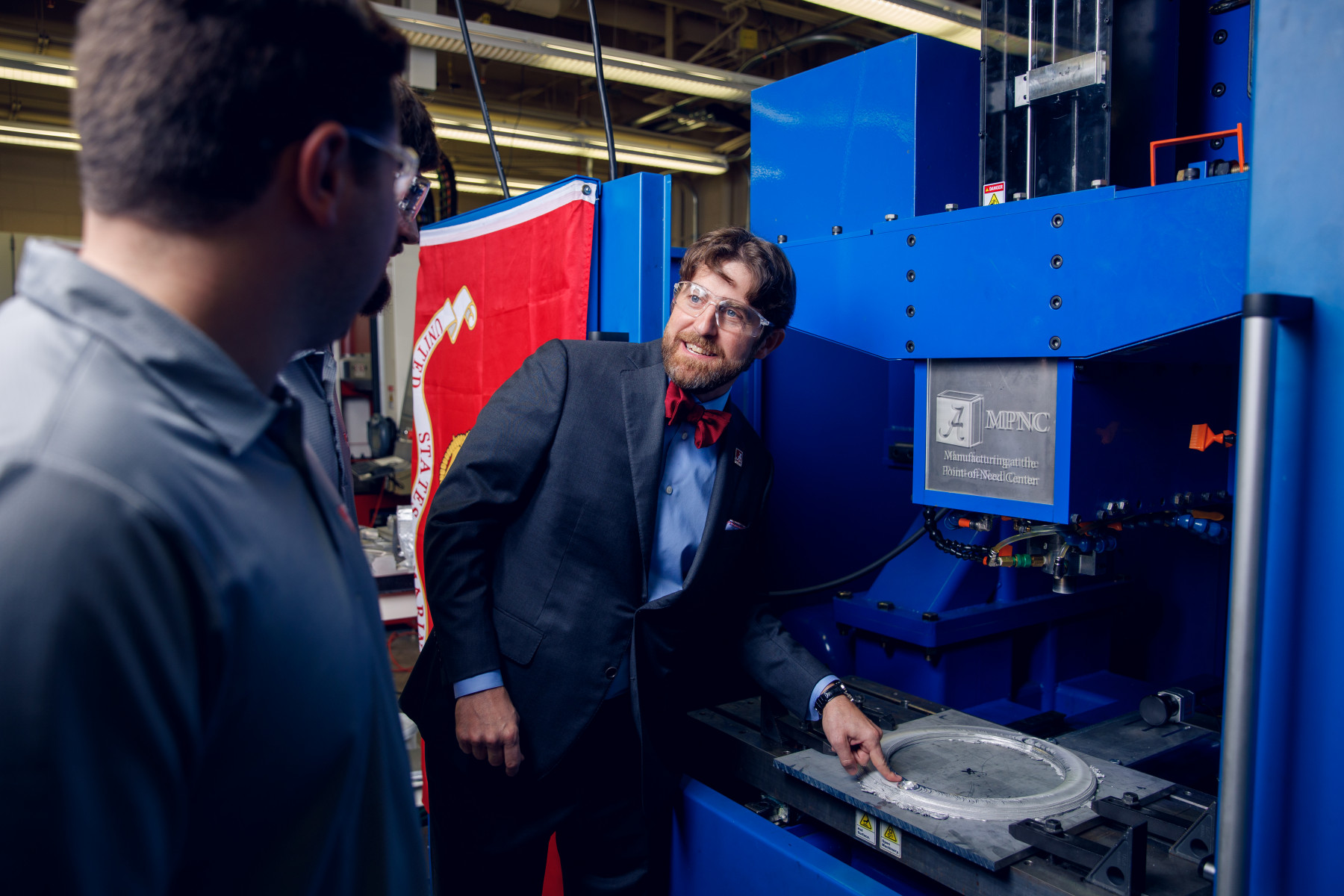 Dr. Paul Allison shows the MELD machine to students.
The University of Alabama College of Engineering has instituted a new interdisciplinary research and development center on campus.
The Manufacturing at the Point-of-Need Center will provide undergrad and graduate students with an education in materials, manufacturing, engineering design, business management and logistics by collaborating with industry and government stakeholders through research and training.
"This Center will help UA develop and transition new manufacturing technologies, provide workforce development, and improve the domestic manufacturing supply chain with a key role in strengthening advanced manufacturing in Alabama," said Dr. Paul Allison, center director and mechanical engineering associate professor.
The center, located in the College of Engineering, will have an interdisciplinary approach to research with faculty and students also involved from UA's College of Arts and Sciences and Culverhouse College of Business. Faculty specializing in engineering, business, physics, chemistry and geology will participate in the center, Allison said.
Point-of-Need Manufacturing involves the production of items on demand at or near the location where it will be used. Allison said this research will transform and simplify supply chains by lowering costs and speeding up production times.
For example, the center is investigating the possibilities for seafaring vessels to manufacture replacement parts at sea rather than returning to port.
The goal of the research and activities performed at the MPN Center is to enhance UA to develop into a national and international leader in future manufacturing.
"UA researchers at the MPN Center are collaborating with many different industries and government agencies to solve basic and applied problems," said Dr. John Wiest, associate dean for research and economic development. "We are excited to be able to provide these research opportunities to our faculty and students."
This center provides faculty the opportunity to educate and train students experientially in applied research and manufacturing, which Allison said is a critically important emerging area.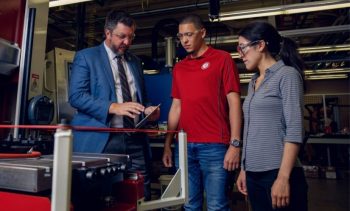 "They are getting hands-on experience, training and development in the latest technologies and research areas," Allison said.
Students can also network with industry professionals and researchers in the transportation, infrastructure and aerospace manufacturing sectors. Allison is excited about the College of Engineering's support of the center.
"[The College of Engineering is] encouraging and enabling university wide cohesiveness to capitalize on the synergistic strengths of researchers and facilities at UA to benefit our students' growth and industrial collaborators," Allison said.
The center is currently involved in research projects with NASA, the Department of Defense, the Department of Energy and private industries.