Careers in cyber security have become increasingly needed across the country, and The University of Alabama is working to create a direct line of employees ready to take on the challenge.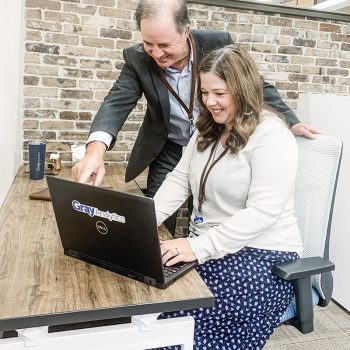 Last academic year, UA added a new cyber security bachelor's degree to the computer science department to help meet the workforce need.
"There is a growing need for professionals skilled in the protection and defense of digital information across the nation," said Dr. Travis Atkison, associate professor of computer science and cyber security program director. "In fact, cyber security is one of the fastest-growing fields in the country. It is estimated that approximately 750,000 cyber security jobs remain unfilled because of the lack of qualified candidates."
After realizing the need, he said the College of Engineering made it a mission to create a degree program that was rigorous, technical and gave students the skills and knowledge to excel at protecting digital information.
Problem-solving skills and innovation are important to the core curriculum of UA's cyber security degree. Atkison said the courses are based on developing these skills in students.
"We feel that one of the greatest takeaways from our programs are our students' ability to dissect a problem into appropriate components and build solid, efficient, and secure solutions," Atkison said.
In addition to the new degree, cyber security is also a point of focus in UA's four main research areas, which are water, transportation, cyber and life research. UA's Cyber Initiative, an interdisciplinary research center with a mission to build awareness of cyber issue dynamics and all-inclusive cyber research programs on campus, is led by computer science professor Dr. Jeff Carver.
"The Cyber Initiative has a charge to enhance and support the research efforts ongoing at the Capstone in cyber-related fields. The support provided by the Cyber Initiative has opened up opportunities for our students to gain valuable experience working on cyber-related projects while pursuing their degree," Atkison said.
The need for cyber security defense by trained professionals has become more apparent over recent years as several high-profile attacks have halted the way critical infrastructure is able to function.
"Cyber is touching fields now that 10 years ago many people would never have imagined. With this pervasiveness, there is a great need for skilled professionals that understand the field and make positive contributions to society," Atkison said. As the scope of the cyber world continues to grow, he said the importanceof this disciplinecannot be understated because almost everything has gone digital.
"As more and more of our daily activities are conducted online and more everyday devices become 'connected,' being able to protect not only the device but the user is paramount," Atkison said.
Faculty are working with companies to create a supportive network for students. He said companies, like Gray Analytics, put time and resources into supporting the students and letting them know the best practices in the field.
Ron, 1981 mechanical engineering alumnus, and Cindy Gray, 1982 computer science alumna, founded Gray Analytics in 2018. The cyber security and engineering services firm, headquartered in Huntsville, works with commercial and government clients and has offices in California and South Carolina.
Ron is the chief executive officer, and Cindy is the chair of the board. Their daughter Jennifer Gray Elwell, a 2006 computer science alumna, is vice president of business operations."
Gray Analytics provides cyber security risk management, regulatory compliance, supply chain integrity, digital forensics, and agile software development to enable cyber defenses for corporations and state and local governments," Elwell said. "Gray Analytics provides these same services plus hypersonics engineering, test, and analysis to the U.S. Department of Defense to improve cyber defenses, traditional ballistic missile defense, and hypersonic weapon defense."
She said the company is eager to start working with students at UA and plans to help sponsor cyber security student group events and speak at their meetings once campus returns to regular operations. The partnership will be mutually beneficial. Elwell said there are more cyber security jobs available than applicants trained to fill those roles.
"UA's new cyber security degree will help build a pipeline for new graduates to support the development efforts that we have at Gray Analytics," Elwell said. "Through our close relationship with the University, we hope to develop a pipeline where current students can intern with us to gain real-world experience, and we can train them for the specific types of cyber work that we do both in the federal and commercial space."
Currently, there are two other UA alums employed at the company: Scott Gray, 1984 industrial engineering alumnus, is the president; and Ashley Mayton Sanders, 2005 computer science alumna, is a software engineer.
One major project Gray is currently working on with the help of their UA graduates is supply chain integrity. The team analyzed the risks of the global supply chain by conceptualizing an artificial intelligence based global supply chain and illumination tool. Gray partnered with SAP National Security Services and hosted a hackathon to develop a prototype. Sanders played a pivotal role in the development."
Ashley led a virtual hackathon team of 10-15 personnel of various disciplines from across the country to produce a working software prototype in one month that excelled at data collection and analytics of open-source intelligence information," Elwell said. "Her education at UA helped Ashley develop exceptional team leadership, project management, systems engineer, and software development skills that provided immediate success for herself and Gray Analytics."
In addition to aiding academic and student programs, Cindy Gray is on the College of Engineering's capital campaign board and will be an ambassador for the University's fundraising efforts, and Ron serves on the Board of Trustees of The University of Alabama.
"We know that our College is only as good as its leaders and supporters, and we want to do our part to continue the excellence for which the UA COE is known," Elwell said.