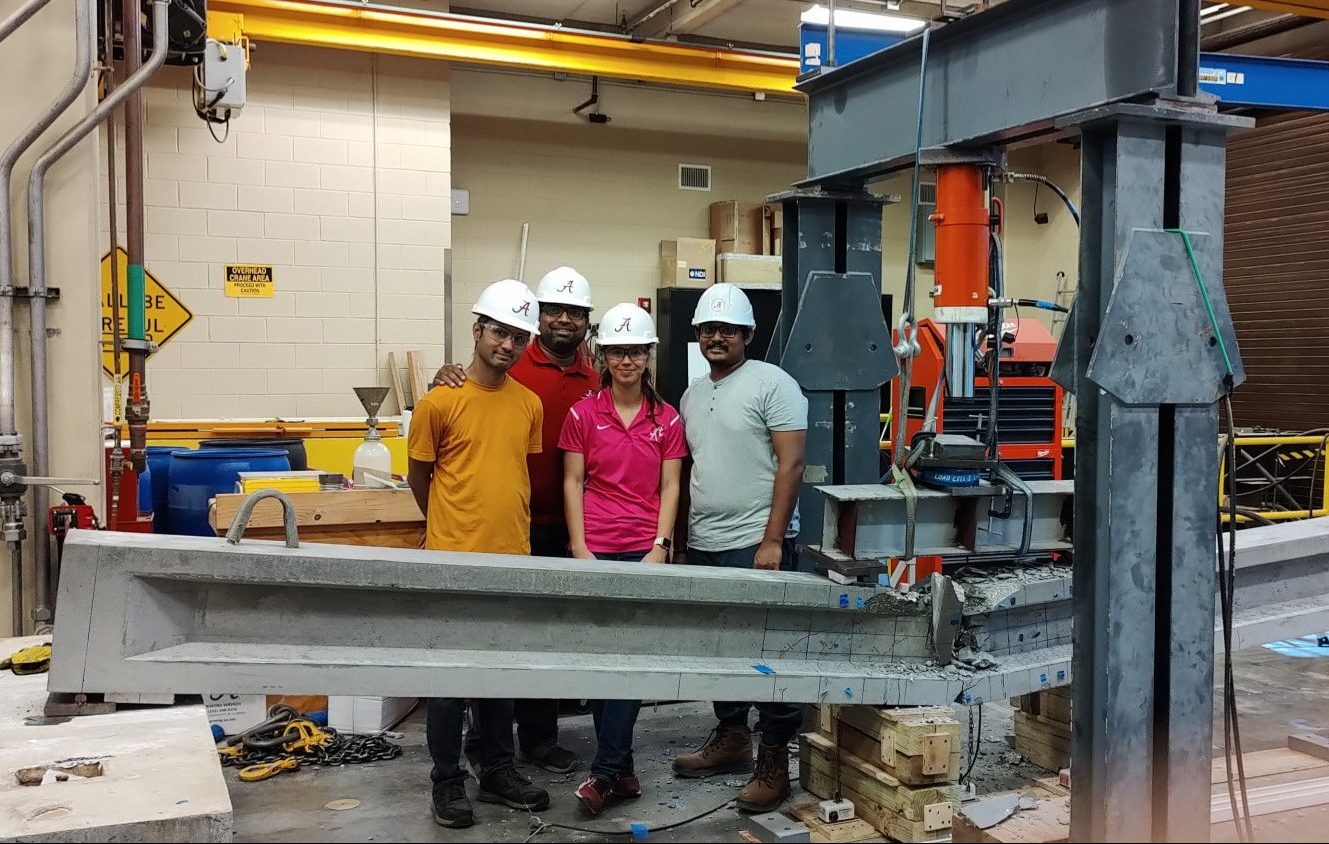 From left to right: Bipul Poudel, Dr. Sriram Aaleti, Monica Lages Do Amaral and Revanth Naidu Vasireddy.
A team of students from The University of Alabama's College of Engineering recently placed first in the 2022 Engineering Student Design (Big Beam) Competition.
The competition, hosted by the Precast/Prestressed Concrete Institute (PCI), challenges student teams to work with a PCI producer member to design, construct and test a 20-foot precast and prestressed concrete beam. Entries are judged on a variety of criteria, including the beam's performance in stress tests that simulate the types of real-life conditions structural building and infrastructure components must endure to ensure life safety, as well as the quality of their analysis.
UA's team, comprised of two doctoral students, Monica Lages Do Amaral and Bipul Poudel, and one master's student, Revanth Naidu Vasireddy, was among approximately seven other universities represented at this year's competition.
"The Big Beam Competition for me was a great chance to learn more about the structural side of civil engineering research, as my research is focused on the materials side," said team member Monica Lages Do Amaral. "It was great to interact with the industry and the other graduate students, and of course winning was the cherry on the top of it."
According to the team's faculty advisor, Dr. Sriram Aaleti, associate professor of civil, construction and environmental engineering, the team spent an entire semester designing and testing the beam to ensure it met structural requirements and was optimized for factors such as strength, cost and weight. The team partnered with Gate Precast located in Monroeville, Alabama, to fabricate the beam.
"It's been a great experience to see the students enjoy designing, interacting with the precast producer, casting and testing," said Aaleti. "The PCI Big Beam Competition is truly a great way to teach and make the students learn and experience the process of prefabrication, prestressing, detailing and engineering prediction/failure behavior."
The team will receive a $2,000 cash prize and be recognized for its first-place finish at the national PCI convention in Columbus, Ohio, early next year.
In addition to national recognition, the students also gained practical experience that they can use to further their education and post-graduate careers.
"By participating in the Big Beam Competition, I was able to compare my theoretical knowledge of prestress design with practical application and analyze the difference of results. The competition gave me the opportunity to experience the testing of a large-scale structure for the first time which will obviously be beneficial to me in my ongoing research work," said Bipul Poudel.
To learn more about the PCI Big Beam Competition, click here.