A group of researchers from The University of Alabama College of Engineering recently completed a critical field deployment to Gothic, Colorado, to conduct leading-edge research on snowpack density in conjunction with the National Oceanic and Atmospheric Administration (NOAA).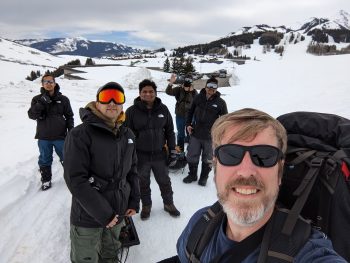 The deployment was a multidisciplinary project between UA's Remote Sensing Center and nine faculty, undergraduate student, and graduate student researchers from the department of electrical and computer engineering (ECE) and the department of aerospace engineering and mechanics (AEM). The project field team was led by ECE assistant professor Dr. Drew Taylor and AEM assistant professor Dr. Jordan Larson. The team was also comprised of four doctoral students, Shriniwas Kolpuke, Feras Abushakra, Omid Reyhanigalangashi and Deepak Elluru, and three undergraduate student researchers, Aabhash Bhandari, Zac Herring and Isaiah Newell.
The goal of the deployment was to perform radar measurements over snow at the Kettle Ponds Supersite to estimate snow thickness and map internal layers in the snow. In addition, the researchers sought to analyze Common Midpoint Radar (CMR) data to estimate snow dielectric parameters for determining snow density. To accomplish these goals, the team mobilized two preexisting radars and two small Uncrewed Aircraft Systems (sUAS) platforms.
"This research is vital to fully understanding how much water exists in snowpacks in these mountainous and extreme regions," Taylor said. "So much of the water of many areas of the United States comes directly from such snowpacks."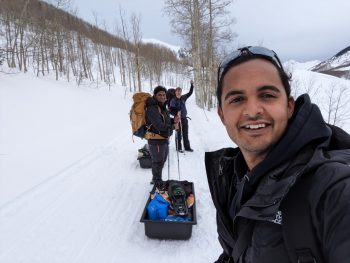 In order to reach the deployment site, the team embarked on a 3.6-mile hike to the Gothic Research Center (GRC) at the Rocky Mountain Biological Laboratory (RMBL), which is located near the Kettle Ponds Supersite. Due to the mechanized vehicle restrictions at the RMBL, the team was required to transport research equipment, supplies and food by sleds, which took more than three hours to complete.
"The hike into Gothic was on a well-used trail, but the 2-mile trail to Kettle Ponds had to be remade after the snowfall while dragging dozens of pounds of equipment at 9,000 feet altitude in cold winter winds," Larson said. "Luckily, some of us work out regularly so our legs were able to take on some of those hills. Others of us had to rest often. Fortunately, everyone was team-oriented and helped each other. I couldn't have asked for a better group of guys to work with."