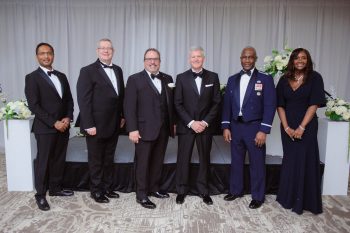 Tuscaloosa, Ala. — The University of Alabama College of Engineering recently honored six alumni and one friend of the College by inducting them into its 2023 class of Distinguished Engineering Fellows.
Each year, the College of Engineering inducts a select group of alumni and friends as Distinguished Engineering Fellows. Recognition as a Distinguished Fellow is the highest commendation given to graduates and others who have strengthened the reputation of the College of Engineering through their efforts.
Since the recognition's inception 34 years ago, fewer than 400 individuals have been recognized as Distinguished Engineering Fellows.
The 2023 class includes Steve Cook, of Huntsville; Christine Dedrick, of Madison; Lt. Col. Greg Floyd, of Tuscaloosa; Paul Lammers, of The Woodlands, Texas; Srinivas Mandyam, of San Jose, California; Kenneth Nolen Jr., of Columbiana; and Sid Tankersley, of Sylacauga.
The inductees were honored at a ceremony at Hotel Capstone in Tuscaloosa. For complete biographies of this year's Distinguished Engineering Fellows, visit the special event page.
---
Steve Cook
President of Dynetics Group for the Leidos Corporation
An impressive career spanning more than 33 years has undoubtedly earned Stephen "Steve" Cook a reputation as a well-known innovator and trailblazer in the aerospace industry. Originally from Minneapolis, Minnesota, Cook attended the University of Minnesota, where he earned his bachelor's degree in aerospace engineering and mechanics in 1990. Cook currently serves as president of the Dynetics Group for the Leidos Corporation. The Group is headquartered in Huntsville, Alabama, and is the corporation's innovation engine for technology acceleration while providing broad coverage to design and build hardware across all aerospace and defense domains from the seafloor to space.
---
Christine Dedrick
Lead Systems Engineer for the U.S. Army's Common Infrared Countermeasure Program
With more than 25 years of experience executing multidisciplinary projects for the United States Army and Marine Corps, Christine Dedrick has positioned herself as a strategic problem solver and leader in the fields of defense, aviation, and aerospace engineering. Dedrick, a native of Greensboro, Alabama, earned a bachelor's degree in industrial engineering from The University of Alabama in 1987. In 2007, she graduated from the University of Phoenix with a Master of Business Administration. Today, Dedrick is the lead systems engineer for the Common Infrared Countermeasure Program for the U.S. Army. She is responsible for the development of a lightweight, laser-based infrared countermeasure system that will interface with the Army's Common Missile Warning System and defeat current and emerging missile threats.
---
Lt. Col. Greg Floyd
Retired Air Force Reserve Civil Engineering Officer
An accomplished and decorated veteran, Lt. Col. Jonathan "Greg" Floyd spent nearly three decades serving our country in the United States Air Force before retiring in 2010 as a civil engineering officer for the Air Force Reserve. Born and raised in Evergreen, Alabama, Floyd earned his bachelor's degree in electrical engineering from The University of Alabama in 1981 and his Master of Business Administration from National University in 1993. He is also a graduate of the U.S. Air Force's Squadron Officer School, the Air Command and Staff College, and the Air War College. After graduating from UA, Floyd joined the U.S. Air Force and was later commissioned as a second lieutenant in the U.S. Air Force's Civil Engineering Career Field. His 28 years of service as both an Active Duty and Reserve officer included leadership positions at Air Force Headquarters, Numbered Air Force, and division and squadron levels. As an individual mobilization augmentee to the chief of emergency services, Floyd oversaw all policies and funding required to train and equip 60,000 engineers deployed worldwide.
---
Paul Lammers
Senior Project Manager for W.R. Grace & Co.
A highly skilled and successful project manager, Paul Lammers has built a notable career overseeing hundreds of projects for a host of clients throughout his 38 years in the industry. Originally from Carrollton, Alabama, Lammers earned his bachelor's degree in chemical engineering from The University of Alabama in 1985. He obtained his master's degree in project management from the College of St. Scholastica in Duluth, Minnesota, in 2022. In 2021, Lammers joined W.R. Grace & Co., a premier specialty chemical and materials company that holds more than 1,300 patents worldwide and is over 190 years old. He serves as a senior project manager for the company and as the portfolio manager for the Northern region of the Americas, which covers nine facilities. Throughout his nearly four-decade-long career, Lammers has managed over $4 billion worth of projects around the globe.
---
Srinivas Mandyam
CEO of Tynker
As an inventor and entrepreneur, Srinivas Mandyam has more than 20 years of experience building world-class startup companies in Silicon Valley. Originally from Bangalore, India, Mandyam attended the Indian Institute of Technology in Varanasi, India, where he earned his bachelor's degree in computer science and engineering. In 1992, he graduated from The University of Alabama with a master's degree in computer science. Currently, Mandyam serves as the CEO of Tynker, an educational platform that he co-founded in 2012 to provide K-12 students with a solid foundation in computer science, programming, and critical thinking skills. The platform offers self-paced courses that allow children to learn programming languages that enable them to build apps and games, invent gadgets, and control robots. Today, Tynker powers the creativity of more than 60 million children and serves over 100,000 schools worldwide. The company has partnerships with leading organizations such as Apple, BBC, Google, Microsoft, and NASA. Tynker was acquired by BYJU'S, a multinational educational company, in late 2021.
---
Kenneth Nolen Jr.
President and CEO of ProcessBarron
Since graduating from the Capstone, Kenneth "Ken" Nolen Jr. has paved a path toward success during his 40-year career in the field of civil engineering. A native of Hueytown, Alabama, Nolen earned his bachelor's degree in civil engineering from The University of Alabama in 1983. Nolen has dedicated the past 34 years of his career to investing in and growing the business, which is now called ProcessBarron. As the current president and CEO, Nolen casts the vision for the company and directs the senior leadership team. The company specializes in heavy steel fabrication as well as equipment installation and maintenance. ProcessBarron serves a variety of industrial customers across the United States and Canada. ProcessBarron has flourished under Nolen's leadership and now has 500 employees both nationally and internationally. In his 14 years leading the company, Nolen has expanded it to be a multinational corporation and increased annual revenue to $130 million.
---
Sid Tankersley
President of American Foam Cast
As the president and co-founder of his own company, American Foam Cast, Sidney "Sid" Tankersley has made a name for himself as an expert in the field of metallurgical and materials engineering, specifically the Lost Foam Casting (LFC) process. Born and raised in Sylacauga, Alabama, Tankersley earned his bachelor's degree in metallurgical engineering from The University of Alabama in 1990. In 1997, he founded American Foam Cast, which now generates more than $20 million in revenue annually. As president, Tankersley oversees the company's 45 employees and leads marketing efforts to secure and sustain new business. In 2013, the Sylacauga Chamber of Commerce awarded the Edward Gantt Industry of the Year Award to American Foam Cast. This honor was indicative of the substantial impact the company has made on the local community over the years.
---