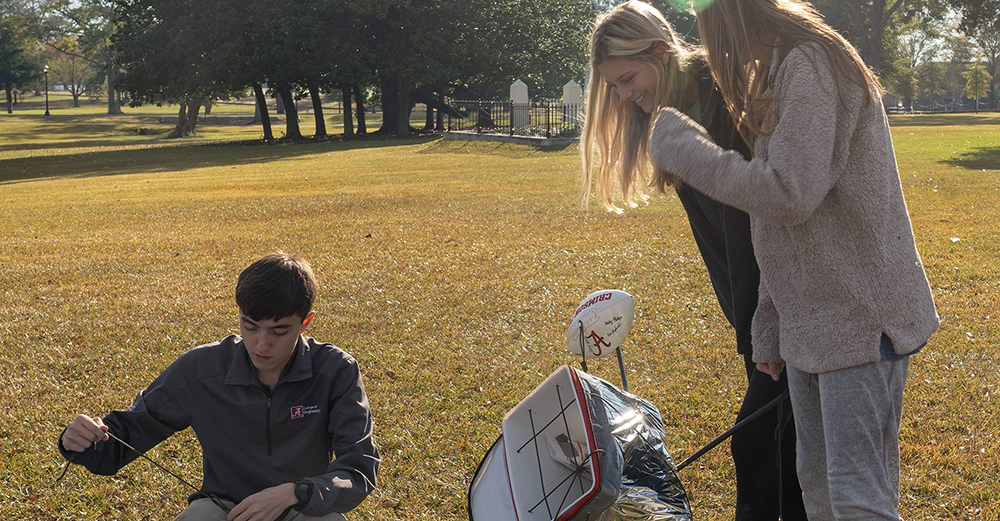 A group of University of Alabama engineering students held a test balloon launch in November to prepare for an upcoming series of complex launches this spring.
Project Fenrir is a team of nine UA engineering and computer science students who have the goal of designing and testing a modular, multi-mission vehicle capable of providing low-cost, near-space delivery for research payloads from departments across UA and beyond. The team designs, builds and launches a balloon that reaches high altitudes at fast speeds before coming back down for assessment.
"The launch was a complete success," said Matthew Culver, senior computer science and history major from Chesterfield, Virginia. "Every system performed as expected, and there were no failures or problems during the entire flight."
The test balloon travelled 114 miles from Bryce Lawn in Tuscaloosa to Anniston, Alabama. It reached a maximum altitude of 100,000 feet above sea level and an estimated max speed of 100 mph during descent. To increase the weight of the balloon, the team used a football as the balloon's ballast, or additional weight needed for stability, to celebrate the University's football team. The weight of the football was necessary for the team to reach and maintain their target ascent rate of five meters per second.
"When launching a high altitude balloon, there's a sweet spot between too much and too little weight. Occasionally, it is necessary to increase the weight of the payload for the sake of a flight profile," Culver said. "We had the spare mass budget for this launch, and decided to make our 'ballast' something fun. The idea was floated to fly a football to celebrate the success of this year's team. Currently, it is planned to present the football to the athletic department in the near future."
The purpose of the test launch was to teach new members of the Project Fenrir team the logistics of a launch. Kelly Greer, a sophomore civil engineering team member from Flower Mound, Texas, said through this test launch she learned how to file a Notice to Airmen, or NOTAM, which allows people to launch something into airspace.
"The team learned launch preparation, launch site operations, and recovery operation," Culver said. "This test will allow for efficient future operations as it provided launch experience to the team."
Following the team's successful test launch, they are now working on future launches this spring that will help them shape the balloon design.
"As of right now [our upcoming launches] will be in Tuscaloosa," Greer said. "Our goal this semester is to validate our experimental designs."
Previously, Project Fenrir participated in a national effort to record and stream images of the 2017 solar eclipse from an altitude of 100,000 feet above the Earth's surface.
In addition to Greer and Culver, the 2018-2019 Project Fenrir team includes:
Erin Ruszkowski, sophomore environmental engineering major from Keller, Texas.
Emily Phillips, senior mechanical engineering major from Soddy-Daisy, Tennessee.
Kendal Connor, senior aerospace engineering major from Cottondale.
Alex Johnson, junior computer science major from Palatine, Illinois.
Andras Veto, junior computer science major from Glenn Mills, Pennsylvania.
Jessie Ferris, sophomore computer science major from Jasper, Alabama.
James Murphy, sophomore aerospace engineering major from Forth Worth, Texas.
Robert Soran, sophomore mechanical engineering major and MBA student from Granite Bay, California.