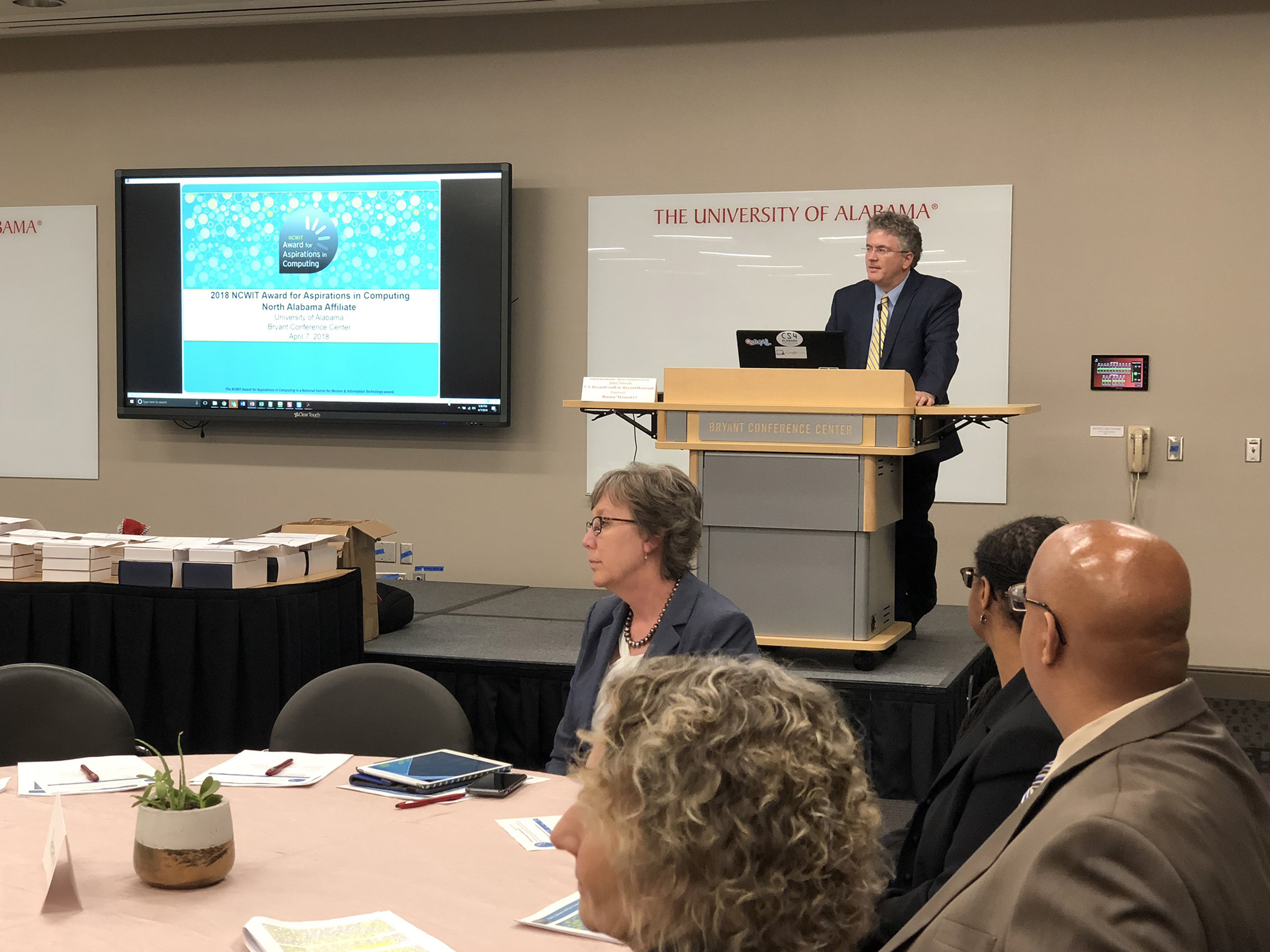 The computer science department at The University of Alabama will honor female high school students for their successes in computing.
UA will host the 2019 National Center for Women in Information Technology, or NCWIT, Aspirations Award celebration on April 27 for the North Alabama region. The event will take place in H.M. Comer Hall and will honor 60 award recipients including 57 female high school students and three teachers. Recipients are chosen based on an application that is judged both locally and at a national level to decide national awardees.
"We have many anecdotal stories about how the recognition that [honorees] received from Aspirations gave them the confidence to pursue computer science as a major and profession," said Dr. Jeff Gray, UA computer science professor. "In fact, several of our UA women in computer science have come from past Aspirations events."
Of the 57 students selected for local awards in northern and central areas of Alabama, three were selected as national awardees. Lauren Choi from Spain Park High School and Amrita Lakhanpal from the Altamont School received honorable mentions on the national level, and Folasade Oyekenu from Munford High School was selected as an overall national winner. There were more than 6,000 applicants nationwide, and only 400 students received honorable mentions and 40 students were selected as overall winners.
"There is a deep underrepresentation of women in technical and computing careers," Gray said. "The NCWIT Aspirations event honors and celebrates young women who have a budding interest in computing and encourages them in their future pursuits. It is important to recognize the success of young women in computing and provide a venue where they can share experiences with their peers as they consider their future careers."
Two teachers, Chris Dobbins from Tuscaloosa County High School and Mindy Walski from Montgomery Catholic Preparatory School, will be named NCWIT Educator Awardees, and Ryan James, a teacher at the Altamont School, will receive the memorial Dr. Albert Lilly Award. Each recipient is recognized by being invited on stage, given a trophy and awarded a gift certificate.
The keynote speaker for this event is Lisa Evans, the chief information officer and IT director at Mercedes-Benz U.S. International. Changes to this years' event include the new location in the recently renovated H.M. Comer Hall. A new category of awards called "Rising Stars" has also been added to recognize students who recently enrolled in their first computer science course in high school.