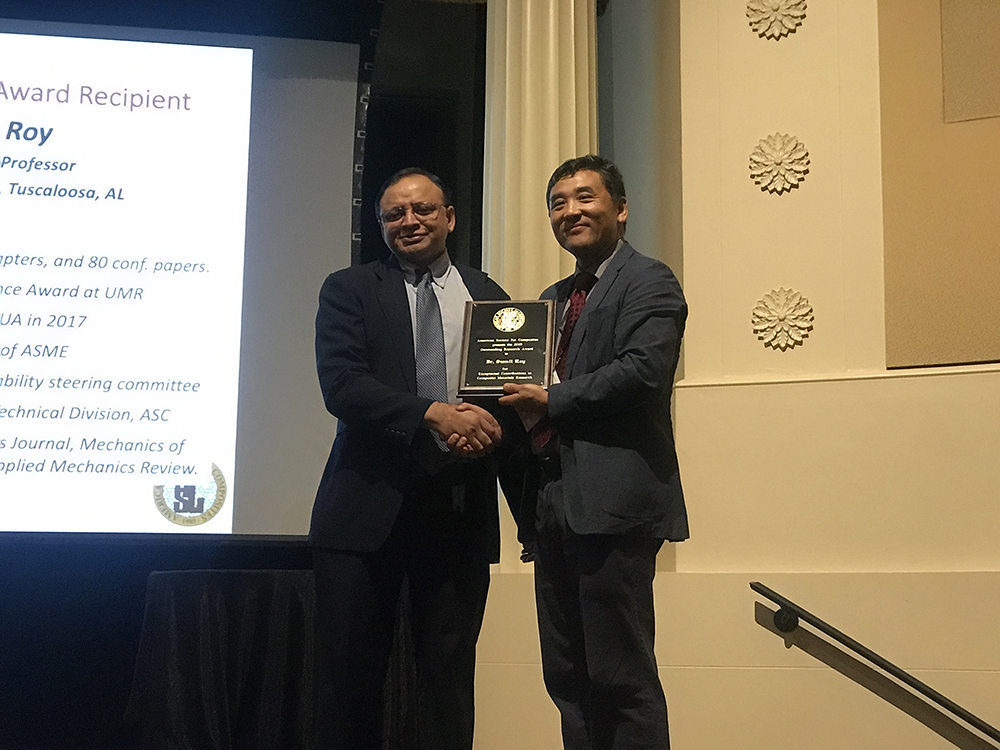 A University of Alabama engineering professor was recently recognized for his outstanding research.
Dr. Samit Roy, William D. Jordan Professor of Aerospace Engineering and Mechanics, received the American Society for Composites 2019 Outstanding Research Award in Composites at the 34th Annual Technical Conference in Atlanta.
"American Society for Composites is the premier composites society in America. There is nothing that comes close to their stature in the U.S.," Roy said.
The award recognizes his contribution to composite research throughout his 30-year career. The nomination procedures state awardees must be distinguished members of the composites community, have made a significant impact on the science and technology of composite materials and have a sustained research effort over a number of years.
"I was elated when they announced I got it," Roy said. "This is one of their top awards."
The society typically bestows this honor to one member each year since the award was first given in 1988. Past award recipients are responsible for nominating researchers for the honor. Roy was nominated by Dr. Anthony Waas, a professor at the University of Michigan, who won the award in 2013.
"I've worked extensively in composites for aerospace applications for the past 30 years," Roy said. "People in the composite community know me and my reputation very well, and this award will help in underscoring my reputation as a researcher."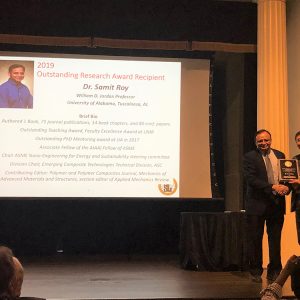 ASC was established in the 1980s, and Roy has been a member since 1999. He previously served as director of ASC's Emerging Composite Technologies Division for a three-year term and has helped organize several sessions. Roy often takes his graduate students to the society's annual conference to participate in student paper competitions.
"I have attended every meeting for the past 20 years," he said.
Roy is glad to bring this recognition to the aerospace engineering department at UA, which he said could prove to be useful as a recruitment tool. He hopes to be an inspiration to his students.
"Hard work eventually gets rewarded," Roy said.