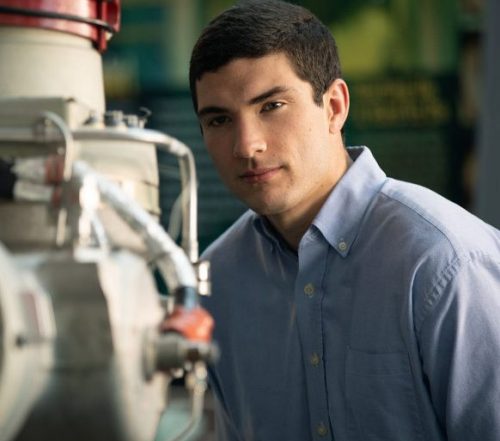 Peyton Strickland
Peyton Strickland, who studied aerospace engineering and mechanics at The University of Alabama, received the 2020 Capstone Engineering Society Outstanding Senior Award.
Part of the University Honors Program and the Accelerated Master's Program, Strickland is on track to graduate with a 4.0 grade point average in both his bachelor's and master's programs this year.
A native of Pelham, Alabama, he earned seven different scholarship awards during his time at UA, including a 2019 Barry Goldwater Scholarship and a 2018 and 2019 NASA/Alabama Space Grant Consortium Scholarship. A fixture on the UA President's List since his first semester at the Capstone, Strickland was named a 2016 United States Presidential Scholar and 2016 Reach UA Foster and Homeless Youth Scholar Student.
In 2020, he was named UA National Alumni Association Outstanding Senior. The year prior, Strickland was named UA's Aerospace Engineering and Mechanics Outstanding Junior and was listed on Aviation Week and the American Institute of Aeronautics and Astronautics' list of 20 Twenties. He was inducted into the aerospace engineering honor society Sigma Gamma Tau in 2018, and he was named the organization's 2019 South Central Regional Student of the Year.
Strickland has done his undergraduate research with Dr. Semih Olcmen, UA aerospace engineering and mechanics professor.
"Peyton has been a very reliable, brilliant, resourceful, cordial and a mature student," Olcmen said. "I have no doubt that his attention to detail, pursuit of knowledge, work ethic and creativity to think of new solutions will pave the way for him to be one of the leaders in the aerospace field in the near future."
During summer 2018, he took an internship at MITRE. The company was impressed with his design work and offered him Department of Defense security clearance and a part-time position. From 2016-2018, Strickland was a mechanical engineering intern for MacLean Power Systems.
He has written two technical reports for the Missile Defense Agency, and he presented at the Center for Strategic and International Studies' 2018 Space Policy Conference in Washington, D.C.
While at UA, Strickland led as an aerospace engineering and mechanics department ambassador, Sigma Gamma Tau vice president, AIAA student branch president and AIAA Region II student conference chairman. A member of the Alabama Rocketry Association, he was involved with the Alabama Rocket Engineering Systems IV Junior Team and the ARES V Senior Design Team.
Every other week, Strickland visited Central High School to teach students C ++ coding and worked to connect the students to NASA through video conferences and field trips. At the same time, he mentored seventh grade students at Echols Middle School and volunteered with the 2019 Tuscaloosa Rocketry Challenge.
Outside of engineering, Strickland served from 2017-2018 as a Paty Hall resident adviser, Student Government Association associate vice president of fundraising, and Source Board partnership and engagement committee member. He was head of the public relations committee for UA's First Year Council in 2016.
In 2017, Strickland received the Profiles in Service and Leadership Capstone Innovation Award for founding the UA SGA and Crimson Kindness initiative Kindness Counts, and he was the Alabama Scholastic Press Award Winner for Landscape Photography.
Strickland has plans to work with United Launch Alliance on rocket propulsion for all of this summer's launches at Cape Canaveral, Florida, including the Atlas V rocket and the Mars 2020 rover, before returning to UA in the fall to finish his master's degree.
The Capstone Engineering Society, the alumni association for the College of Engineering, was established in 1973. CES is dedicated to maintaining relationships with UA engineering alumni to ensure the College is able to provide UA engineering and computer science students with a superior educational experience.
The CES began the Outstanding Senior Award in 1986 to honor an exceptional student who deserves distinction among his or her peers. An outstanding student is selected from the 11 academic programs in the College, and the overall winner is determined by a selection committee after assessing each student's academic performance, professional and technical activities, College leadership, external leadership and other activities.