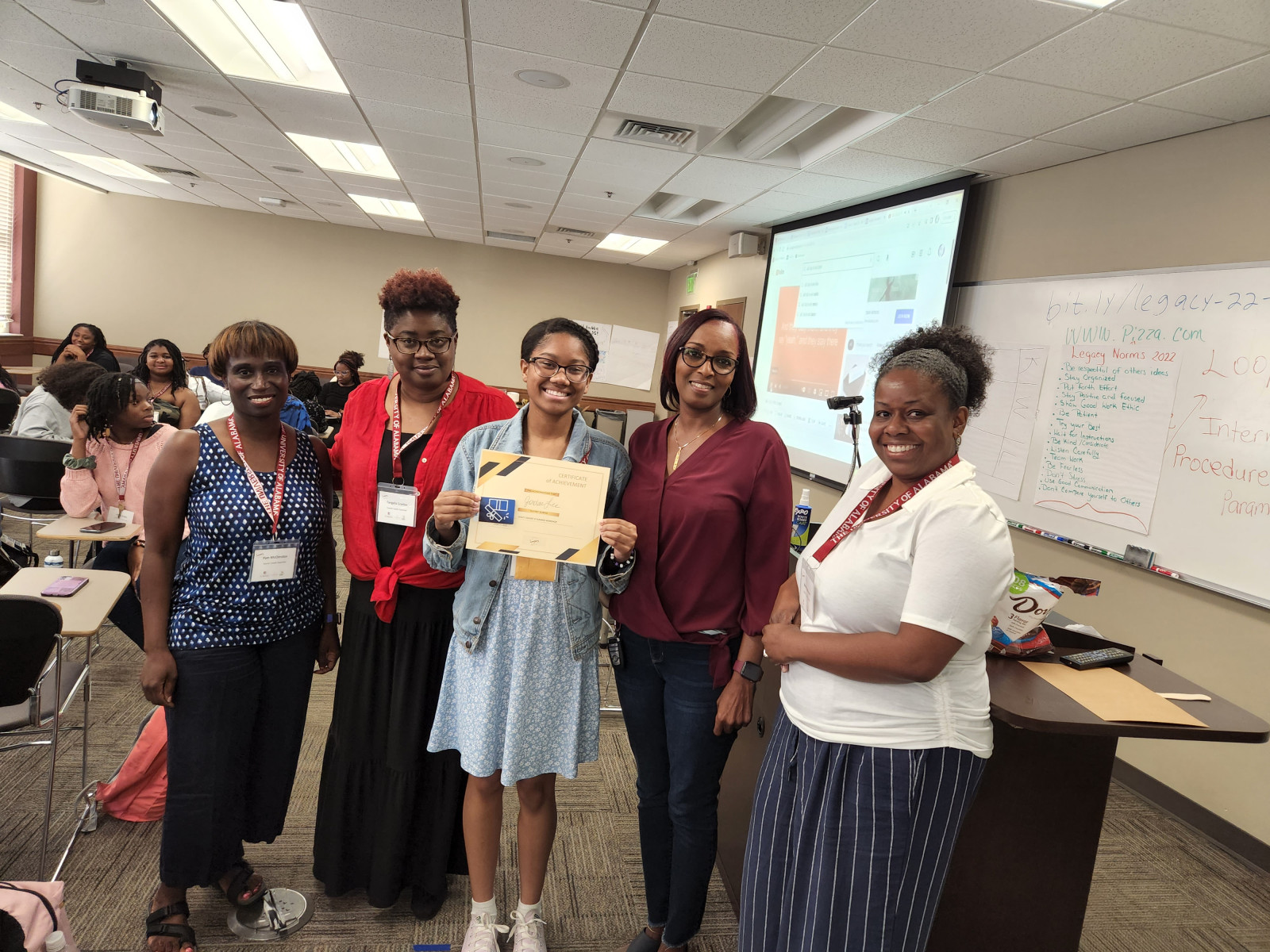 Jordan Lee receiving the LEGACY MVP award from the program's teacher leaders.
The Bureau of Labor Statistics projects a 19 percent increase in computer science jobs by 2026. Yet, according to computerscience.org, only about 20 percent of professionals in the field are women. With forward-thinking, inclusive programming, The University of Alabama College of Engineering seeks to introduce more young women, particularly those of color, to computer science.
One such initiative is LEGACY, a free program designed to prepare Black high school females for AP Computer Science Principles (CSP) and increase their likelihood of pursuing computer science education and careers. Through the year-long course, students learn computational topics such as abstraction, algorithms and programming. Included in the curriculum are summer residential workshops at The University of Alabama and Tuskegee University during which students stay on campus and engage in structured educational sessions led exclusively by AP CSP educators who are also Black female state leaders in K-12 computer science education. Participants receive mentoring throughout the school year following these experiential workshops.
Dr. Jeff Gray, the principal investigator of the project who also serves as a computer science professor and director of the Randall Research Scholars Program, reported that 88 percent of participants made qualifying scores on the AP exam in the program's inaugural year of 2019. He said, "Many program participants go on to study and major in computer science when they weren't even aware of the field before."
This year's LEGACY workshop on The University of Alabama campus concluded June 17. During the week-long session, nearly 40 students came from all over the state to participate. One of those students was Jordan Lee, a rising junior at Alma Bryant High School in Irvington, Alabama. Following her LEGACY experience at UA Lee said, "I loved it. It refreshed and expanded my knowledge about coding. We got to see drones and 3-D printing. The guest speakers were helpful and inspiring. It was an overall fun experience."
Pamela McClendon, a computer science teacher at Oak Grove High School, has served as a LEGACY instructor since the program's inception. She said, "[LEGACY] is a lot of hard work, but I absolutely love it. I love the idea to offer this area of study, especially to underrepresented females and minorities, many of which are from the Black Belt just like me."
In addition to teaching young students the values of coding and computer science, the intentional use of Black females as program leaders is an impactful aspect of the program. Lee said, "It feels weird to be in a class and see no one who looks like you. It's nice to see so many people in LEGACY who look like me and to see women in powerful positions, Ph.D.'s and fellowships. It made me feel like I can do that someday." McClendon said, "I think the girls have the confidence to tell us, being the same race and gender, when they don't know something. We try to create an environment where it's okay to ask us if they're unsure."
According to Gray, feedback on the program has been resoundingly positive. For Lee, her biggest takeaway was, "Anybody can do anything. You can do anything you set your mind to if you have the drive." McClendon added, "A lot of the students coming from the Black Belt area have no computer science experience. But that's starting to change and its refreshing. It's just phenomenal to see the growth."
LEGACY is a $1 million project supported by the National Science Foundation (NSF) as a multi-institution partnership between The University of Alabama, Tuskegee University, Oakland University (Michigan), and Haynie Research and Evaluation (New Jersey). More information about the LEGACY project can be found at: https://bit.ly/3OUwA3A